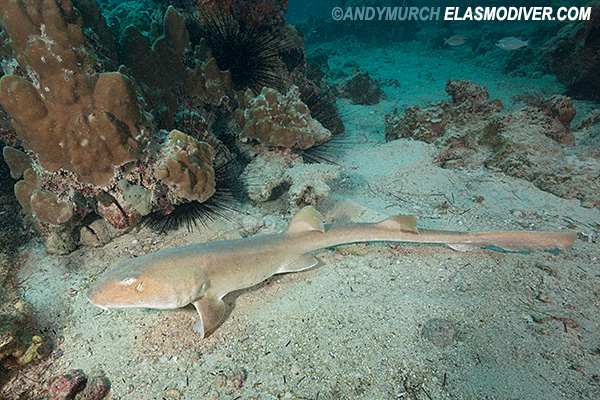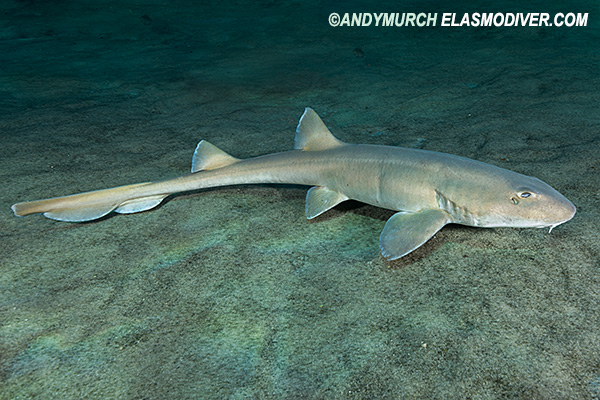 View more Arabian Bamboo Shark images in the Shark Pictures Database

Common Names: Arabian bamboo shark.

Latin Name: Chiloscyllium arabicum

Family: Hemiscyllidae

Identification: Elongated, mostly unmarked tan/brown body. Well defined lateral groove on each flank running from behind head to base of tail. Occasionally, older animals may have a few scattered small dark or pale spots on head, torso and fins. Dorsal fins relatively large with straight or mildly convex rear margins. First dorsal origin over pectoral fin base (not over pectoral fin insertion). Anal fin set far back at base of tail. Snout blunt. Barbells extend from nares to mouth. Spiracle slightly smaller than, and positioned below and slightly behind eye. Short gill slits.

Size: Maximum length 70cm. Less than 10cm at birth. 45-54c at maturity.

Habitat: Coral reefs, reef rubble patches, rocky shorelines and mangrove flats. From 3-100m.

Abundance and distribution: Indo Pacific. Northwest Indian Ocean. Persian/Arabian gulf to western India. Exact limits of range are in question due to confusion with the grey bamboo shark H.griseum.

Behavior: Nocturnal. Rests by day in crevices on the reef or under corals.

Diet: Feeds on squid, shelled mollusks, crustaceans and snake eels.

Reproduction: Oviparous. Deposits four egg cases at a time on the reef. Eggs hatch after 70-80 days.

Conservation Status: Considered 'Near Threatened' by the IUCN. The Arabian Carpetshark (Chiloscyllium arabicum) is not targeted but appears to be a major bycatch element of trawl (and other) fisheries. Apparently it is little utilized in the Persian Gulf but probably it is used in Pakistan and India. It is reasonably hardy to trawl capture and aerial exposure but is also threatened by habitat loss throughout its range. This species is known to have close association with coral reef habitats, which are particularly prone to anthropogenic degradation and there is evidence that such habitats have been completely destroyed from some parts of its range (e.g., Bahrain). More generally, it is exposed to widespread habitat loss and modification, not least in the Persian/Arabian Gulf (drainage of Iraqi marshes and damming of rivers in Turkey affecting the northwest Gulf), coastal developments and effects to benthic communities from demersal trawling throughout much of its range. It is also known to accumulate organic pollutants such as PAHs. The threats of fishing and habitat degradation are likely to continue into the future and increase in intensity and coverage. As a result of these combined factors, this species is assessed as Near Threatened based on inferred continuing population declines approaching 30% in three generations (possibly ~27 years). Given that a proportion of discards may have a relatively high survival rate, a threatened category is not yet warranted, but the species may meet the criteria for VU A4bcd in the future. There is a need for quantitative distribution and abundance data.

Photographs: Abu Dhabi, UAE.

Similar species:

The Arabian bamboo shark partially shares its range with a number of other bamboo sharks, one of which looks very similar.

The grey bamboo shark Chi

loscylliam griseum has dorsal fins with straight or concave rear margins. The first dorsal origin is roughly level with the pectoral fin insertions.

Reaction to divers: Reasonably easy to approach with slow casual movements but will bolt if mollested.

Diving logistics: Arabian bamboo sharks are regularly seen by divers in the UAE. Contact Al Mahara Divers http://www.divemahara.com for more info.

Citations:
Moore, A.B.M. 2009. Chiloscyllium arabicum. The IUCN Red List of Threatened Species 2009: e.T161426A5421166. http://dx.doi.org/10.2305/IUCN.UK.2009-2.RLTS.T161426A5421166.en . Downloaded on 01 November 2015.