Shark talk, Elasmodiver news, Conservation rants, Forthcoming projects, New shark pictures, Expediitions, Photography workshops, Shark News and more...
Its been an amazing year; from enormous whale shark aggregations in Isla Mujeres to epic giant manta encounters in Isla Socorro. After all the guest trips were over, I managed to sneak in an Elasmodiver Expedition to Central Chile. Chile may not be everyone's idea of a shark diving mecca but I was after a rarely photographed little catshark that lives in Chile's shallow bays and wraps its eggs around stunted kelp trees. I'm happy to say that it was a successful trip. Follow this link for more Redspotted Catshark Info.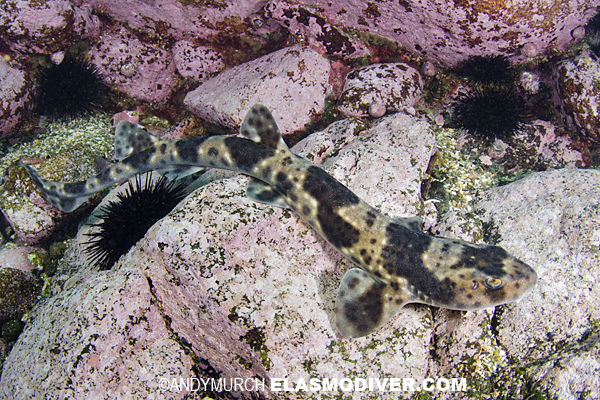 LOOKING AHEAD TO 2013
Next year is shaping up to be the biggest year so far for shark trips. unofficially, the shark season kicks off at Socorro Island during our Manta Trip. I expect that we'll bump into at least 3 species of sharks at Socorro but the first dedicated shark expedition will be at Tiger Beach in April. Shark magnet and award winning film maker Joe Romeiro will be joining me on the boat; adding some extra magic to the shark encounters. We'll be visiting all the best spots like Tiger Beach, Fish Tales and other sharky reefs and probably exploring some new ones. Grab the last spot if you'd like to join us: Tiger Beach Expedition or join our second Tiger Beach trip next October.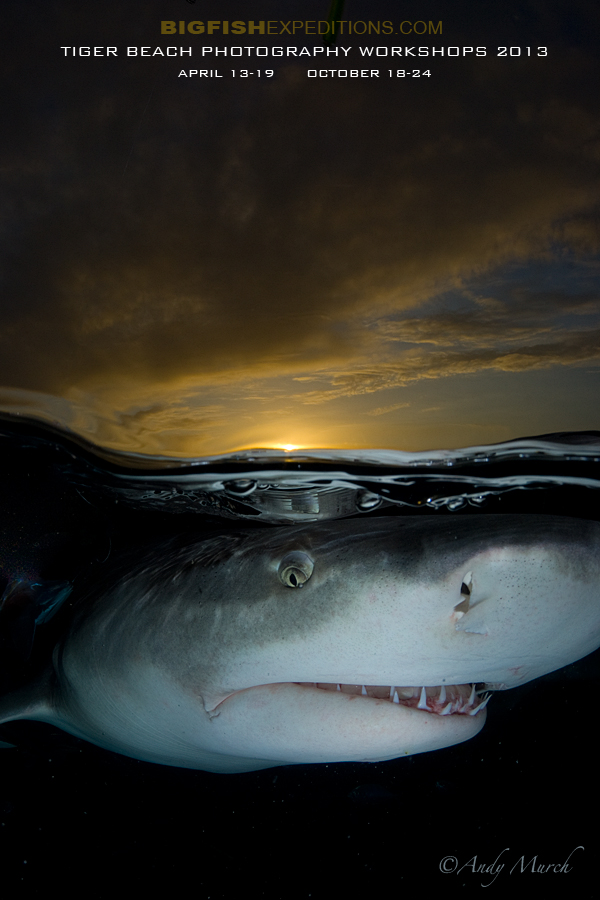 OCEANICS
After one day back in Florida, BFE's final oceanic whitetip expedition starts in Cat Island, Bahamas. This year's oceanic expedition was outstanding with more oceanics than anyone 'needed' and silky sharks mixed in just for fun. Plus, we had some unique split frame photo ops with the nurse sharks right in the marina.
With so many new adventures on the books, this will be our last chance to dive Cat Island for a while (sad but true) so join me if you can: Oceanic Odyssey
SOUTH AFRICA
Then, Big Fish Expeditions heads to South Africa for a sold out Shark Safari of epic proportions. 14 species in 11 days. Now that's an expedition!
BASKING SHARKS
Two weeks later, we will be in bonnie Scotland chasing basking sharks. We have an amazing week planned in the Inner Hebredes swimming with giant sharks and diving with grey seals. Incidentally, if you've already signed up for this one, I'm staying for an extra day at the end of the trip to visit a puffin colony. Contact me if you want to come: Basking Shark Expedition
Here is a fantastic video shot by Simon Spear in the area where we'll be heading:
WHALE SHARKS
I'd like to stay longer in Scotland and shoot some little British catsharks but the Whale Sharks will be waiting for us. Next year's Isla Mujeres whale shark boats are almost full. If you want to swim next to the biggest fishes in the sea, this is your chance. Don a mask and fins and jump into an encounter that you'll never forget: Whale Shark Encounter.
RHODE ISLAND BLUES, MAKOS AND SPINIES
Then in August, a well established shark encounter with an interesting new twist! Big Fish is running a mako and blue shark trip with Joe Romeiro in Rhode Island. That alone would be a great adventure but on our third and final day we're planning to tie up to one of New England's fish filled wrecks and lay down a chum slick for smoothhounds and spiny dogfish sharks. Spear-fishermen regularly complain about being harassed by dogfish on their wreck dives so imagine what will happen when we bring a little shark attractant of our own :) Join the trip and find out what happens: Rhode Island Shark Safari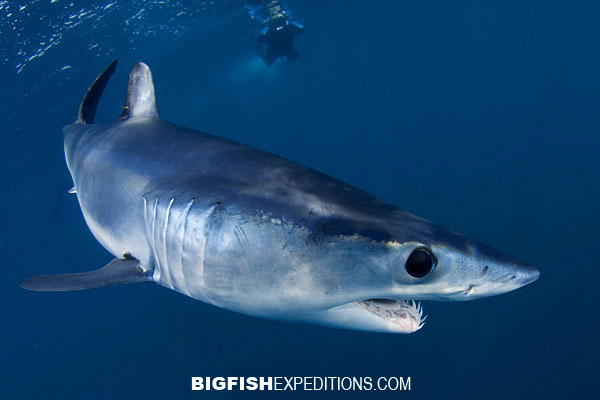 THRESHER SHARKS
And finally, next December I'm putting together a thresher shark trip. I've wanted to photograph threshers for a very long time but I've been put off by the no-flash photography rules and dwindling encounters at Malapascua in the Philippines.
Fortunately, there is a new hotspot for thresher sharks. After fairly consistent reports of sightings at 'Brothers Reef' in the Red Sea I have decided that it is worth an exploratory liveaboard trip. I don't have a page on BigFishExpeditions.com for this trip yet but I can tell you that we'll be heading there next December and its a surprisingly affordable place to dive. Email me if you'd like more info: info@bigfishexpeditions.com
2014 WHALES
In Jan 2014 I have an already sold out Blue Whale Expedition to Sri Lanka. If that sounds like a dream trip, well... it probably will be. If you'd like to join the waiting list let me know.
And, I have one cancellation on the Jan 2014 Killer Whale trip. Let me know if you're coming!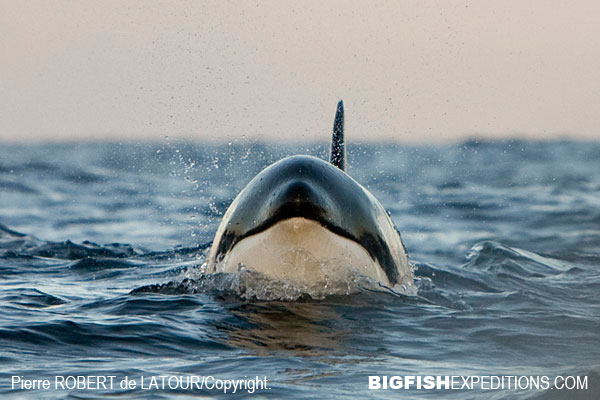 2015!!!!
I know its a long way off but this is a big ticket trip: Join me in February 2015 in Antarctica!
Don't let your gills dry out over Christmas!
See you down there,
Andy Murch

---
Swarms of Whale Sharks and Predators in Peril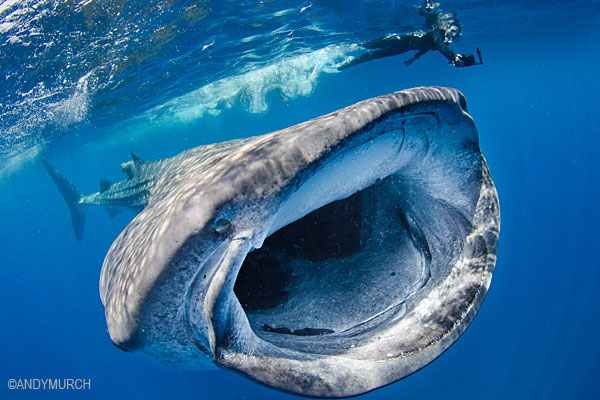 Its been an insanely busy summer. There were lots of great moments but the highlight was probably the incredible whale shark aggregations that we encountered near Isla Mujeres in Mexico. As I said in one of my Facebook posts, there were so many whale sharks that I felt sorry for the plankton. To read this year's trip report and to enjoy a short video from the expedition please follow this link: Whale Shark Trip Report 2012
PREDATORS IN PERIL
Big Fish Expeditions has some awesome new trips penciled in for 2013 and 2014 but before I launch into that, I'd like to share some news about the Predators in Peril Project. I recently traveled to Guerrero Negro on the west coast of Baja to document the gill net fishery and in particular the amount of shark and ray bycatch that is caught in the halibut fishery. This trip resulted in some very graphic images that hopefully capture the essence of the problem.
It was a tough expedition for me personally because I was exposed to some tragic scenes but at least I had the opportunity shoot a video about the expedition. The video is called BYCATCH. It has some very disturbing footage but I believe that it is important to show everything that I witnessed in order to shine a light on this issue. You can see more images from the trip and watch the video at PIP's new home: predatorsinperil.org To jump straight to the video please visit: Predators in Peril Videos
Please, please share BYCATCH on your social networks!
Next stop for PIP is Chile. In November I am heading to the wild west coast of South America to try to document the endemic shark population. Some Chilean species such as the speckled smoothhound shark are already listed by the IUCN as near threatened but the shark fishery continues to decrease their numbers further. Hopefully (if I actually get some images) we will be able to generate some interest from Chilean conservation groups that want to help reduce the fishery.
Ok, onto upcoming Big Fish Expeditions: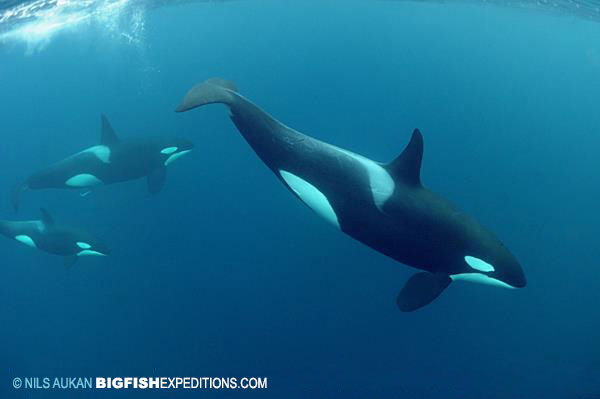 In 2014 we're going to Norway to dive with hunting orcas. I knew this trip was going to be popular but I didn't realize how popular! The same day that I loaded the orca free diving trip onto the Big Fish Expeditions website, it sold out. Consequently, I'm wondering if I should run two trips back to back because I certainly wouldn't mind an extra week chasing killer whales. So if you are interested in a freezing cold adventure in the middle of winter to northern Norway to chase orcas and night dive on pristine sponge and coral reefs in Norway's rugged fiords, please let me know as soon as possible and I'll work on a second boat.
But before then, we have a lot of other amazing encounters to enjoy...
SAILFISH BAITBALL DIVING sold out months ago but a couple of guests just informed me that they can't go so there are two spots open. This is a great opportunity to jump in with huge aggregations of hunting sailfish attacking baitballs. It'll be intense and exhausting free diving probably in bumpy seas but if you want an adventure don't miss this! Oh, and if we get any storm days we'll be heading down to Playa del Carmen to dive with bull sharks!
There are also a few spots left on the SOCORRO GIANT MANTA EXPEDITION. This is a world class dive destination 200 nautical miles south of Baja that attracts some of the friendliest and largest mantas in the world, plus lots of sharks and curious pods of wild dolphins. It is an especially good place to find black mantas like the one pictured here: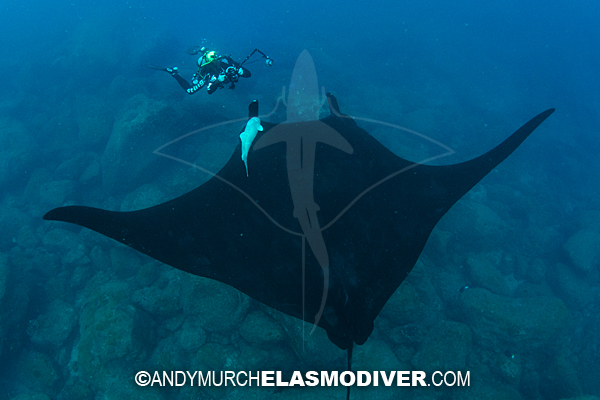 Then, by popular request, I am running another TIGER SHARK PHOTOGRAPHY WORKSHOP at world famous Tiger Beach in the Bahamas next October. If you haven't dove Tiger Beach yet, it is probably the best place in the world to learn the ins and outs of shark photography. Tiger sharks, lemons, reef sharks, nurse sharks (and occasionally other shark species such as great hammers) create the perfect subjects to practice different techniques. Apart from obviously photographing tiger sharks, one of my favorite techniques is shooting over/unders of lemon sharks at sunset from the swim step: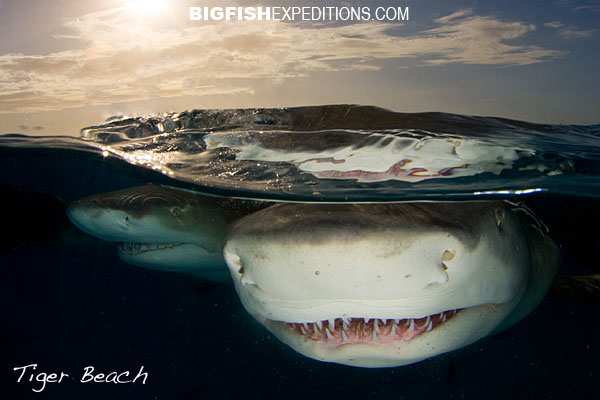 There are also just two spots left on my Cat Island Oceanic Whitetip Shark trip. This year was amazing with more oceanic whitetips than anyone expected. Next year is the last chance to join me at Cat Island because I need to make room for some new adventures in 2014 so I hope that you can make it!
Then in July its Scottish Basking Sharks time! The first week is full but I have 4 spots left on the second trip. I talked to the captain recently and he told me that this year they had basking sharks everyday of the season except two. That is an amazing success record! Nowhere else has such reliable sightings so I am very excited for next year.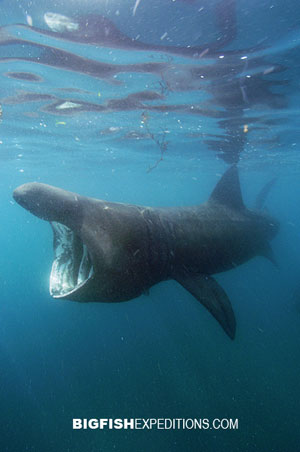 And then.... it just keeps getting better but I'll save some announcements for the next newsletter. If you made it this far, thanks for reading :)
See you down there,
Andy Murch

---
THE SECOND BIGGEST FISH IN THE SEA
Its been an awesome year so far but before I talk about the action on the last few trips, lets talk about the second biggest fish in the sea:
BASKING SHARKS!
Next June/July I have organized a very unique adventure. Join me on the Isle of Mull off the west coast of Scotland to dive with feeding basking sharks. Although there are other locations like Cornwall and the Isle of Man that get sporadic sightings, nowhere is as reliable as the seas around the Isle of Mull. As well as the frequency of encounters, the visibility this far north is far superior as well, making this the ideal location for serious shark hunters.
We will also dive with friendly grey seals, photograph any whales and dolphins that we see and generally soak up the atmosphere of the Inner Hebredes in a fun filled week on the water.
At night we'll either be staying in a stone cottage in the quaint village of Tobermory or camping on the outer islands right where the sharks are. To me, this sounds like an awesome adventure. Apparently I'm not alone because the first trip sold out the day I posted it on Big Fish Expeditions. The second week has four spots open so jump in while you can! Check out the images, info and an awesome video by Film Maker Simon Spear about the amazing wildlife around the Isle of Mull: Basking Shark Expedition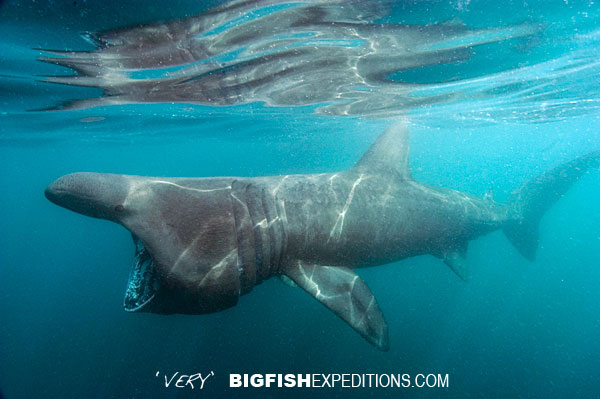 MANTAS, TIGERS & OCEANIC WHITETIPS
Building on the success of seeing smalltooth sandtigers at Malpelo, our next adventure was in Rugged Socorro which is 200 miles south of the tip of Baja. The manta action at the islands was off the hook. We encountered giant mantas on virtually every dive but unlike many other places around the world, the mantas at Socorro actually crave the company of divers. Many times, a manta would find us and hang out for the entire dive playing in our bubbles. It was a fantastic experience for everyone that went. Read more in the Socorro trip report.
After Socorro I led back-to-back trips to Tiger Beach and Cat Island. Of course Tiger Beach was non-stop shark action everyday but Cat Island far exceeded my expectations. Stuart Cove bought one of his boats over to the island especially for this trip and although the persistent wind made the surface a bit bumpy, we simply submerged into the tranquility of the underworld surrounded by oceanic whitetip sharks on every dive. On our first (and best) day we had 12 big oceanics surrounding our small group of divers! There are some great pics from the trip in the Cat Island Oceanic Expedition Trip Report. I've booked back to back dates again next year and not surprisingly the boats are already half full.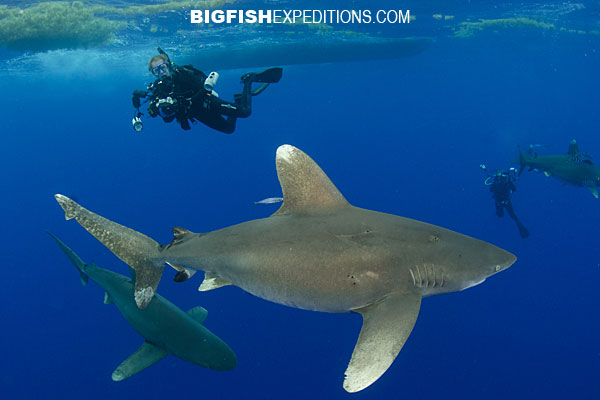 WHALE SHARK AGGREGATIONS
Next up on the Big Fish Calendar is whale sharks at Isla Mujeres in July. This should be a lot of fun. The world's biggest fishes aggregate off of Isla Mujeres each July to feed and we'll be there to play with them! There are two spots left on the second trip. If you've never dove with a whale shark don't miss this opportunity: Whale Shark Expedition
Less than a week after returning from Whale Sharks at Isla Mujeres, its time for Sharkfest. As I write this there is one spot left on the trip which I'm sure will be gone in no time. Sharkfest is a fun filled weekend with three days of diving with Sandtiger Sharks, a night where we screen the best recent shark films and a cook out on the last night. This is the third annual Sharkfest and although its a bit of a monster to organize, I don't think I can break tradition now. So, if you can't come this year then please pencil it into your calendar for next August: SHARKFEST
THE SEA OF CORTEZ WHALES AND HUMBOLDTS EXPEDITION
Then its time for my last guest trip of the season. This will be my second year in the Sea of Cortez diving with whales, sea lions, humboldt squid and sharks. By far the most diverse trip on the Big Fish Itinerary, if you're looking for an adventure with lots of diving plus marine mammal encounters, you can't go wrong in the Sea of Cortez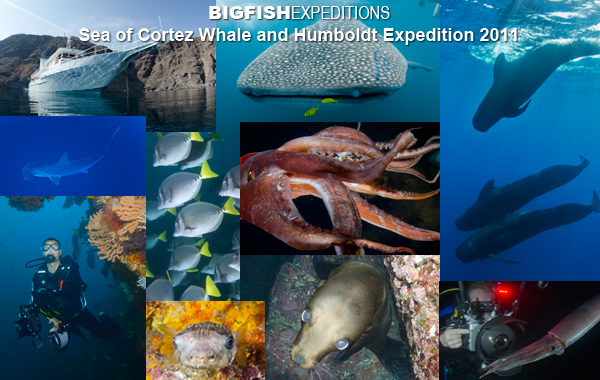 PREDATORS IN PERIL
This fall, I have purposely avoided scheduling any Big Fish Expeditions. I love running guest trips but there is work to be done. I am planning two trips to Mexico to work with researchers and fishermen to try to document more of the endemic shark species that divers do not normally get the chance to encounter. In particular, there are a number of smoothhound shark species that need some time in the spotlight. Hopefully, by the end of the year I should have at least one or two documented but I'm hoping for more. If you've never seen a smoothhound shark, this image shows a Gulf of Mexico Smoothhound; an animal that lives in deep water in a tiny pocket of ocean in the northern Gulf and is therefore extremely vulnerable to depletion.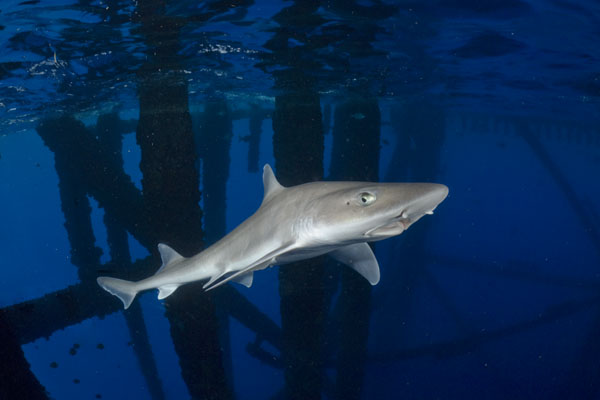 While I'm on the subject of Predators in Peril, you may remember that last year I had the opportunity to photograph deep sea gulper sharks with Edd Brooks from Cape Eluethera Institute. Since then Edd has moved into the next phase of the project which involves monitoring activity and species composition on the actual sea floor rather than bringing sharks up to the surface. Here is a link to a video about his recent work: http://www.youtube.com/watch?v=e4ecOlFVoSE&feature=share
2013 EXPEDITIONS
Next year's schedule is getting ridiculously busy already. In January we'll be in Mexico for the sailfish migration. Divers can see up to 40 or 50 sailfish attacking enormous bait balls; a spectacular sight! (Just three spots left).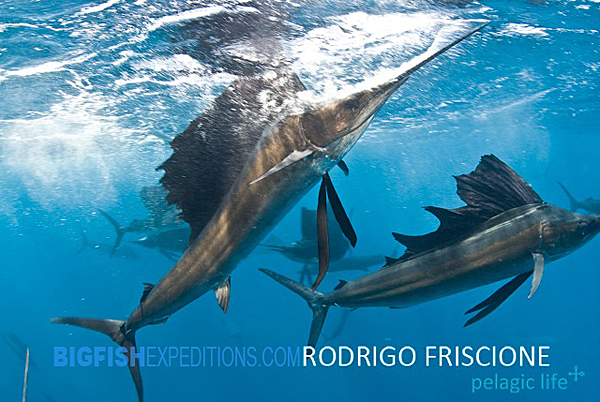 Then in February, we're heading to French Polynesia on a shark safari of epic proportions. First stop will be Moorea to dive with sicklefin lemon sharks. Then we are heading to Fakarava 'where it rains sharks' to dive with 5 species including hundreds and hundreds of grey reef sharks. In my entire shark diving career I have never seen this many sharks in one place. Join me in paradise for an amazing shark filled adventure: French Polynesia Shark Safari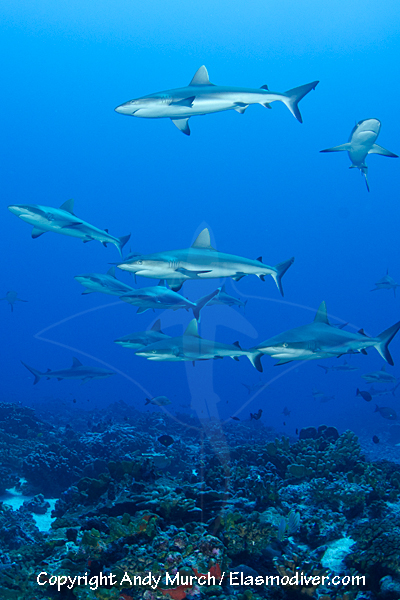 Then a brand new experimental trip. In late Feb, Great Hammerheads congregate in an area near the island of Bimini in the Bahamas. Great hammerheads are usually extremely difficult to see (as many frustrated photographers will tell you). But, in this one small area, Great hammers have been reliably documented by the shark researchers that are based on Bimini. This year, Stuart Cove took his boat over to to try to chum up the sharks and he was extremely successful. At one point he had a 4 or 5 great hammers around the bait. That is the best encounter I have ever heard of so I have asked Stuart to bring his boat back next year to try to repeat the excitement. If you're an experienced diver and you've been waiting for the chance to add a great hammerhead to your life list, this is the trip: Great Hammerhead Expedition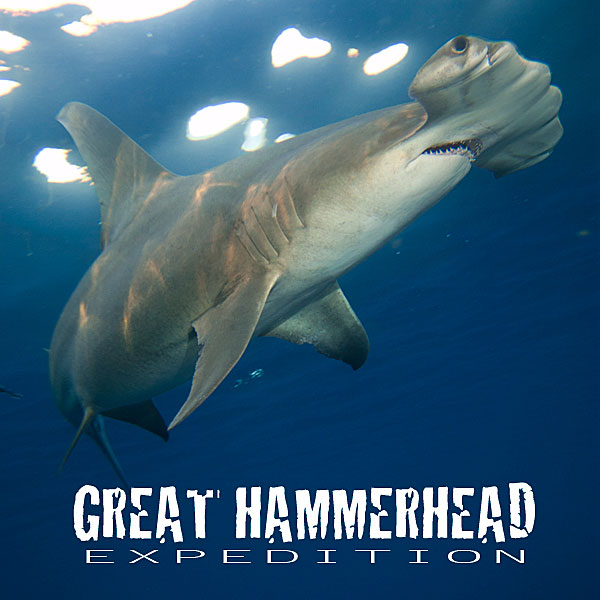 Beyond the hammer trip we're taking another shot at the mantas in Socorro and then its time for Tiger Beach, Cat Island, Scotland and South Africa. To see our entire Big Fish Expeditions Schedule for next year. Please follow this link:
Big Fish Expeditions Schedule 2012/13
See you out there!
For the oceans,
Andy Murch

---
MALPELO MAGIC AND DIVING BRITISH COLUMBIA
MAGIC IN MALPELO
This year's Big Fish Expedition to Malpelo was amazing! Not only did we see schooling hammerheads on most of the dives (sometimes hundreds thick) but we also found the illusive smalltooth sandtiger sharks that we had timed the trip specifically to see. That was a dream of mine two years in the making and I'm thrilled that we managed to pull it off. Some divers make multiple trips to Malpelo and don't see these rare deepwater sharks so we were very lucky to encounter them every time we dove for them.
The trip was not without difficulty. When we arrived in Panama City, Indian protesters had blocked the Pan American Highway which cut us off from the boat. That threatened to derail the entire expedition but some quick thinking by Arvid (our Captain) got us to Malpelo in record time and the diving went ahead as planned. Thank you to everyone that came on the trip and made it as special as it was!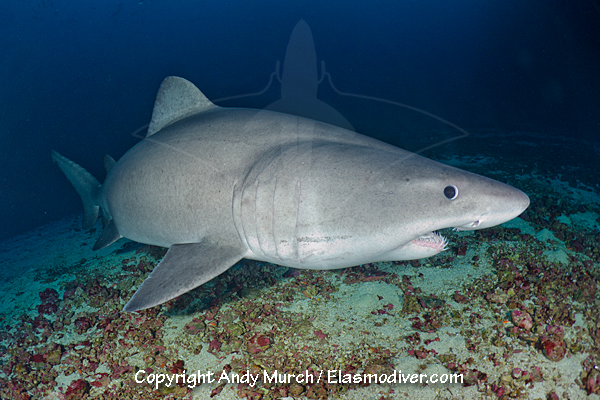 BEST OF BRITISH COLUMBIA EXPEDITION
In November I started promoting a trip to Newfoundland to shoot Humpbacks and dive the WW2 wrecks. Trying new places is important to me but its always risky. Newfoundland didn't get a lot of interest so I switched the expedition to a place that I know everyone wants to dive. I'm now running an expedition to Vancouver Island. The diving around Vancouver Island is phenomenal with invertebrate life unsurpassed anywhere but don't just take my word for it; Jacque Cousteau said that Vancouver Island has the best cold water diving in the world. He was right. Join me this summer and see for yourself: Expedition to Vancouver Island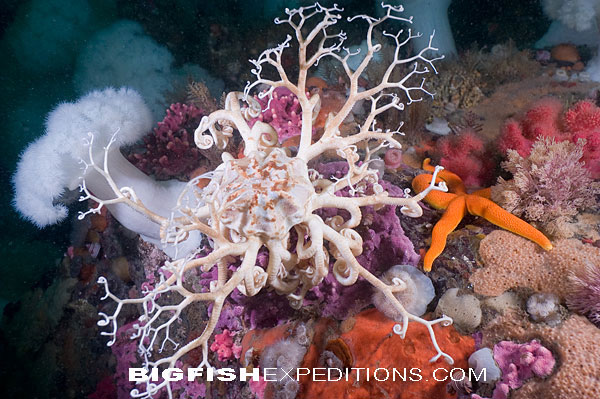 WHATS BUBBLING....
SEA OF CORTEZ BIG ANIMAL SAFARI
There are just a few spots left on the Sea of Cortez Expedition in August. Baja has some of the most diverse marine life that you will see anywhere. From tropical fish to pilot and finback whales to playful sea lions and humboldt squid encounters. This week long adventure takes in the best of the Gulf of California. Join me if you can!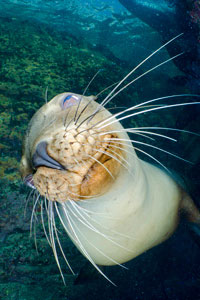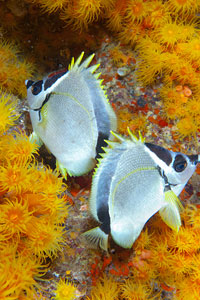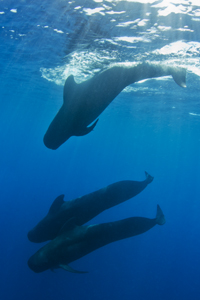 SAILFISH AND BULL SHARKS
In January I'm running back to back sailfish and bull shark trips in the fun filled Mayan Riviera. Join me on the quest to film up to 40 or 50 sailfish as they chase baitfish off of Isla Mujeres. This is a spectacle that you need to experience!
Sailfish are easily spooked by large groups of people so you need to experience it in the right way. I have hired a very fast boat and I'm keeping our group size to six guests only. Join the chase: Sailfish Baitball Expedition.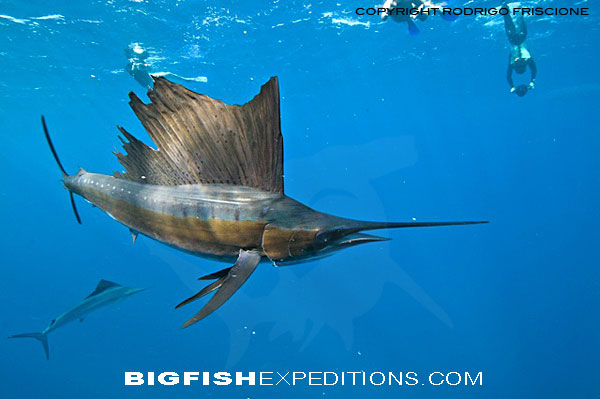 If free diving with sailfish makes you hungry for even more big animal action, then tack on three days of diving with bull sharks off of Playa del Carmen. I have wanted to run this trip for a long time but fishermen from the surrounding villages were taking advantage of the shark feed and targeting the sharks. A firm agreement now seems to be in place to stop this and well respected researchers have moved in to start documenting the bull sharks movements to better understand their importance in the local ecosystem. Its great to see the progress and I'm very happy to finally be able to offer this trip. So, please join me for the Running of the Bulls next January in Playa del Carmen, Mexico!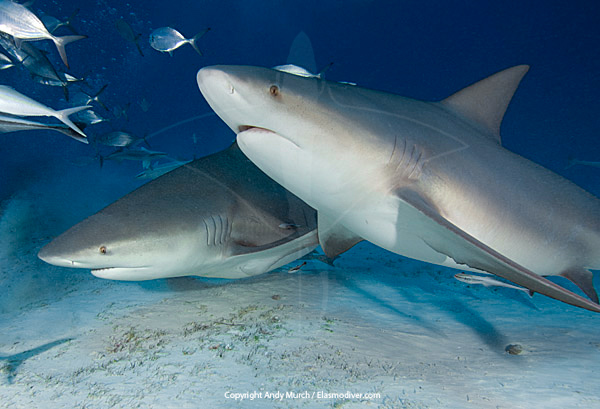 IMPORTANT NEWS: ADD THE WORD FAKARAVA TO YOUR LEXICON AND TO YOUR BUCKET LIST!
Yesterday I got back from a photo shoot in French Polynesia. I didn't realize that its just an eight hour flight from LA. It was a good opportunity for me to get images of some common Indo-Pacific sharks that I don't get a chance to shoot very often. One of the places I visited was Fakarava Atoll. Its only an hour from Tahiti and its everything that you would expect a picture perfect French Polynesian atoll to be. I could write a thousand word rant about how good the diving was but to spare you the drooling, I'll just say that I have never seen so many sharks in one place. In Fakarava it RAINS sharks!
Needless to say, I'm hashing out the details of a guest trip for next year that will take us to Fakarava and Moorea for a South Pacific Shark Safari. Expect to see hundreds of Grey reef sharks plus: silvertips, whitetips, blacktips, Indo-Pacific blacktips, tawny nurse sharks and sicklefin lemon sharks. I can't wait to show you how incredible the shark diving is. Keep an eye on BigFishExpeditions.com for more info coming soon.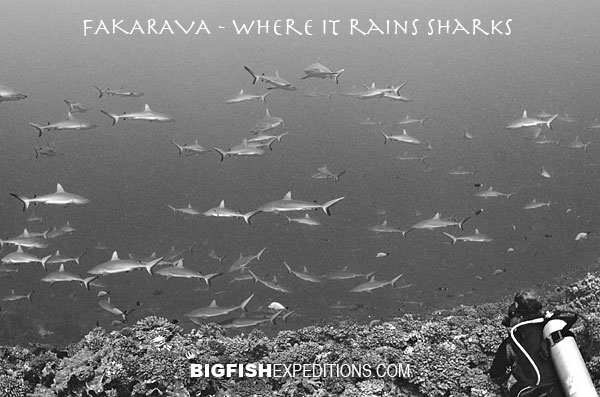 MORE EXPEDITIONS:
The South African Shark Safari only has 4 spots left for 2013. 14 species of sharks in 11 days. Join me on the ultimate shark safari: South African Shark Safari 2013
Tiger Beach is full (of course) and next year's April trip is already starting to fill up. So, I'm running another trip this fall in October/November. I'll post exact dates as soon as I have them but if you'd like to visit legendary Tiger Beach this fall please let me know as soon as possible and I'll reserve you a spot: Tiger Beach: Tiger Shark Capitol of the World
I look forward to seeing you out there!
For the oceans,
Andy Murch

---
DIVING POLAR SEAS AND THE SOUTH AFRICA SHARK SAFARI
HOW THE POLAR SEAS EXPEDITIONS WERE BORN
I am lucky enough to live on Vancouver Island in western Canada. Believe it or not, the island is warm. We get a little snow some years (not this year) but so does Texas. Its a great place to live and play.
The Salish Sea which separates the island from the mainland is considered 'temperate' but virtually everyone that dives here picks up a drysuit sooner or later. A wimp like me wouldn't be caught dead diving wet in our local waters.
A lot of divers that I meet in the tropics tell me that they'd love to see a giant pacific octopus or dive with a tumbling gang of adolescent steller sea lions but they just don't relish diving in the restrictions of a drysuit.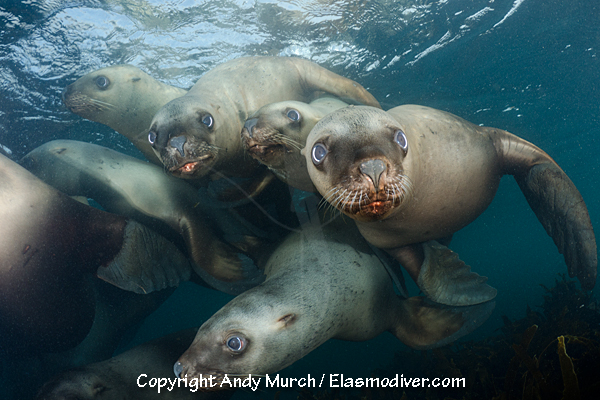 Adolescent Steller Sea Lions off Vancouver Island
I get it. Diving is about freedom as much as it is about seeing the wonders of the ocean. Its about that feeling of underwater flight. No restrictions. No boundries. Traditional inflexible drysuits took away that freedom and left divers feeling clumsy and confined. And then, Whites Manufacturing changed everything by designing the Fusion - a stretchy , form fitting drysuit that feels like you're diving in a wetsuit. My fusion has made such a profound difference to my cold water diving that I've started looking at the world's 'non-tropical' diving destinations very differently.
Recently, I was sitting in Whites office raving like a lunatic about my Fusion and talking about all of the places I'd like to dive in it. Instead of slapping a restraining order on me, Whites Brand Manager Justin Balaski suggested that Whites and Big Fish Expeditions team up to create a series of Polar Seas Expeditions to the world's most amazing cold water destinations. Sometimes the focus would be on big animals and sometimes it would be on diving the world's best cold water wrecks and reefs (wrecks tend to stay better preserved in colder water).
We would promote the trips together. I would lead them and White's would send me off with some extra Fusions for anyone that wanted to find out how comfortable it is diving in one. I jumped at the idea and started looking for destinations worthy of both companies.
Combining the best of Big Wrecks and Big Animals, our first Polar Seas Expedition will be in July of this year to Newfoundland, Eastern Canada. The Bell Island Wrecks consist of four 400ft long merchant ships that were sunk by U-boats in 1942. Think of Bell Island as Truuk Lagoon with Icebergs!
For the hardcore big animal divers, on the days that we are not diving on Bell Island's world class wrecks, we will have the opportunity to jump in with friendly humpback whales that cruise up and down the coast of Newfoundland during their summer migration. It'll be epic. Join me if you can. Click on the pic for more info: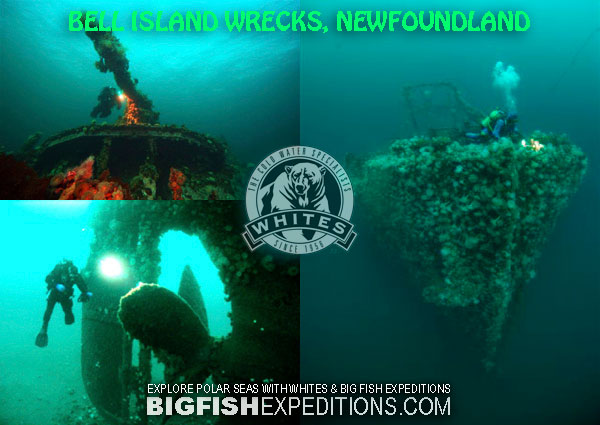 SOUTH AFRICA SHARKOHOLICS EXPEDITION
Yep, we're heading to South Africa to shoot sharks. 14 different species if all goes to plan: great white sharks (breaching and underwater), mako sharks, tiger sharks, Bull Sharks, Dusky Sharks, Ragged Tooth Sharks, Blue Sharks, Blacktip Sharks, Broadnose Sevengill Sharks, Spotted Gully Sharks, Puffadder Cat Sharks, Dark Shy Sharks, Pajama Sharks and Leopard Cat Sharks. That pretty much sums it up except to say that we'll likely see lots of other stuff too like Cape fur seals, lots of pelagics, African penguins and a whole bunch of land based critters like lions and cheatahs because the trip also includes a big game drive. Click on the Pic for more info: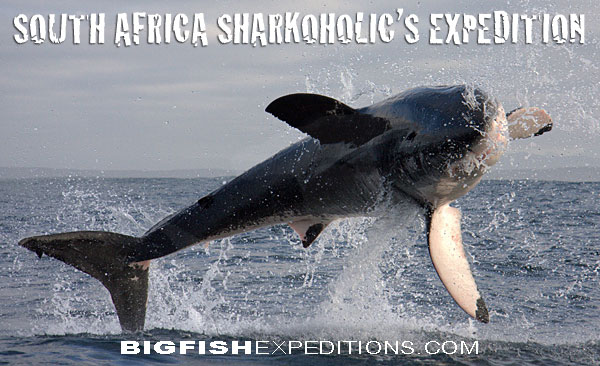 KICKING OFF THE 2012 EXPEDITION SEASON
The 2012 expedition season is about to kick off at Isla Malpelo which is famous for its wild pelagic shark action. I couldn't be more excited as (like most divers) I have never seen a smalltooth sandtiger shark and there's a very good chance we may see some at this time of year. If we nail the shots there will be one more shark listed on Elasmodiver.com and many new pics of old favorites like schooling hammerheads, silkies and Galapagos sharks.
I'll post a trip report as soon as we get back to land so keep an eye on this blog page and on Elasmodiver's Facebook Page for updates.
CONSIDER THIS A STANDING REQUEST FROM ELMODIVER: LOOKING FOR HELP FINDING NORTH AMERICAN SHARKS AND RAYS
To keep Elasmodiver growing I need to keep shooting new species. In the big picture I've barely made a dent in the total number of sharks out there but you'd be surprised how hard it is to find new species once you have shot the standard elasmobranchs (sharks and rays) that divers regularly see.
Right now I am focusing on finishing up the North American Elasmos. There are three main areas that I need help with: Skates in Alaska, Smoothhound sharks in California and Baja, and some of the more elusive species from the Gulf of Mexico such as finetooth sharks, smalltail sharks, night sharks and Atlantic Angelsharks or 'sand devils'.
If you know where or how to find any of these critters (whether diving or fishing) please let me know and I may plan an expedition based around that info.
Remember, the rarer they are, the more we need images to make sure the world knows about them. Invisible animals don't get protected.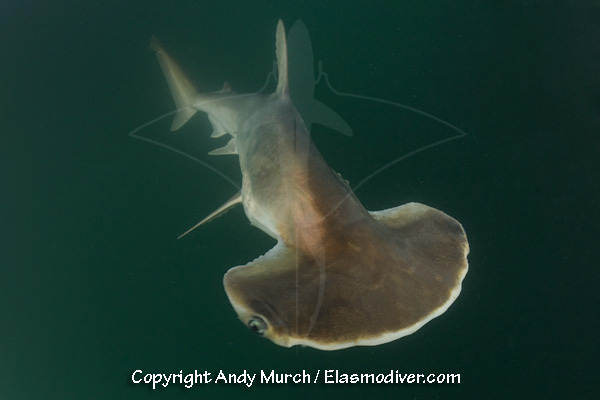 First live images of a scoophead shark. Shot in Panama in 2011. Only on Elasmodiver!
For the oceans,
Andy Murch

---