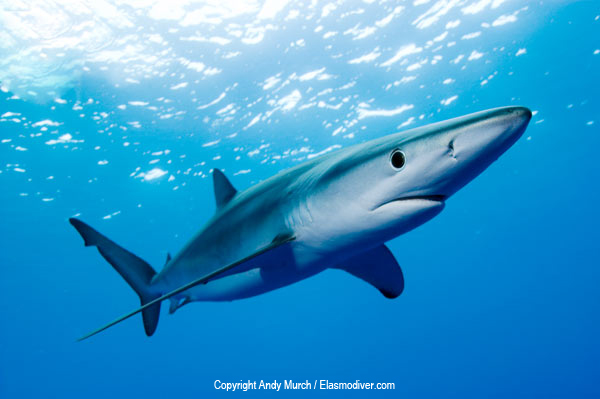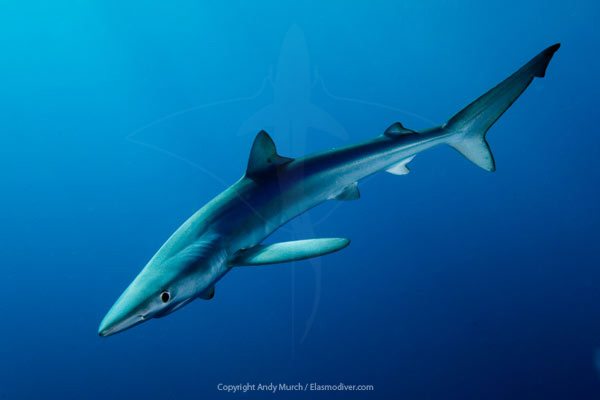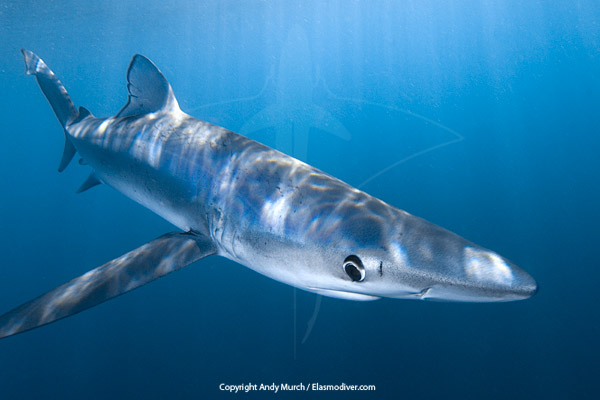 Photograph copyright Andy Murch
View all available Blue Shark Pictures in the Shark Pictures Database
Common Names: Blue shark
Latin Name: Prionace glauca
Family: Carcharhinidae
Identification: Slender body with extremely long pectoral fins. Snout long. Eyes large. Back has a distinct deep blue sheen. Underside pale.
Size: Maximum length 3.8 metres. 35-44cm at birth.
Habitat: Tropical and temperate open ocean environments. In some areas migrates into shallow water at night.
Abundance and distribution: Circumglobal. The Blue shark probably has the greatest range of any shark species. Once extremely abundant, over-fishing has caused a worldwide population crash.
Behavior: Spends much of its time in the open sea where it takes advantage of ocean currents to migrate across long distances. Takes advantage of seasonal food supplies such as the annual squid run off the coast of California.
Reproduction: Viviparous. Litter size 4-135.
Observations:
Photographs: Catalina Island, California.
Similar species: The Atlantic sharpnose shark (Rhizoprionodon terraenovae) has a similar long snout and large round black eyes but lacks long pectoral fins and blue coloration.
Reaction to divers: Usually encountered in baited situations where it can become aggressive. Large blues have been implicated in attacks. Blue sharks outside of baited situations are rarely encountered by divers.
Diving logistics: The MV Aquatica runs trips out of Long Beach, California. The standard itinerary involves continuous chumming while floating in blue water. The most productive trips are multiple day adventures where the chum has an opportunity to slick over a large area. Divers hang from drop lines while the sharks circle feeding on scraps thrown in by topside personel.
There are many other blue shark dives around the world including Eastern Canada and New England.