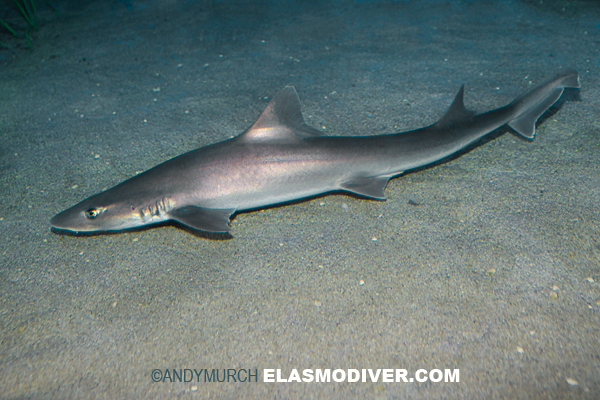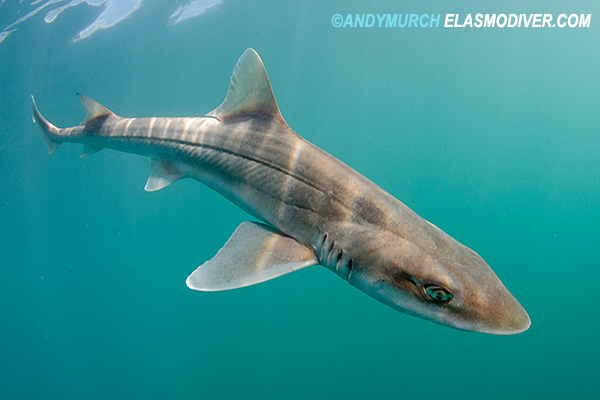 View all available grey smoothhound shark pictures in the Shark Picture Database
Common Names: Grey smoothhound, gray smoothhound, Mud shark, sand shark.
Latin Name: Mustelus californicus.
Family: Triakidae
- Houndsharks
Identification:
Long slender body. Dorsum plain grey/brown. Ventrum pale. Short, narrow head. Dorsal fin triangular.
labial furrows (mouth creases) equally sized. Origin of dorsal slightly behind trailing edge of pectoral fin. Ventral caudal lobe poorly developed.
Size:
Maximum recorded size: Male 116cm. Female 124cm.
Habitat:
Mud and sand flats in shallow bays and in deeper water on the continental shelf.
Distribution:
Eastern Pacific. Northern California to southern Baja including all of the Sea of Cortez.
Diet:
Hunts over sand in search of burrowing invertebrates. Consumes mostly crabs.
Behavior:
Enters shallow bays in search of food which it locates under the sand. Occasionally mixes with large aggregations of leopard sharks.
Reproduction:
Viviparous with yolk sac placenta. Recorded litter size 2-5.
IUCN Red List Status:
Least Concern.
IUCN quote: "The grey smoothhound shark is taken as bycatch in California and is both a target and bycatch of trawl and gillnet fisheries off Mexico. Despite continued fishing pressure there is no evidence to suggest this species has declined. This is a relatively fast-growing shark, with relatively short longevity (approximately nine years), early age at first maturity (2?3 years for females) and moderate fecundity (3?16 pups per litter), and is therefore considered to have a high capacity for recovery from fishing pressure compared to other sharks. These life-history characteristics, combined with no evidence to suggest the species has declined result in an assessment of Least Concern. Given that fishing pressure is continuing, catch levels need to be quantified and catch and population trends should be monitored carefully".
Citation: Pérez-Jiménez, J.C. & Carlisle, A.B. 2009. Mustelus californicus. In: IUCN 2012. IUCN Red List of Threatened Species. Version 2012.1. <www.iucnredlist.org>.
Photographs:
La Jolla, California.
Similar species:
Brown smoothhound shark M.henlei recognizable by its frayed rear margins on its dorsal fins. Sicklefin smoothhound M.lunulatus recognizable by its more acute, backwards sloping dorsal fins.
Reaction to divers:
A shy species that is difficult to approach. Divers remaining still may be rewarded by a close approach.
Diving logistics:
Divers and snorkellers at La Jolla Shores near San Diego occasionally encounter grey smoothhound sharks mixed in with the large aggregations of leopard sharks that show up there during the summer months. Divers/snorkelers hoping to see this shark should spend time searching in front of the Marine Room Restaurant; a shallow stretch of beach at the north end of La Jolla Shores.
HOME LINKS TAXONOMY UNDER THREAT BOOKS CONTACT