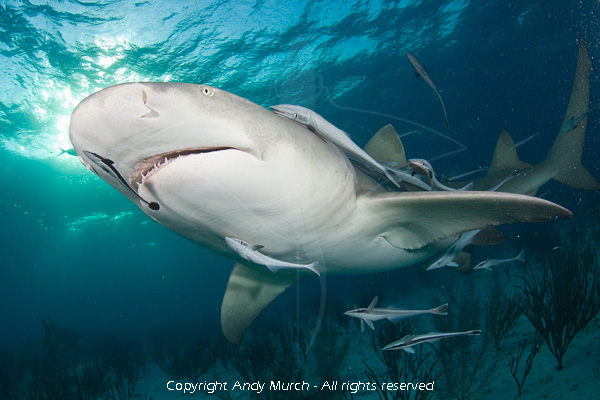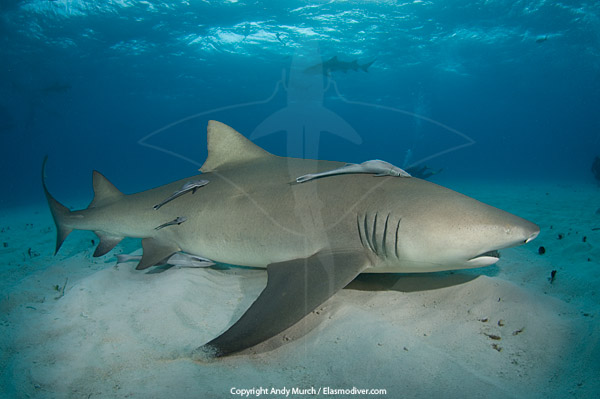 Lemon shark photographs copyright Andy Murch. All rights reserved
View all available Lemon Shark Pictures in the Shark Picture Database
Common Names: Lemon shark.
Latin Name: Negaprion brevirostris
Family: Carcharhinidae
Identification: Stocky yelowish brown body. Fins falcate. Second dorsal fin almost as high as first. Eyes large. Snout broadly rounded.
Size: Maximum length 340cm. Size at birth 56-81cm.
Habitat: A coastal species. Inshore lagoons, and reef faces near deep water drop offs. Juveniles stay in areas of mangrove and shallow sand flats.
Abundance and distribution: In the western Atlantic from New Jersey to southern Brazil and in the eastern Atlantic around west Africa. In the eastern Pacific from Baja to Equador.
Behavior: Maintains a home range of 18-93 square kilometres. May be found solitary or in aggregations such as the one recently recorded off of eastern Florida. Adult diet consists mainly of fishes including jacks, catfishes, guitarfishes, stingrays, and other sharks.
Reproduction: Viviparous. Recorded litter size 4 - 17. Gestation period 10 - 12 months.
Observations:
Photographs: Tiger Beach, Bahamas.
Similar species:
The lemon shark is fairly easy to identify but is superficially similar to many other carcharhinids.
Reaction to divers: Not known for its aggressiveness around divers but should not be molested. Lemon sharks are difficult to approach closely unless in a chumming situation.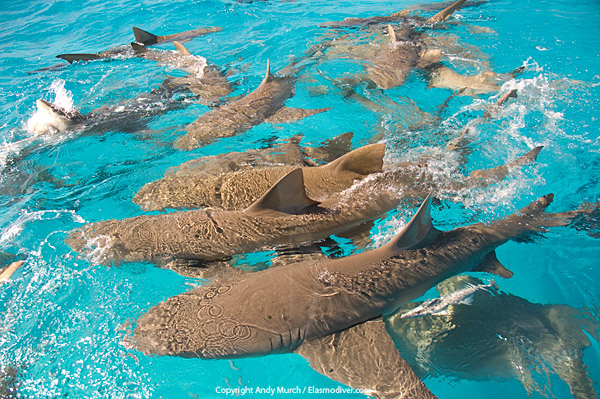 Diving logistics: The best opportunity to dive with Lemon sharks is probably with Jim Abernethy's Scuba Adventures aboard his dedicated live-aboard the Shear Water. Jim has a talent for attracting big sharks and knows some great spots where each species is likely to be found.
The seasonal aggregations off of the coast of Florida are a newly recorded phenomenon that has surprised the shark experts. Jim Abernethy is also on top of this encounter and should be contacted to find out when the aggregation starts (mid winter seems to be the time).
Other diving locations submitted by readers:
References and further reading:
Reef Sharks and Rays of the World. Scott W. Michael. Sea Challengers.
Sharks and Rays - Elasmobranch Guide of the World. Ralf M. Hennemann. IKAN.