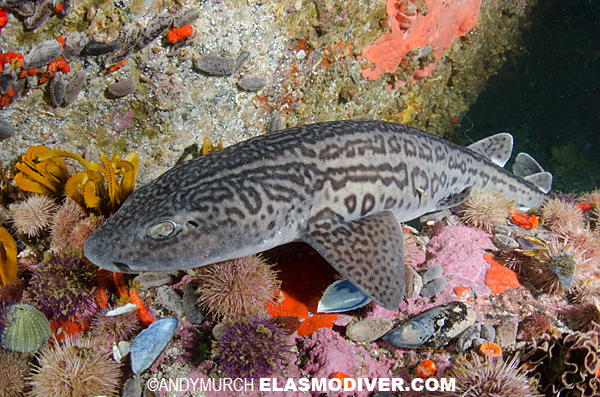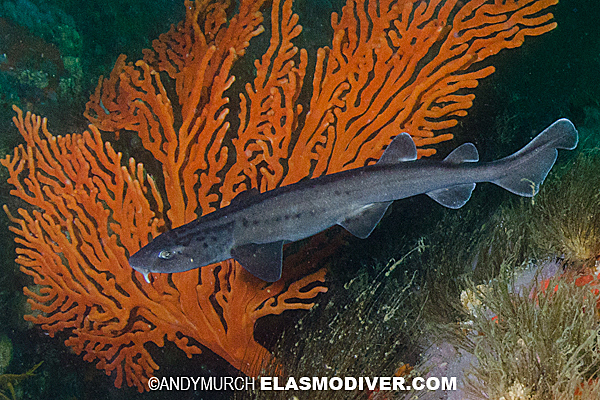 View all available Leopard Catshark Pictures in the Shark Pictures Database

Common Names: Leopard catshark.

Latin Name: Poroderma pantherinum.

Family: Scyliorhinidae

Identification: A relatively thick bodied catshark with long nasal barbells reaching the mouth. Body colour grey or grey/brown with a pattern of dark panther-like markings or spots that form irregular lines along the back. Markings may be sparse.

Size: 62cm maximum.

Habitat: Kelp forests, rocky reefs and mixed sandy or rocky substrates from surf line to 256 metres.

Abundance and distribution: Endemic to South Africa. From Saldanha Bay on the Atlantic coast to Sodwana Bay near the border of Mozambique. Possibly also around Madagascar and Mauritius but sightings require verification.

Behavior: Probably nocturnal but sighted occasionally during the day.

Diet: Feeds on bony fishes, octopus, crustaceans and polychaete worms.

Reproduction: Oviparous. Produces one egg per oviduct.

Conservation Status: The IUCN lists the leopard catshark as 'Data Deficient'. It is probable that this shark has multiple separate populations along the coastline, suggesting that the population is severely fragmented. It is commonly caught by rock and surf anglers, and commercial line fishermen who regard this shark as a pest which results in persecution and it is frequently killed by line fishers. Although the species is apparently common at present, its occurrence within areas of high fishing pressure, combined with the commercial line fishers? negative attitude towards this shark and the possibility that several subpopulations may exist leads to the recommendation that a suitable monitoring program be established for this species. The habitat that this shark occupies is also heavily utilised and extensive pollution and habitat degradation of inshore environments may also be impacting populations. There is a demand for this species for the aquarium trade, although number of animals taken per year is unknown and needs to be determined. Insufficient information is currently available on population trends and the impact of threats throughout its range to assess it beyond Data Deficient. Careful monitoring is required and the assessment should be revisited as further information becomes available.

Citation: Human, B. 2009. Poroderma pantherinum. In: IUCN 2012. IUCN Red List of Threatened Species. Version 2012.2. <www.iucnredlist.org>.

Photographs: Miller's Point, Simon's Town, Cape Province, South Africa.

Similar species:

The leopard catshark's closest relative is the Pyjama shark or striped catshark Poroderma africanum. The pyjama shark has distinct longitudinal stripes that should easily differentiate the two in the field.

Reaction to divers: Swims nonchalantly around divers but will retreat when harassed.

Diving logistics: Easily encountered from shore or while boat diving around Cape Town and likely elsewhere along the South African coastline. Divers carrying a few sardines that they can break up on the reef, will be especially successful.

Big Fish Expeditions runs yearly Shark Safari's in South Africa that include dives with this species.