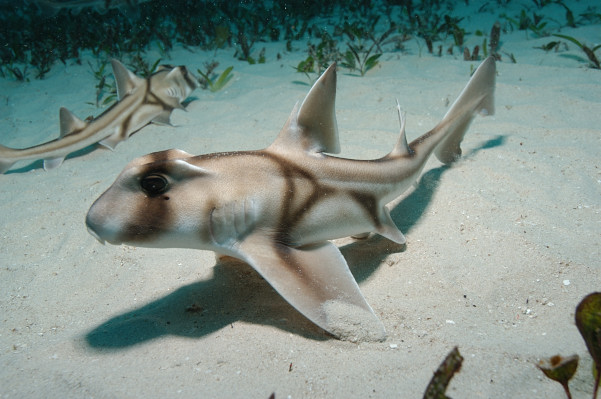 Both images copyright Andy Murch / Elasmodiver. All rights reserved.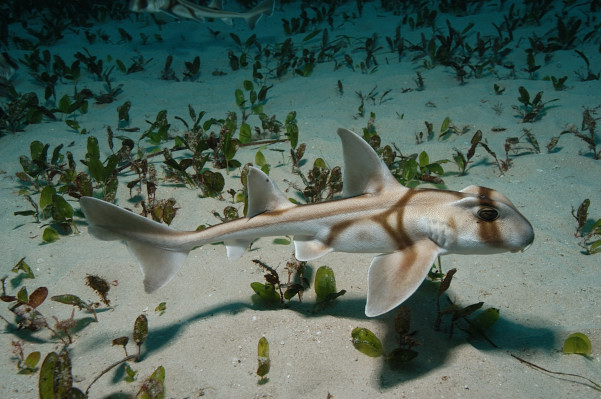 Port Jackson juveniles in a nursery
View all available Port Jackson Shark Pictures in the Shark Pictures Database
Common Names: Port Jackson shark
.
Latin Name: Heterodontus portusjacksoni
Family: Heterodontidae
Identification: Large, blocky, pig-like head. Dorsal spines present, terminating well below tips of dorsal fins. Dorsal fins pointed. Distinct, dark bridle pattern running from upper back onto pectoral fins and along flanks. Dark stripe also runs from the cheeks over the eyes and across the supra-orbital ridges
Size: Maximum length 170cm.
23cm at birth. Males mature at 70 - 80cm, females amture at 85 - 90cm.
Habitat: Intertidal to at least 275m. Rocky reefs and sand flats from. Juveniles often in open sandy areas.
Abundance and distribution: Northern Western Australia around south coast to Northern Queensland.
Most common in Southern range.
Behavior: Nocturnal. Rests during the day in groups or solitary, on the sand and forages for small fishes, Sea urchins, and benthic invertebrates at night.
Juveniles form large nurseries sometimes with hundreds of sharks.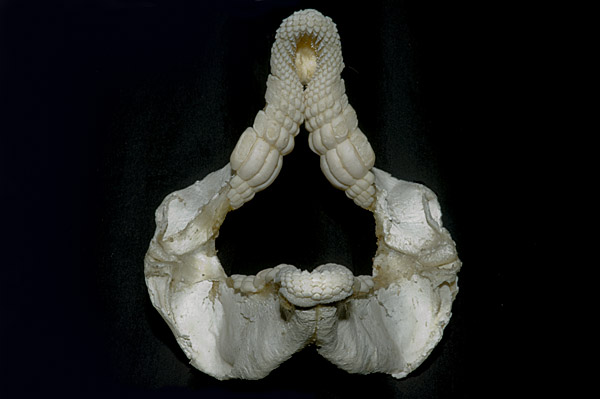 Reproduction: Oviparous. During August and September deposits 10 - 16 distinctive auger shaped egg cases every 8 to 17 days
in shallow rock crevices.
Observations:
Photographs: Albany, Western Australia.
Similar species: Crested horn shark. Shares east coast home range but easily distinguished by lack of bridled pattern
and higher supra-orbital ridge.
Reaction to divers: Can often be easily approached but prone to bolt especially when in the open.
Diving logistics: Port Jackson sharks are fairly abundant in much of their southern range. Consequently they are often encountered by divers in recreational diving depths.
HOME LINKS TAXONOMY UNDER THREAT BOOKS CONTACT