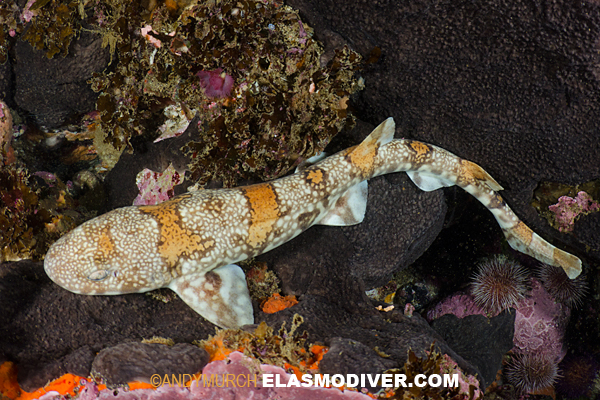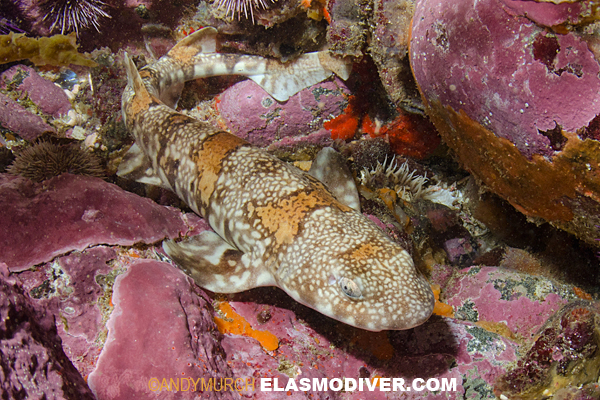 Photographs copyright Andy Murch. All rights reserved.
View all images of Puffadder Shysharks in the Shark Pictures Database
Common Names: Puffadder Shyshark, Happy Eddie.
Latin Name:
Haploblepharus edwardsii.
Family: Scyliorhinidae.
Identification:
The puffadder shyshark has a broad head and a relatively slender body. Dorsal coloration mid brown with tightly packed white spots plus 7 to 9 dark edged, golden-brown saddles. Ventral surface pale/white. Eyes golden matching the shark's paler skin tones. Very large nostrils with large nasal flaps.
A colour variation from Natal with darker broken saddles and less spots has now been described as a separate species: Haploblepharus kistnasamyi
Size:
Maximum recorded size: Female 69cm. Male 60cm.
Habitat:
Inshore reefs and kelp forests. Also on sand adjacent to reefs and on soft bottoms to 130m.
Abundance and distribution:
Endemic to South Africa. From Cape Agulhas to Natal. Common where it occurs.
Diet:
Small bony fishes: anchovies, maasbankers, gobies and gapers. Also, crabs, mysids, shrimps, hermits, squid and polychaete worms.
Behavior:
Swims over reef substrates and soft bottoms in search of food.
Reproduction:
Oviparous. Lays paired egg capsules which it frequently attaches to urchins on the reef.
Note the egg case filaments dragging behind this shark's pectoral fin.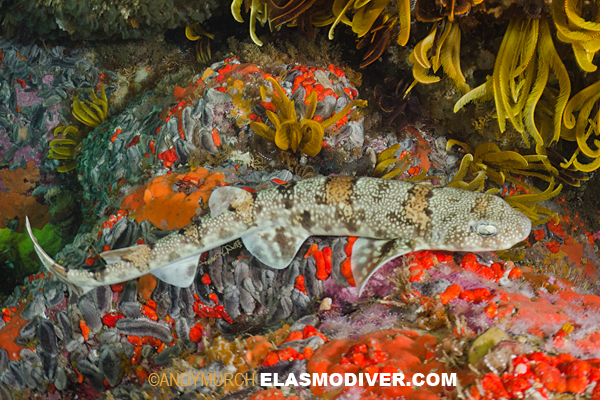 Photographs:

Millers Point, Simon's Town, South AFrica.

Conservation Status: The IUCN lists the puffadder shyshark as Near Threatened. Justification: "Haploblepharus edwardsii was previously considered to range along most of the South African coastline, however, a recent taxonomic revision of the genus has shown that this distribution included those of other Haploblepharus species due to species misidentification. Its current verified range is much smaller than previously thought, with its range lying wholly within heavily fished and potentially degraded inshore waters. That other Haploblepharus species are commonly misidentified for this species, may result in a possible overestimation of abundance for this species. Additionally, there may be population sub-structuring in this species as specimens in the west of its range grow to a smaller maximum size and have different habitat preferences to those in the east of its range. The main threat is recreational fishing where this shark is taken as discarded bycatch, generally regarded as a nuisance by the fishermen, and persecuted as such. The extent of occurrence of this species is estimated to be close to 20,000 km². A continuing decline in the number of individuals and/or quality of habitat is suspected as a result of heavy fishing pressure and pollution and disturbance of inshore waters. Anecdotal observations suggest that these catsharks are highly site specific, suggesting severely fragmented populations. Thus, the species is assessed as Near Threatened, narrowly missing the criteria for Vulnerable"

Citation: Human, B. 2009. Haploblepharus edwardsii. In: IUCN 2013. IUCN Red List of Threatened Species. Version 2013.1. <www.iucnredlist.org>

Similar species:

The

puffadder shyshark has strikingly bright saddles and intricate markings that differentiate it from most other catsharks. A darker form with broken saddles and larger spots has now been described as a separate species:

Haploblepharus kistnasamyi. Another catshark that may display somewhat similar markings is the dark shyshark Haploblepharus pictus. This particular species is usually darker and displays far less intricate markings. Its saddles do not have dark outlines and its spots are confined to its saddles.

Reaction to divers:

Virtually ignores divers unless closely pursued. Once the puffadder shyshark establishes that it is being followed it will generally move away, seek cover or at least attempt to keep its distance while on the move. A slow approach to a stationary animal generally will not illicit a flight response.

Diving logistics:

Miller's Point in Simon's Town (just down from the Boulder's Beach Penguin Colony) is a great place to look for puffadder shysharks. From shore, head out to the reef and wait for a puffadder to swim by. These are common sharks in this area so a little patience should reward the diver with some good sightings.

More costly but far more convenient than shore diving, take a charter with Shark Explorers out of Simon's Town or join Big Fish Expeditions on their yearly South African Shark Safari.

Big Fish Expeditions: