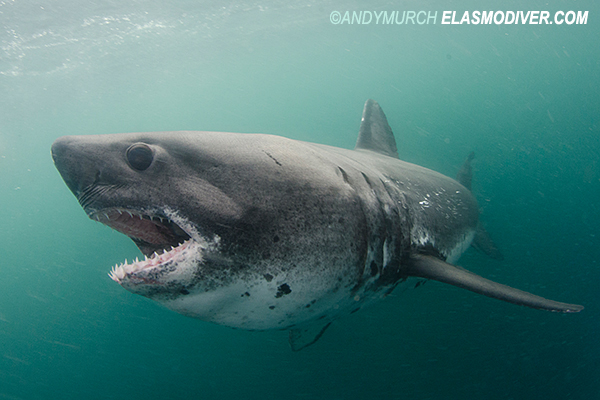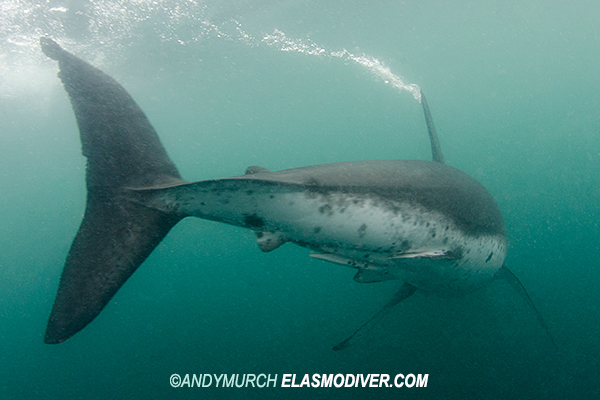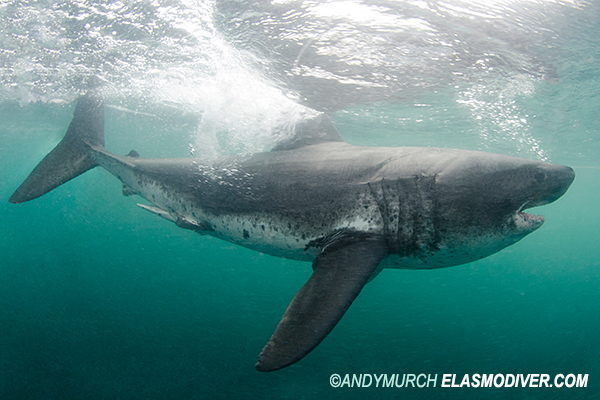 Common Names: Salmon Shark.
Latin Name: Lamna ditropis
Family: Lamnidae
Identification: A thick bodied shark with a blunt conical snout. Large black eyes. Well defined caudal keel. Second smaller caudal keel on tail. Large crescent shaped caudal fin. Dorsal coloration slate grey to grey/brown. Underside off-white with many irregular dark spots around counter-shading line.
Size: Maximum recorded size 3m. At maturity: males 180, females 220cm. Size at birth 40-50cm.
Habitat: Temperate/sub-temperate coastal and oceanic waters.
Distribution: The salmon shark is restricted to the North Pacific Ocean from Japan to California. Females are more common in the east, males more common in the west.
Diet and Behavior: Bony fishes including salmon, herring and sardines. In summer, North American populations move north to Prince William Sound in Alaska to feed on Salmon.
Reproduction: Litter size 2-5 pups.
Conservation Concerns: Listed by the IUCN as 'Least Concern' because the population appears to be stable and at relatively high levels of abundance. Currently there is no directed fishery in the Northeast Pacific, apart from a small sport fishery for the species in Alaska. Bycatch in the Northeast and Eastern Central Pacific appears to be at low levels and is not increasing at this point-in-time. Additionally, with the current ban on commercial fishing in Alaska state waters and fairly conservative sport fishing limits, it appears that the population is stable. In the Northwest Pacific, a small directed fishery still exists, but typically takes no more than ~5,000 animals per year. Bycatch in the Eastern and Western Central Pacific has been significantly reduced since the elimination of the drift gillnet fishery and the population appears to have rebounded to its former levels. In addition, the most recent demographic analysis supports the contention that salmon shark populations in the Northeast and Northwest Pacific are stable at this time and it is assessed as Least Concern. Nevertheless, there are very little data on catch in other fisheries, discards and potential finning from the major pelagic fisheries in the North Pacific.
Photographs: Port Fidalgo, Prince William Sound, Alaska.
Similar species:
Other than juvenile great white sharks, there are no species in the North Pacific that would likely be confused with salmon sharks. Great white sharks have an equally irregular but let mottled demarcation line between the dorsum and ventrum. And a single caudal keel.
Reaction to divers: Very difficult to approach. Moves away unless heavily focused on bait.
Diving logistics:
The only reliable place to dive with salmon sharks is in Port Fidalgo Inlet in Prince William Sound. The sharks migrate to the area to take advantage of the annual salmon run in July.
Big Fish Expeditions runs week long Salmon Shark Diving Expeditions every year or two to Port Fidalgo.
The shark encounters sometimes take place at the surface by luring the salmon sharks to the boat with herring. Lucky divers may also be approached underwater by the sharks as they patrol the reef in search of migrating salmon.
Other diving locations submitted by readers:
During blue shark diving trips in March and April 2013, the Sea Watch (operated by Chris Wade) encountered salmon sharks in Southern California. The Sea Watch has now moved to Costa Rica to protect Cocos Island from illegal longliners but other blue shark operators in California could potentially see salmon sharks around that time. According to Chris, the encounters were brief.
HOME LINKS TAXONOMY UNDER THREAT BOOKS CONTACT
Salmon Shark Diving: