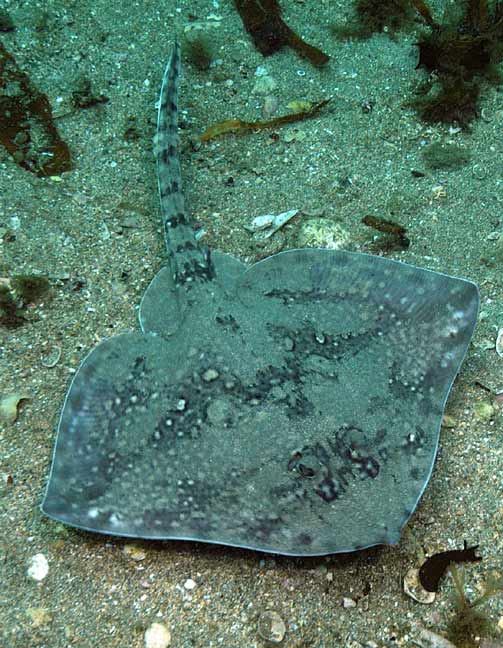 View all available Thornback Skate Pictures in the Shark Pictures Database
Common Names:
Thornback skate, Thornback ray (UK).

Latin Name: Raja clavata

Family: Rajidae

Identification: Rounded snout gives way to mildly concave anterior margins of pectoral fins. Distinct nub at tip of snout. Posterior margins of pectoral fins slightly convex. Small and large thorns extend down back and tail. Pattern of irregular sized pale spots and light and dark patches cover dorsum. Overal colouration may be grey or brown.

Size: Maximum length 90cm

Habitat: Found on sand and mud bottoms occasionally adjacent to rocky reefs. Intertidal to 300m.

Abundance and distribution: Common in eastern Atlantic from Norway south throughout the Mediterranean, the western Baltic, and the western Black Sea.

Behavior: Usually seen lying motionless on sand. Forages for a variety of benthic animals such as crustaceans.

Reproduction: Oviparous. Large females may lay upto 150 egg capsules during one season.

Observations:

Photographs: Helford River, Cornwall, UK.

Similar species:

Reaction to divers: Docile. Remains motionless unless closely approached. A slow swimmer unless threatened. I followed one specimen for 20 minutes along the river bed occasionally getting close enough to snap pictures.

Diving logistics: There are probably many places where it is possible to shore dive with Thornback skates. In southern Corwall around April the estuary of the Helford river is a good place to try. For convenience Porthkerris Divers can drop you in the middle of the river which is only about 10m deep. The tide will then carry you in or out of the river mouth. It is best to choose an incoming tide when the water is clearest. It is also possible to gain entry from the shore to this same area but the incoming tide may mean that exiting in the same spot is tricky.

Other diving locations:

Further reading:

Sharks and Rays - Elasmobranch Guide of the World. Ralf M. Hennemann. IKAN.