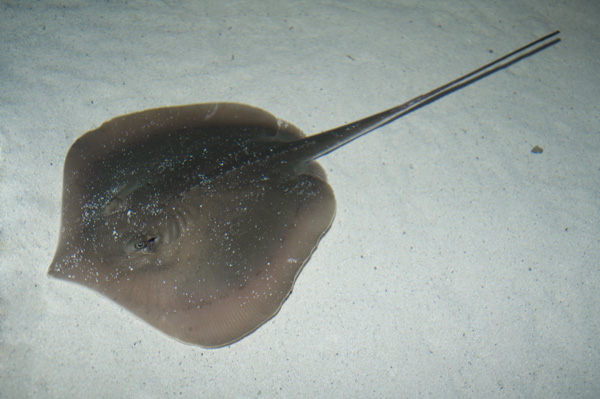 Photograph copyright Andy Murch
More Atlantic stingray photographs
Find more Atlantic Stingray Pictures in the Shark Pictures Database
Common Names:
Atlantic stingray

Latin Name: Dasyatis sabina

Family: Dasyatidae

Identification: Rhomboid disc, sometimes appearing teardrop shaped. Anterior disc margin concave. Posterior margin and outer margins rounded. Pointed snout on a broad based triangle. Tubercles on centre line of dorsum and first part of tail. Two short parallel rows of tubercles behind eyes, roughly half way between eyes and posterior disc margin. Tail thin, and long. Low dorsal and ventral finfolds present on tail, especially thin in juveniles. Dorsum Brown or tan paling towards margins where it may have a pinkish hue.

Size: Maximum disc width 49cm.

Habitat: Sand and mud bottoms from intertidal to 20m. Inhabits coastal areas, estuaries, and rivers. Capable of existing year round in freshwater environments.

Biology: The Atlantic stingray is unique in North America in its ability to thrive in a fresh water environment. In general, elasmobranches are considered to be stenohaline (salinity restricted) marine species. The bull shark has been reported many miles up rivers, but these forays eventually end with its return to a saline environment. Although some populations of the Atlantic stingrays are believed to remain year round in freshwater systems, they have not lost their ability to return to the sea, as have their freshwater cousins of South America. Rays of the family Potamotrygonidae which inhabit the Amazon Basin have lost the ability to retain urea in their body fluids. This minimizes the osmotic gradient related to a freshwater existence. The trade off for the Atlantic stingray is that even in fresh water their kidneys reabsorb urea. In fresh water, they still retain about 50% of their urea leading to a total osmotic pressure that is 15 times greater than their environment. So these animals face a very large osmotic uptake of water. To compensate for the influx of water, these stingrays have a considerable urine flow rate which is almost 10 times higher than those found in marine individuals.

Abundance and distribution: From Chesapeake Bay to the Gulf of Mexico. Most common in coastal habitats. St Johns River system in Florida and adjacent springs has the only fresh water population of any elasmobranch in North America. This ray has been found up the Mississippi River as far as 320km.

Behavior: Digs holes in sand in search of Tube anemones, polychaete worms, crustaceans, clams, and serpent stars. Faces into current to feed allowing sediment to be washed away.

Reproduction: Ovoviviparous. Male often follows female with his snout close to her cloaca and nibbles and bites her disc. Breading period from October to March. Gestation period April to August. Gives birth from mid to late summer in Florida.

Photographs: St Andrews State Recreation Area, Panama City, Florida.

Similar species: Southern stingray, Bluntnose stingray.

Reaction to divers: Easily approached with non threatening movements.

Diving logistics: The Atlantic Stingray can often be found at the Jetty at St. Andrews State Recreation Area at Panama City. It is possible to snorkel with them or dive but I found them mainly in the 8 to 15ft range, so tanks are not really necessary. Air fills can be obtained from Panama City Dive Centre near the entrance to the park. Two options are to dive the beach on the right side of the rock jetty or swim through the sheltered swimming area and drop into the channel. Make sure you have an incoming tide for clarity and to avoid being swept out into the bay. This is a great area to find rays. On the same dives and snorkels I found Southern stingrays and Bluntnose Stingrays. I also saw a school of around 25 Devil rays but sadly I didn't have my camera when they showed up.

Other diving locations submitted by readers:

References:
Peter Piermarini PhD. University of Florida - The Atlantic stingray (web page).
Fishbase.com
Scott W Michael - Reef Sharks and Rays of the World.
Biglow, H.B. and William C. Schroeder. – Fishes of the Western North Atlantic Part two. (Sears Foundation for Marine Research, Yale University. 1953).
HOME LINKS TAXONOMY BOOKS CONTACT