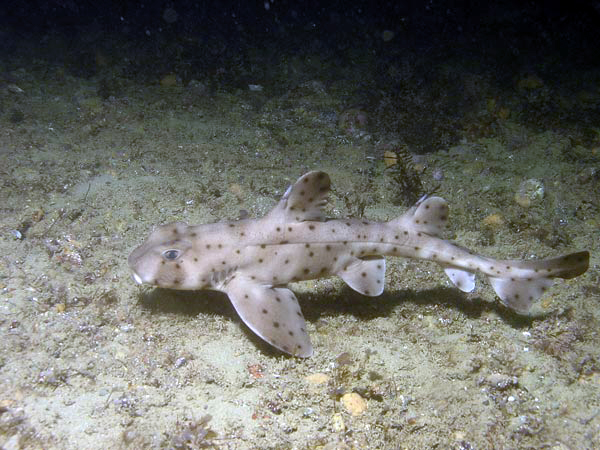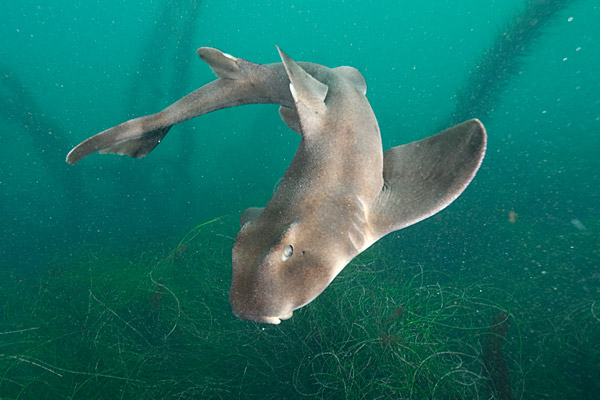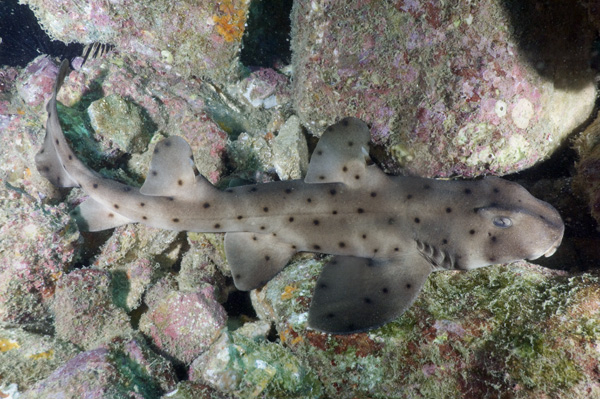 View all available Californian Horn Shark Pictures in the Shark Pictures Database
Common Names: Horn shark, California horn shark
Latin Name: Heterodontus fransisci
Family: Heterodontidae
Identification: Supraorbital crests (brow bones) moderately high. Small dark spots on tan or grey body (spots occasionally absent). Large, blocky, pig-like head. Dorsal spines present, terminating well below tips of dorsal fins. Pectoral fins large. Jaw contains anterior, pointed, clutching teeth and rear molars. Dentition changes with age (adults have more prominent molars).
Size: Maximum length 120cm.
Habitat: Rocky reefs and Kelp forests. Juveniles often in open sandy areas.
Abundance and distribution: Central California to the Sea of Cortez and possibly South America .
Behavior: Nocturnal. Hides in crevices or caves during the day venturing out to forage at night. May swim freely but is usually seen sluggishly moving along the bottom on its muscular pectoral fins. Hunts for Urchins, crabs, worms, anemones, and bony fishes.
Reproduction: Oviparous. Lays a distinctive auger shaped egg case with two threadlike filaments extending from one end. Egg hatches in 7 to 9 months.
Conservation Status: Data Deficient. According to the IUCN, California horn sharks have a small home range and exhibit long term site fidelity. They are hardy species and can survive capture if returned to the water; however, catches in Mexico are sometimes left to die on beaches. They are of no commercial value, although they are taken as bycatch (primarily off Mexico). If the gillnet fishery in Mexico expands significantly in the future, the population could potentially face problems, however, insufficient information is available at present to assess Heterodontus francisci beyond Data Deficient. However, it could well be Least Concern in US waters where its capture in fisheries is extremely rare with no other apparent threats.
Photographs: La Jolla Cove, CA and Avalon, Catalina Island, California.
Similar species: Mexican bullhead shark - Heterodontus mexicanus shares the south range of the California Horn shark.
Reaction to divers: Easily approached. Remains motionless unless molested. Caution should be taken around dorsal spines.
Diving logistics: Most easily observed whilst night diving. Catalina offers an excellent opportunity to encounter this shark. Air and equipment can be obtained on the pier in Avalon for shore diving purposes. Head out on the road past Lovers Cove South of town and enter from the beach. This is a long hike if you're wheeling your gear along in a rented cart. Small Horn sharks are usually present in around 30ft of water. The Dive Park at Casino Point right in Avalon may also be a reasonable place to look at night but this area gets too much traffic during the day for reliable sightings.