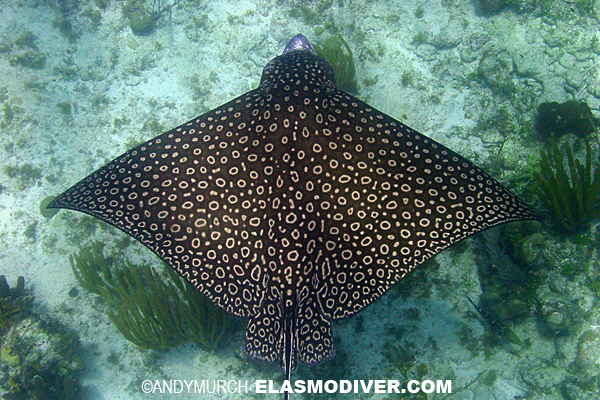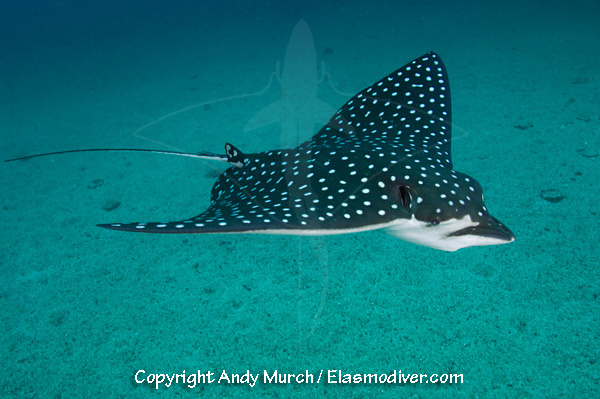 View all available spotted eagleray images in the Shark Pictures Database
Common Names:
Spotted eagle ray, White-spotted eagle ray

Latin Name: Aetobatus narinari

Family: Myliobatidae

Identification: Very wide rhomboid disc. Prominent brow with flattened, pointed snout. Very long, whip like tail (often broken off part way). Dorsum black, bluish, or gray, covered with small white spots. In some individuals the white spots can be slightly larger with black centers. The species is apparently under review and may be divided in the future. Ventrum pale.

Size: Wing span to 200cm. Max 250cm. Nose to tail (when complete) max 500cm.

Habitat: Cruises reef faces and sand flats (where it feeds). Also open ocean. Intertidal to 24m.

Abundance: Commonly seen in Florida and Caribbean.

Distribution: On the Atlantic coast from Virginia to Brazil. Circumtropical.

Behavior: Known to school in some areas. It feeds by scooping its flattened snout through the sand. Preys mainly on mollusks.

Reproduction: Ovoviviparous.

Conservation Status: the spotted eagle ray is listed as 'NEAR THREATENED' by the IUCN. Females bear a maximum of four pups/litter after a gestation period of probably a year. These limited biological parameters, the species' inshore habitat and hence availability to a wide variety of inshore fishing gear (beach seine, gillnet, purse seine, benthic longline, trawl etc.), its marketability and the generally intense and unregulated nature of inshore fisheries across large parts of the species' range warrant a global listing of Near Threatened, and a Vulnerable listing in Southeast Asia where fishing pressure is particularly intense and the species is a common component of landings (future declines of >30% are expected, if they have not already occurred). With further data it will likely fall into a threatened category in other regions also. For example, although specific details are not available, pressure on the inshore environment through artisanal fishing activities off West Africa, eastern Africa, throughout the Arabian Sea, the Bay of Bengal and in large portions of the species? American range has likely affected this species. There is nothing to suggest that pressure will decrease in these regions in the future. In a few parts of its range (e.g., South Africa, the Maldives, the USA and Australia) the species faces lower levels of threat, but overall, pressure on the species is high and likely to cause population depletions. Management and conservation measures considering harvest and trade management need to be implemented immediately.

Photographs: Top - Grand Cayman. Bottom - Isla Iguana, Panama.

Similar species: Recent genetic evidence suggests that the spotted eagle ray should probably be split into at least three species. All of which are extremely similar but are separated by slight morphometric differences and geographic distribution.

Reaction to divers: Generally shy and hard to approach. The best way I have found to get close to these rays is to sneak up on them from behind when feeding.

Diving logistics: South Caicos Island (part of the Turks and Caicos chain) reportedly has schooling eagle rays on a regular basis. South Caicos is a remote location and best reached by liveaboard, but for land based access try Grand Turk rather than Providenciales. Eagle rays are occasional visitors to many areas that divers frequent in the Caribbean. I have not been lucky enough to find the 'mother load' yet, but the walls of Grand Cayman are fairly well stocked.

Citations:
Kyne, P.M., Ishihara, H, Dudley, S.F.J. & White, W.T. 2006. Aetobatus narinari. The IUCN Red List of Threatened Species 2006: e.T39415A10231645. http://dx.doi.org/10.2305/IUCN.UK.2006.RLTS.T39415A10231645.en .