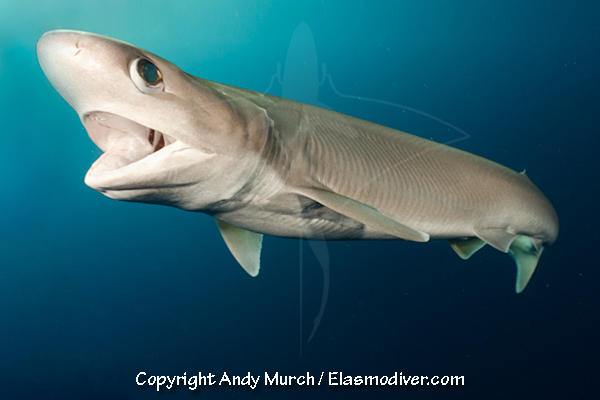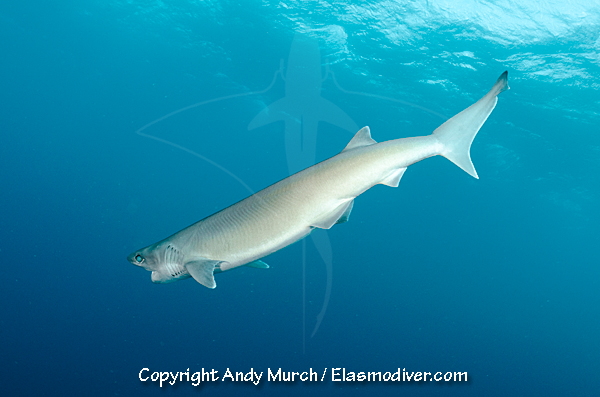 View all available Atlantic Bigeye Sixgill Shark Pictures in the Shark Pictures Database
Common Names: Atlantic bigeye sixgill shark, Sixgill shark, bigeyed sixgill, cow shark.
Latin Name: Hexanchus vitulus. Formerly Hexanchus nakamurai.
Family: Hexanchidae
Identification: Six gill slits. Sender body (compared to H.griseus). Single dorsal fin set well back above anal fin. Caudal fin with distinct lower lobe and deeply notched upper lobe. Large round pupils reflect a luminous green. Five rows of large comb shaped teeth.
Size: 180cm maximum. Size at birth 40-43cm.
Habitat: Temperate and tropical seas. Usually at great depth (90 to 620m). Long line collection in Cape Eleuthera by Edd Brooks (Cape Eleuthera Institute) indicates that bigeye sixgill sharks may inhabit greater depths than previously recorded.
Abundance and distribution: Found in the Western Atlantic from Florida, Bahamas, Gulf of Mexico and the Caribbean, and probably further afield.
Red List Status: Data deficient. Sometimes taken as bi-catch in line fisheries and as part of the artisanal shark fishery in the Gulf of Mexico.
Diet: Small to medium sized bony fishes and crustaceans.
Reproduction: Ovoviviparous. 13-26 pups per litter.
Photographs: Cape Eleuthera, Bahamas. Photographed during a tagging study conducted by Edd Brooks of the Cape Eleuthera Institute.

Similar species:

Bigeye Sixgill - Hexachus nakamurai. Very similar but DNA tests have shown this to be a distinct species.
Bluntnose sixgill - Hexanchus griseus. The bluntnose sixgill shark can be identified by its generally larger size and stockier body, its indistinct lower caudal lobe and lack of a notch in the upper caudal lobe.
Reaction to divers: Not applicable however a captured specimen showed aggressive behavior when manhandled during release.
Diving logistics: Not applicable
References and further reading:
IUCN Red List of Endangered Species: http://www.iucnredlist.org/apps/redlist/details/161352/0
Cape Eleuthera Institute Shark Ecology Program http://www.ceibahamas.org/shark-ecology.aspx
HOME LINKS TAXONOMY UNDER THREAT BOOKS CONTACT