SHARK INFO
SHARK
SHARK EVOLUTION
SHARK DIVING
SHARK DIVING 101
CONSERVATION
PHOTOGRAPHY
SHARK PHOTO TIPS
RESOURCES
WEB STUFF
WHAT IS ELASMODIVER?
Not just a huge collection of Shark Pictures: Elasmodiver.com contains images of sharks, skates, rays, and a few chimaera's from around the world. Elasmodiver began as a simple web based shark field guide to help divers find the best places to encounter the different species of sharks and rays that live in shallow water but it has slowly evolved into a much larger project containing information on all aspects of shark diving and shark photography.
There are now more than 10,000 shark pictures and sections on shark evolution, biology, and conservation. There is a large library of reviewed shark books, a constantly updated shark taxonomy page, a monster list of shark links, and deeper in the site there are numerous articles and stories about shark encounters. Elasmodiver is now so difficult to check for updates, that new information and pictures are listed on an Elasmodiver Updates Page that can be accessed here: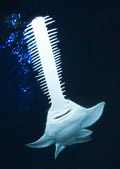 _
SHARK AND RAY BOOKS

Did you know... when you buy at Amazon.com or Chapters.indigo.ca through these links, part of you purchase supports Elasmodiver. Thank you for your support!

The following selection of shark books represents a cross section of the popular literature available on elasmobranch fishes. They are not all necessarily recommended reading but are included to give the reader a somewhat subjective outline of their content. Many of the books are comprehensive enough to warrant inclusion in more than one area but to avoid repetition they are listed where their content is most note worthy. More shark books are slated to be added to the list as soon as I wade through them.

3 elasmos = Excellent (don't go shark diving without it).

2 elasmos = Worth a read (good shark content).

1 elasmo = Only for shark book junkies.

0 elasmos = One for the chum bucket.

SHARK AND RAY FIELD GUIDES - IDENTIFICATION

DIVING WITH SHARKS. Nigel Marsh and Andy Murch (Creator of Elasmodiver.com).

A 'how-to' guide designed specifically for shark divers. The book covers all aspects of shark diving and photography and includes a large section detailing where to find and dive with most shark species that are accessible to divers.

SHARKS & RAYS Elasmobranch Guide of the World. Ralf M. Hennemann. The definitive photo identification guide. This book describes more species than any other photographic book on sharks and rays to date. Interspersed with anecdotes and articles and covering fossil records and rarely seen deep water species, it truly rates as the most complete i.d. tool in any shark divers library.

Buy this book now through the link below and support Elasmodiver.com

Sharks & Rays: Elasmobranch Guide of the World

Reef Sharks & Rays of the World - Scott W Micheal. A very comprehensive guide to the identification of the most likely elasmobranchs that you will find on the worlds rocky and coral reefs. I wouldn't go diving without this one. Scott gets quite technical in his descriptions but he has compiled a very respectable list of species including lots of rays. This book does not include skates or chimaera.

Buy this book now through the link below and support Elasmodiver.com

Reef Sharks & Rays of the World: A Guide to Their Identification Behavior and Ecology

Sharks of the World - Leonard Compagno, Marc Dando, and Sarah Fowler. Princeton Press / Collins (2005) This new contribution by esteemed shark taxonomist Leonard Compagno and friends, is a truly epic work. It is the first book to illustrate all known 465 or more, shark species. The sheer number of exquisitely detailed drawings by Marc Dando are a testament to his patience and skill. They are way beyond mere illustrations. And lastly, Sarah Fowler has done an excellent job of compiling and presenting the information in a readable manner. Apart from a species field guide the text also contains a detailed section on shark biology and behavior. This is a 'must have' book for any one interested in sharks.

Buy this book now through the link below and support Elasmodiver.com

Sharks of the World (Princeton Field Guides)

Freshwater Rays Richard A. Ross & Frank Shafer. an Aqualog Special. A valiant attempt to catalog all of the freshwater rays by species and variation. This is an almost impossible task as there are so many pattern variants among the Potamotrygonid Rays of South America. This excellent guide contains hundreds of colorful photographs and illustrations and extensive text on each species in German and English.

Also included is a basic guide to the sawfishes, guitarfishes and marine stingrays because they also sometimes inhabit freshwater environments although not exclusively. There are unique descriptions of family differences among the stingrays and many of the species portrayed are not represented in other field guides. Definitely required reading for anyone wanting a greater understanding of freshwater ray taxonomy.

Sharks, Skates, and Rays of the Gulf of Mexico. Glenn R. Parsons. University Press of Mississippi. Describes all of the known elasmobranches from the gulf region. The lengthy biology paragraph on each species contains information on diet, sexual maturity, habitat, and the authors personal observations. This style of presentation makes it a little difficult to quickly pull facts off the page but the information is accurate and up to date. Parsons includes the species status (if known) which should help anglers to identify animals at risk from over-fishing and a short section on shark conservation builds on this topic but unfortunately the author is a proponent of shark fishing and the book also contains lengthy chapters on the rudiments of the sport.

Buy this book now through the link below and support Elasmodiver.com

Sharks, Skates, and Rays of the Gulf of Mexico: A Field Guide

Sharks and Rays of Australia. CSIRO This is a very special book if you can get a copy. The first thing you'll notice is that it is truly massive! It is the size of an average picture book but 3 inches thick. Size may not be everything but I couldn't help being impressed by such a large body of work. The contents of this book are equally impressive. It covers basic biology, and has detailed descriptions relating to identification, range, and habits, of all known sharks, rays, and chimaeras, that have been found to date in Australian waters. The last section of the book contains beautifully detailed color plates of each species. The only drawback of this book is that it is too big to carry around on shark trips.

Buy this book now through the link below and support Elasmodiver.com

Sharks and Rays of Australia: Second Edition

Field Guide to Australian Sharks and Rays - R.K.Daley, J.D.Stevens, P.R.Last, and G.K.Yearsley. A CSIRO Publication. A useful little guide with ranges and descriptions of many common species encountered by anglers around Australia. The photographs are mainly of dead specimens and included with each species is a key indicating how it is usually caught and whether it is the targeted species or bycatch. Also included is interesting information on specimen storage, data collection, and tagging.

Buy this book now through the link below and support Elasmodiver.com

Field Guide to Australian Sharks & Rays

Sharks of Australia. AKA Australian sharks. by G.P.Whitley - 1940. Originally containing drawings and updated with b/w photographs, Whitley's shark id book is geared towards fishers and has little relevance today. A brief introduction includes information on 'shark usefulness', attacks, and diet.

Sharks - Andrea and Antonella Ferrari - Firefly. 124 species descriptions of sharks, rays, and chimaeras plus an overview of elasmobranch biology, evolution, and behavior. Although not as complete some other i.d. guides this book contains rich photographs of representative species.

Buy this book now through the link below and support Elasmodiver.com

Sharks

Sharks of Tropical and Temperate Seas. - R.H. Johnson - Pisces Books. A fine Identification guide to the sharks of the South Pacific region (Polynesia). Containing in depth information on the behavioral patterns of many local species. The author includes detailed species descriptions that greatly help in the differentiation of many requiem sharks.

Sharks, Rays, and Chimaeras of California - David A. Ebert - University of California Press. A well researched local guide to all species recorded to have visited California waters. Each of the 68 listed species are described in as much detail as is available for the purpose of identification as well as a good overview of behavior and physiology. A very thorough guide.

Buy this book now through the link below and support Elasmodiver.com

Sharks, Rays, and Chimaeras of California (California Natural History Guides)

Field identification guide to Western Australian Sharks and Shark-like Rays - R. McAuley, D. Newbound, R. Ashworth - Dept. of Fisheries, Gov. of W.A. A useful booklet describing each of the species found in W.A. with representative species drawings and color maps showing specific distributions.

Field Identification Guide to the Sharks and Rays of The Red Sea and the Gulf of Aden. Ramon Bonfil and Mohamed Abdallah. FAO 2004 An extremely thorough guide covering the majority of recognized species present with useful illustrations and photographs to aid in identification. Includes illustrations on teeth variation, eye shape, and snout proportions, as well as overall shape and coloration. The accompanying text is concise but well rounded and includes ID, habital and biology, and fisheries information. Available online as a PDF.

Sharks and Rays of Australia writen by Kelvin Aitken, New Holland Publishers 1998. TA straight forward guide to the families present in Australian waters. Considering that Australia is so species rich it would be nice to read a more in depth guide to the area. Small but well illustrated.

Buy this book now through the link below and support Elasmodiver.com

Green Guide Sharks & Rays of Australia (Green Guides)

Sharks, Skates, and Rays of the Carolinas - Frank J. Schwartz - Uni. of NC Press. A very thorough guide with detailed drawings and some photographs depicting all of the 91 elasmobranch species that have been recorded in North and South Carolinas waters. The section dedicated to deep water skates covers more species than most world guides.

The well written introduction includes a section analyzing the data gathered from local shark attacks.

A very useful local reference book for divers, anglers, and shark fans.

Buy this book now through the link below and support Elasmodiver.com

Sharks, Skates, and Rays of the Carolinas

Sharks and other Predatory Fish of Australia - Peter Goadby - Jacaranda Press 1959. Like most shark and ray field guides of its time, Sharks and other Predatory Fish leans heavily towards shark fishing and the danger posed by supposed man-eaters. One section is entitled 'Are sharks good to eat' and in another section attacks by sharks are split into 3 unusual catagories: the curious attack (where the shark simply nibbles at a swimmer), the accidental attack (where the shark gently tears tissue with his teeth), and the 'fair dinkum' attack (where the victim is seriously mangled when the sharks drive their teeth into bones and break them off). - great descriptives!

"eikapsels van haaien en roggen" writen by Peter Bor (in dutch), and published in 1998. This 48 pages book describes the egg-capsules of 11 species of skates and 2 species of catsharks, washed ashore on the Dutch coast.
SHARK DIVING BOOKS
Raggie Sanctuary – Chano Montelongo. DeeoBlue Video. The premise of this book is to describe the habitat, behavior, and diving opportunities around the Ragged-toothed shark (sandtiger) in South Africa. The original Spanish version may be ok but the horrendous translation makes this book very difficult to read. The only useful info concerns the specific sites where elasmos that can be found at in Aliwol Shoal. The book also contains a mediocre DVD.

Red Sea Sharks – Jeremy Stafford-Deitsch. Trident Press. This guide aimed specifically at divers covers the basics for safe and responsible interactions with the Red Sea 's common shark species. Jeremy has included many of his spectacular photographs of reef scenes showing requiem sharks in an artistic and non threatening way.

Buy this book now through the link below and support Elasmodiver.com

Red Sea Sharks: in Depth Diver's Guide (In Depth Diver's Guides)

The Shark Watchers Handbook - Mark Carwardine and Ken Watterson. Princeton University Press. This is an excellent resource for any shark diver. Spanning the worlds recognized shark diving destinations it examines what species can be regularly seen at each site and lists available dive operators. An identification guide is also included for common shark species. Ken is the founder of the Basking shark Society.

Buy this book now through the link below and support Elasmodiver.com

The Shark-Watcher's Handbook: A Guide to Sharks and Where to See Them

Great Shark Adventures - Marty Snyderman. Key Porter Books. A collection of diving stories compiled by a renowned shark photographer. Drawing heavily from his experiences with his friends Stan Waterman and Howard Hall, Marty often humorously conveys his love of sharks and the oceans.

Buy this book now through the link below and support Elasmodiver.com

Great Shark Adventures: True Tales from the Deep
SHARK MAGAZINES
Dive Magazine - Shark Special. This is an excellent one time compilation of Dive's previously printed shark articles and new encounters. This issue was published with a DVD containing footage of Dive's "Top Ten" shark species. Rumor has it that another edition may follow.
Shark Focus - Published by The Shark Trust. An informative magazine/newsletter that illustrates the ongoing work of the Trust and explains the opportunities for involvement. Also included are articles on different aspects of human/shark interactions, shark related current affairs, the plight of specific sharks and rays, and shark information resources. To receive Shark Focus become a member of the Shark Trust.
Sharks & Divers, and Shark Diver - Published by Skin Diver Magazine. Skin Diver produced many supplements in its later years including 3 dedicated to shark diving. Although well received no further supplements were produced. Good reading for shark divers if you can find a copy.

Shark Diver Magazine. Published specifically about the sport of shark diving. Shark Diver contains articles on the best locations for shark interactions around the world and true stories about divers personal encounters with sharks.

Shark Diver Magazine Issue 1

Shark Feeding

Great hammerheads in the Bahamas

Australia's White sharks

Threshers at Malapascua in the Philippines

Whale sharks in Texas

Africa's flying White sharks

Shark Diver Magazine Issue 2

Tigers and Bull sharks in Fiji

Greenland sharks in Canada

Erich Ritter on sharks

California sharks leopards, horns, swells, angels, blues, and makos.

Bahamas sharks

Shark Diver Magazine Issue 3

Silky sharks in Cuba

Salmon shark tagging in Alaska

Caribbean reef shark profile

Wounded Tiger shark

Bull shark tagging

Stan Waterman's White shark Encounter

Shark Diver Magazine Issue 4

Lemon shark Aggregations in Florida

Guy Harvey interview

Fooling around with Blue sharks

Reef sharks in Tahiti

Megamouth encounter

West Coast Blue sharks

Bimini Shark Lab

Shark Diver Magazine Issue 5

Great White Heaven – Guadelupe Island

Spiny dogfish at Quadra Island

Palau reef sharks

Galapagos Adventure

Sea of Cortez Whale sharks and Hammers

Bronze whaler shark bait ball.

Scalloped Hammerheads in Cocos Island

East Coast Blue sharks

Shark Diver Magazine Issue 6

Identifying Great white sharks

Australia's Grey nurse sharks

High action White shark cage encounter

Great hammerheads and Tigers

Bull sharks feeding in Fiji

Greenland shark encounter

Threat displays

Shark Diver Magazine Issue 7

Whitetip reef sharks

Wobbegongs in Peril

Oceanic whitetip encounter

Tigers at night

Shark finning

Rays

Blue shark bait balls

Cape Town White sharks

Shark Diver Magazine Issue 8

Tiger shark encounter

Smalltooth Sawfish research

Zebra sharks in Thailand

Shark slaughter in Malpelo

Bull Shark encounter

Nurse sharks

Wyland on fear of sharks

Shark Diver Magazine Issue 9

Mozambique Mantas

Bull Shark tagging

How to shoot sharks

Basking sharks in Cornwall

Sandtigers of North Carolina

Whites in South Africa

Tiger shark snorkelling

Shark Diver Magazine Issue 10

Whitetips hunting at night

Galapagos shark slaughter

Holbox Whale Sharks

Sixgill Sharks on Vancouver Island

Catalina Blue Sharks

Guadalupe White Shark Encounter

Shark Diver Magazine Issue 11

Thorntail Stingray encounter in Western Australia

Galapagos Adventure

Tigers and Silvertips in Yap

Sandtigers

Tasseled Wobbegongs

Guy Harvey on finning

Bahamas Lemon Sharks

Fossil shark tooth hunting in Cooper River.

Bulls and Tigers in Fiji

Shark Diver Magazine Issue 12

Shark Divers

Whale shark festival in the Philliphines

Blacknose sharks and Caribbean Reef Sharks in St Maarten

Prickly Sharks and the DeepSee sub at Cocos Island

Whale Shark Encounter

Cocos Island Baitball

Spiny Dogfish

SDM takes a more radical approach in this issue by glorifying the extreme aspects of the controversial sport of shark diving.

Oceanic Odyssey - Oceanic Whitetip Encounter in the Red Sea. Good images of an increasingly hard to find shark.

Stranger in the night - a surprise run in with a Scalloped Hammerhead.

Cornish Catsharks - diving with the Lesser Spotted Catshark.

Basker in the Bay - Snorkelling with Basking Sharks in New England

Mako Madness - Cover Story. Tagging Shortfin Makos off of San Diego. Amazing wide angle close-up photography of Makos mouthing the camera.

Niuhi - Free swimming with an enormous Great White Shark in Hawaii.

Life List - 32 extreme experiences that sharks divers could have before they quit. Very radical content.

Looking out from inside the glass - diving in the Houston Aquarium.

Chasing Sharks (part 1) - the making of the upcoming SDM TV show

10. THE ETHICS OF SHARK PHOTOGRAPHY by Andy Murch
12. CAPE COD by Tom Burns
16. GHOST SHARK by Andy Murch
20. HARDCORE SHARK DIVER Featuring Jimmy Hall
26. PHOTO FRUSTRATIONS by Paul Spielvogel
30. MEGAMOUTH REVISITED by Bruce Rasner
32. AUSTRALIAN SHARKS by Nigel Marsh
38. TIGER IN THE MURK by Ken Steil
42. BEHIND THE LENS with the editor of SDM

Shark Diver Magazine Issue 15

SHOOTING THE BUSINESS END OF SHARKS - Andy Murch

TRIBUTE TO SHARK DIVING PIONEER JIMMY HALL

REFLECTIONS FROM A WOULD BE SHARK BIOLOGIST - Meaghen McCord

INVASION OF THE PORT JACKSON SHARKS - Andy Murch

HARDCORE SHARK DIVER - WOLFGANG LEANDER (THE PURIST)

AUSSIE SWELL SHARKS - Nigel Marsh on the Australian Swell Shark or Draughtsboard Shark

SWIMMING WITH HOLLYWOOD SHARKS - EDDIE PAUL

THE KILL ZONE - Ian Lauder on South African breaching behavior

Shark Diver Magazine Issue 16

NIGEL MARSH'S- DOWN UNDER SERIES Nigel brings us the tawny nurse shark.
MEG TOOTH HUNTING IN NORTH CAROLINA Woody Tinsley tells the tail about a secret spot in the NC
FISH ROCK. - Andy Murch
NOTES FROM A SHARK JUNKYS JOURNAL Eli on the porbeagle shark
PHOTO FRUSTRATIONS - Paul Spielvogel seeks out bull sharks in Costa Rica
THE ABC's of SHARK CAGES - Eddie Paul shows us the do's and don'ts of building your own shark cage
SHARK PHOTOGRAPHY 101 - Andy Murch
HOLLYWOOD SHARKS - A behind the scenes look at the award winning documentary, SHARKWATER.
LAST WORDS - with SHARKWATER'S director, Rob Stewart.


Shark Diver Magazine Issue 17

-Whale sharks in Sogod Bay, Philippines, by Nigel Marsh
-Tail shots by Walte Heim
-Cousteau's great white shark, by Eddie Paul
-Great Hammerheads in the Bahamas, by Paul Spielvogel
-Threshers and Oceanics in the Red Sea, by Matt Newell
-Tigers, bulls, lemons in Fiji, by Bill Fisher
-California swell sharks by Andy Murch
-Interview with AirJaws producer, Jeff Kurr
-Notes from the road, Fiji, with Eli Martinez
Cover by Paul Spielvogel

Shark Diver Magazine Issue 18

-Shar-Grey nurse sharks off Sydney, Australia, by Nigel Marsh
-Scalloped Hammerheads off Venice, LA, by Nathan Meadows
-Shark Photography, 'Handling sharks', by Andy Murch
-Interview with Lawrence Groth
-Artist profile, Heather Ryan
-Aquarium Diver series, by Janelle Case
-Photographer profile, Ian Lauder
-Greenland sharks in St. Lawrence, Can. by Andy Murch
-Blue sharks off Rhode Island, by Tom Burns
-Producer interview, James Gelet, "The shark is still working" a tribute to the legacy of Jaws.
Cover by Tom Burns

Shark Diver Magazine Issue 19
-Sharks of the South Pacific, by Michael Salvarezza, and Christopher Weaver
-The Money shot. Sandtiger in North Carolina, by David Ulloa
-Oceanics in Bahamas, by Douglas Ebersole
-Whale Shark baitball off Africa, by Felipe Barrio
-Producer profile, with Scott Gurney
-Common angel shark off Canaries, Spain, by Andy Murch
-Whale Sharks off Holbox Island, MX, by Tyler Ham
-White sharks in Guadalupe, MX by Tom Burns
-Aquarium Diver, cat sharks in the North Sea Aquarium, by Ronald Faber

Shark Diver Magazine Issue 20
Shark Diver Magazine Issue 21
SPECIES SPECIFIC SHARK BOOKS
Field Guide to the Great White Shark - R. Aidan Martin. ReefQuest Centre for Shark Research. A well constructed guide covering all aspects of White shark behavior. Aidan has compiled an authoritative work detailing what is currently known from years of observation by his team and others, combined with careful speculation. Included are useful reporting forms to aid further research and advice on all aspects of White shark watching. His concise writing style meshes well with Alessandro De Maddalena's excellent illustrations resulting in an extremely informative yet readable book. The accompanying cd rom contains footage supporting various aspects of the text and printable reporting forms. Having digested the bulk of the information I would still consider this book an essential piece of equipment on any Great white shark trip.

Buy this book now through the link below and support Elasmodiver.com

Field Guide to the Great White Shark

Mako Sharks By Alessandro De Madallena. 2005. Covers all aspects of Mako shark biology, known behavior, distribution, attack statistics, and fishing information. Probably the most complete resource for the two Mako species but a bit dry and the translation doesn't flow well. It could do with some more images of live Makos underwater but overall it is an informative and useful book.

Buy this book now through the link below and support Elasmodiver.com

Mako Sharks

Swim with the Rays By Mike Nelson. A useful little book describing the history of Stingray City in Grand Cayman. Information on safe interactions with, and biology of the Southern stingrays is included.

Whale Sharks By Geoff Taylor. The most in-depth account of Whale sharks and the trials of tracking them. Doctor Geoff Taylor recounts his story from his first initial contact with the biggest fish in the sea to the continuing obsession which has kept him chasing and studying them ever since.
GENERAL SHARK INFORMATION BOOKS
The Book of the Shark - Dr Keith Bannister - New Burlington Books, 1989. A well written if slightly dated book. Dr Bannister covers basic shark biology very well and includes a full list of all the families and species known at the time with in depth descriptions of many species. Illustrated throughout with photographs including some rarely seen shots of deep sea sharks.

The Encyclopedia of Sharks - By Steve and Jane Parker - Published by Firefly Books Ltd, 2002. An exceptionally well laid out and easy to follow book on Shark Physiology. Containing page after page of vivid photographs and useful sketches of shark anatomy. If you're looking for a comprehensive introduction to this subject then The Encyclopedia of Sharks is a good place to start.

Buy this book now through the link below and support Elasmodiver.com

The Encyclopedia of Sharks

The Natural History of Sharks - Thomas H. Lineaweaver III and Richard H. Backus - Schocken Books. This is a fine introduction to the families of sharks. The authors describe in detail the history of shark and human interaction. Its interesting to see the early conservation awareness in this 60's edition.

Buy this book now through the link below and support Elasmodiver.com

The Seaworld book of Sharks - A small book for younger audiences but interesting in that it covers the topic of keeping sharks in captivity. Describes (and contains pictures of) shark transportation systems and tanks.

Shadows in the sea - Thomas B. Just about everything you could possibly want to know about human interactions with sharks. From the New Jersey attacks of 1916 to the rise and fall of the shark hide tanneries. A little outdated especially on the subject of shark abundance but deeply researched.

The Shark Chronicles - John A. Musick and Beverly McMillan. Owl Books. A wonderfully readable and informative book on the nature of sharks and their sad decline. The authors have woven together interviews with different shark researchers from around the world and their own observations of shark species into a flowing network of interrelated subjects and data. The result is a tremendously informative book that reads like a travel novel. John Musick's own tremendous experience in the field of shark research adds pertinently to each new subject and helps maintain a cohesiveness to the entire story as the book progresses.

Buy this book now through the link below and support Elasmodiver.com

The Shark Chronicles: A Scientist Tracks the Consummate Predator

Shark. Endangered Predator of the Sea - Marty Snyderman. Laurel Glen Publishing 1997. A beautifully crafted book of Marty's photographs. The conservation theme that echoes through each chapter make it a powerful tool for encouraging readers to protect sharks everywhere. Definitely deserves a place on my coffee table.

The Shark. Nature's Masterpiece - R.D.Lawrence. Abounding with curiosity and using unorthodox and sometimes primitive techniques, Lawrence draws his own conclusions on the mind and behavior of sharks. Full of information yet exciting, it reads like a novel. The author draws on his first hand life experiences swimming and diving with sharks, for fun as a child and later as a researcher.

Sharks - Doug Perrine. A good overview of shark and ray history, taxonomy, and biology with representative species descriptions. Doug Perrine ends his book with a cautionary discussion on diving with sharks and rays and a handy reference list that covers where it is possible to dive with each listed species and what diving conditions to expect.

Sharks and Rays of the World - Doug Perrine. Voyageur Press. Perrine's second book is an excellent introduction to sharks and rays. The flowing and well rounded content contains many insights and conclusions on biology and behavior that are rarely included in other introductory shark books. The photographs also, are of the highest quality with contributions from many renowned marine photographers. The index contains a table of accessible shark and ray encounters around the world.

Buy this book now through the link below and support Elasmodiver.com

Sharks & Rays of the World

Sharks - A Portrait of the Animal World by Andrew Cleave. Todtri Productions. A nice pictorial covering the different shark families and basic shark behavior and physiology.

Sharks of the World - Rodney Steel. An excellent all around shark book containing in depth information on physiology, behavior, and species. Rodney goes into quite technical detail on the sensory systems and also attempts to include each species known at the time.

Fish Men Fear... SHARK! By Jerry Greenberg. Seahawk Press 1969. Greenberg worked for National Geographic in the 1960's. This booklet came out of his assignments in the Caribbean and focuses on a few local species.
PHOTOGRAPHIC & ARTISTIC SHARK BOOKS
| | |
| --- | --- |
| | SHARK! Jeffrey L.Rotman. ipso facto publishing. An exceptional collection of photographs depicting sharks and rays. Well reproduced plates together with the limited text result in a beautiful pictographic journey. Worthy of any art collector. Rotman has an unusual photographic style that is refreshing and thought provoking at the same time. His use of macro photography and shadow to give his subjects texture is very effective. |
| | Sharks - Lee Server. Crescent Books. A beautiful pictorial with 140 lavish photographs. Contains a brief overview on species, biology and behavior. |
| | Sharks – Myth and Reality – Gaetano Cafiero and Maddalena Jahoda. Thomasson Grant. A lavishly illustrated coffee table book heavy with exceptional photographs. The text in this introductory guide covers shark behavior and physiology and examines representative species from each family. |
| | Sharks – Teresa Ferino. Tiger Books 1990. A pictorial guide to the worlds most prominent shark species. Includes a brief introduction on the major topics. The photographs while acceptable are not dynamic and leave the book somewhat lacking. |
MANUALS
| | |
| --- | --- |
| | Photo Manual and Dissection Guide of the Shark by Fred Bohensky. 120pp. Avery Publishing Group 1981. A thorough Manual for student reference using the Spiny dogfish (Squalus acanthias) as a subject. The text is interspersed with many large detailed anatomical photographs and illustrations. |
| | Sharks in Danger - Global Shark Conservation Status with Reference to Management Plans and Legislation. Rachel Cunningham-Day 2001. An excellent attempt to pinpoint the problems that sharks are facing globally in today's oceans. The author explains the legislation that currently governs fishing quotas for some of the key species of commercially harvested sharks and offers educated suggestions regarding the need for future study and catch reductions to promote sustainable shark fishing practices. |
SHARK STORIES
Blue Meridian - Peter Matthiesen. 1971. The chronicle of the expedition that filmed the full length documentary film "Blue Water White Death" which was Peter Gimbel's movie in search of the great white shark. Matthiessen gives us the fly on the wall view of events and personalities as Ron and Valerie Taylor and a host of others spend more than a year diving around the coasts of Africa, India, and Australia in the company of hordes of sharks searching for that illusive footage. A great read.

Buy this book now through the link below and support Elasmodiver.com

Blue Meridian: The Search for the Great White Shark (Classic, Nature, Penguin)

Great shark writings - Ron and Valerie Taylor. The Overlook Press. Covering a wide range of perspectives from diving with sharks to fishing for them, the Gurus of shark photography present a catagorised list of 42 articles and excerpts from popular literature and their own knife edge experiences.

Buy this book now through the link below and support Elasmodiver.com

Great Shark Writings

Shark - Edited by Nathaniel May - Published by Avalon Publishing Group, May 2002. Stories of life and death from the world's most dangerous waters. A collection of stories from novelists, sailors, oceanographers, and divers about encounters with sharks.

The Shark Splendid Savage of the Sea - Jaque-Yves Cousteau and Philippe Cousteau - Published by A & W Visual Library,1970. A chronicle mainly narrated by Philippe Cousteau of the sharks encounters during the Voyages of the Calypso. Translated from the original french by Francis Price. Philippe's' eloquent prose makes this book a rich account of early shark research.

Sharks and Shipwrecks - Hugh Edwards 1975. Contains shark stories by various authors. Ron Taylor relates his first experiences filming white sharks and Ben Cropp talks about the first Whale Shark encounter that he filmed. Ben's images made the front page of news papers around the world and were published in National Geographic.

Rodney Fox, Henri Bource, and Brian Rodger also provide first hand accounts of their shark attacks that led to South Australia's notorious reputation and the decline of major spear-fishing competitions which may have been a factor in the attacks.

A good book for shark history buffs.
SHARK ATTACK BOOKS
All the Drowned Sailors - Raymond B. Lech. A thorough but gruesome account of the sinking of the USS Indianapolis during the final weeks of WW2 which left around 800 men floating with very few supplies in the middle of the Marianas Sea for almost 5 days. Although much of the book concentrates on the military mistakes that caused the disaster, there are many references to the marauding sharks that would devour the dead as they floated away and periodically pick off vulnerable survivors.

The ill fated Indianapolis had just delivered the atomic bomb which was subsequently dropped on Japan ending the war. Its sinking by a Japanese submarine was the most catastrophic loss of life at sea in military history.

Close to Shore - Michael Capuzzo. An extremely thorough story focusing on the attacks on bathers off the coast of New England in 1916. The author has compiled an impressive body of information considering the early dates of the incidents.

Buy this book now through the link below and support Elasmodiver.com

Close to Shore: The Terrifying Shark Attacks of 1916

Hawaii Shark Stories - As told by Fred Barnett

A tongue in cheek compilation of newspaper cuttings, anecdotes and lies. Fred Barnett embellishes and corrupts his way through what would otherwise be a gory list of shark attack reports in convenient five minute bites - the perfect bathroom reader.

Man-Eating Sharks - Felix Dennis (1975). An excellent example of how naive people were towards the 'endless supply of sharks' back in the 1970's. Quote "The truth is that the sheer number of sharks together with their extraordinary range of habitat and territory renders their extermination impossible'. Basically a compilation of shark attack stories with chapter heading like 'When Sharks Eat Men' and 'Man Against the Shark'.

The final chapter is a behind the scenes look at the filming of the movie Jaws.

Shark Attack - H. David Baldridge - Berkley Publishing Corporation. Baldridge was comissioned by the US Navy to compile an exhaustive list of all recorded attacks dating as far back as historical record keeping allowed. His work led to the founding of the International Shark Attack File which is now added to as attacks take place. Having punched all his initial information into a primitive computer database he attempts to make sense of the data dispelling myths and educating the uninformed as to the true causes for attacks.

Shark Attacks - Alex MacCormick - . Drawing heavily from the shark attack file and MacCormick's research into newspaper articles and interviews with witnesses and survivors he weaves together a tapestry of attacks to show the common links to avoid.

Buy this book now through the link below and support Elasmodiver.com

Shark Attacks: Terrifying True Accounts Of Shark Attacks Worldwide

Shark Bites - Greg Ambrosem - The Bess Press (Hawaii). Mainly focusing on attacks on surfers off the coast of Hawaii.

Shark The Shadow Below - Hugh Edwards - Harper Collins 1997. Based in Australia, Edwards narrates the tales of many local attacks on surfers and divers. Woven through the book is the story of his attempts to film the Great White Shark.

Buy this book now through the link below and support Elasmodiver.com

Shark: The Shadow Below

Shark Trouble - Peter Benchley - Ransom House. Having had his big break with Jaws, Peter Benchley has dedicated much of his time since, trying to curb the hysteria created from his first novel. In shark trouble he takes a rational look at the reasons for "real shark attacks" and makes a very impassioned cry to save the sharks that we have left. His writing style is very entertaining and his message is vividly clear. This is a great book to take along on a dive trip.

Buy this book now through the link below and support Elasmodiver.com

Shark Trouble

Surfing with the Great White Shark - Kenny Doudt - Shark Bite Publishing. Kenny relates the details of his attack including his state of mind throughout the ordeal and discusses the amazing work of the doctors that managed to piece him back together. Contains some graphic medical photographs of Kenny's body before and after the surgery. Kenny's attack was one of the most gruesome that anyone has managed to survive through.
BIOGRAPHIES
The Shark Net - Robert Drewe. Viking. Not much shark content in this one except for the authors reminiscences of spearing a wobbegong in WA and his hopes of being the first on the scene of a shark attack - which never happens. Other than this its a beautifully scripted, funny, and poignant look at growing up in post war Western Australia. The central story revolves around the trial of the last serial killer to be executed in WA.

Man-eater Man – Colin Thiele. Published by Seal Books 1979. The life story of Alf Dean who was the first man to land a White shark weighing over a tonne. He succeeded during the 50's and 60's to break his own world records on many occasions and pioneered certain techniques of game fishing that were adopted by generations of fishermen since. His exploits were considered admirable at the time but his ruthless 'achievements' led to a significant loss of large White sharks that will not be replaced until long after his death.

Sevengill - The Shark and Me. Don C. Reed. Published by Scholastic Press. The true account of an aquarium diver's life in the shark tank. Don Reed explains his evolving respect and understanding for the Sevengill sharks in his care and relates some his personal experiences while interacting with this aggressive species.

Although written for young readers the information in Sevengill is unique and entertaining enough to warrant reading by an adult audience.

Shark Lady - True Adventures of Eugenie Clark by Ann McGovern. Scholastic Press. A young readers version (7-11yrs) of the life of Eugenie Clark who was one of the first to research the behavior of sharks in detail. Perhaps she is best known for her pavlovian style experiments with lemon sharks in which she taught captive sharks to push a lever in order to receive food.
SHARK FISHING BOOKS
Harpoon at a Venture – Gavin Maxwell. Published by Rupert Hart-Davis Ltd 1952. In a similar vain to Shark-O by P. O'Connor, Maxwell documents his attempts at creating a successful Basking Shark fishery in the late 1940's off the west coast of Scotland . Mr Maxwell goes into great detail about the business aspects of the industry and the inherent problems he was unable to overcome through trying to operate a factory on the remote island of Soay . It's easy to see from these writings how the population of basking sharks was so effectively decimated over just a few decades.

Lone Dhow - Adrian Conan Doyle - (1963). It always surprises me how eloquent prose can transform the butchering of majestic fishes into a thing of beauty. Lone Dhow relates Conan Doyle's hair raising adventures in Arabia as he searches for specimens for the Geneva Museum. If half the events that he speaks of in his tale really occurred as he describes them, then he truly was one of the worlds last great adventurers. While looking for Tiger sharks and giant sawfishes he overcomes sand storms, fevers, foul weather, blood poisoning, meager rations, lack of fresh water, bandits, bureaucracy, and much more. He dines with Sultans, outwits more than one mutinous crew, crosses hostile territory and gets the job done with revolver blazing. Great fun to read.

Savage Shore - Edward Marriott - Metropolitan Books (2000). A beautifully written account of the demise of the Bull sharks of Lake Nicaragua. Starting at the Atlantic coast, Marriott tracks the progress of the sharks inland, interviewing fishermen and merchants along the way. By the end of his travels deep within the interior, Marriot has woven the Bull shark into the very fabric and culture of Nicaragua's explosive history. A sad but excellent read.

Buy this book now through the link below and support Elasmodiver.com

Savage Shore: Life and Death with Nicaragua's Last Shark Hunters

Shark Hunters - Ben Cropp. This book inadvertently explains the lack of sharks and large gropers cruising the reefs of Eastern Australia and the need for the subsequent protection of the Grey nurse shark. Ben and his friends delight throughout the book in the senseless slaughter of anything large with gills that they find underwater. Written in a time before the concept of conservation, it illustrates how poorly educated spear fishermen can decimate a population to the point of near extinction in just a few short years. The book centers around a core group of skin divers (male and female) as they delight in killing sharks. One of the key figures is Ron Taylor who went on to become a renowned underwater camera operator. Quite educational if you can stomach the strutting, testosterone filled attitude.

Shark, Killer of the Deep - Zane Grey. A collection of shark fishing stories by one of the twentieth Centuries most renowned fisherman. The accounts in this book illustrate the attitudes of the day in which the shark is portrayed as a blood thirsty monster. The author repeatedly documents his pride in killing as many sharks as he can.

Shark-O. - Patrick FitzGerald O'Connor. Published by Secker & Warburg Ltd 1953.

A fine personal account of the authors Basking Shark fishing expeditions of the early 50's. O'Connor's love of the sea and thrill of the chase is highly infectious. A great read if you can find a copy.

Shark Safari - Captain Hal Scharp. Award Books 1976 (abridged). Although the information is well researched for its time, the general flavor is that of man pitting himself against the blood thirsty killing machines of the sea. Some unique info e.g. the man who tried to fashion a shark drawn chariot.

Sharks are Caught at Night - Francois Poli. First published in french in 1957.

An interesting account of Poli's travels through the Caribbean and Central America as he learns the art of shark fishing from different artesanal fishermen. After learning all he can in Cuba he travels to Haiti where he watches a man kill a large trapped shark just with a knife. Eventually he ends up in Lake Nicaragua where the lines between shark fishing and folklore are difficult to draw.

See also Maneater Man in the Biography section.
FICTIONAL SHARK BOOKS
Jaws - Peter Benchley. The book that started it all. Jaws is loosely based on the New England attacks of 1916 and revolves around the panic that engulfs a small resort town as its enhabitants are terrorized by a huge man-eating White shark. Having become an overnight best seller, Jaws was made into a movie which was the first summer blockbuster and set a new trend in Hollywood. A wave of shark hatred and fear swept across the world and thousands of sharks were hunted down and killed. Holding himself (somewhat unfairly) responsible for the diminishing white shark populations, Benchley now spends much of his time working to reeducate people and create a new image for sharks.

Buy this book now through the link below and support Elasmodiver.com

Jaws

Meg - Steve Alten. In this fanciful story, Megalodons still inhabit a mysterious layer of tropical ocean, trapped under the frigid waters, deep within the Mariana Trench. When a Megalodon is accidentally entangled on a line, a second shark rips it apart and rides to the surface warmed by the blood flowing from the first sharks body. The meg then reeks havoc on the topside world while a paleo-biologist attempts to contain the shark in a huge lagoon. Not bad really if you're looking for a light but gory read. If you ignore the fact that there is no tropical paradise 8 miles down, that you cant actually dive to hundreds of feet on oxygen, and that the government would probably not leave a giant shark to eat people while a private company tried to capture it, then it all makes perfect sense.

Buy this book now through the link below and support Elasmodiver.com

MEG: A Novel of Deep Terror

Meg Primal Waters - Steve Alten. The third book in the Meg series depicts our heroes fighting off multiple Megalodon sharks that have chosen to breed and pup in populated surface waters. The megs are portrayed as aggressive but not malicious predators that are being manipulated at the hands of a crazed and vengeful scientist. Just as entertaining as Steve's previous Meg books.

Buy this book now through the link below and support Elasmodiver.com

MEG: Primal Waters

The Trench - Steve Alten. The plot thickens in this sequel to Meg. Angel (the captive Megalodon) escapes to terrorize the seas up to Alaska. While this is happening, a megalomaniac with a deep sea lab directs his own brand of terror at the surviving characters from the first novel. Perhaps bored with Megalodons, Alten introduces new deep sea horrors into this story, as well as CIA plots, terrorist activities, love triangles, and plenty of gore. As a sequel it was actually quite entertaining.

Buy this book now through the link below and support Elasmodiver.com

The Trench

Hells Aquarium - Steve Alten. Steve's long awaited forth Meg novel build's on the concept of there being an isolated ecosystem inhabited by prehistoric monsters that are trapped in a remnant of the Panthalassa, hidden under a rock crust below the Philippine Sea.

Jonas Taylor, now in his sixties, is struggling to control Angel's litter of 5 pups. After a number of tragic accidents and constant harassment from a radical animal rights group, Jonas agrees to sell two of the juvenile megalodons to a new, 'state of the art' aquarium complex in Dubai. When Jonas' son David is hired to help the pups settle in to their new home, he is unwittingly sucked in to a suicidal expedition to capture a representative selection of the Panthalassa's most nightmarish creatures.

After David's submersible is crippled by a mososaur, Jonas enters a race against time to save his son before David and his copilot are either devoured or suffocate in their abyssal coffin.

Steve has done a masterful job of weaving fact and fiction. His impressive understanding of oceanography and prehistoric life forms add a feel of credibility to an otherwise fanciful premise. I would have preferred it if he had not taken the liberty of giving air breathing dinosaurs gills and I'm pretty sure that Steve's manta ray submersibles defy the laws of physics but hey; it's sci-fi!

Hell's Aquarium builds and builds and builds! I can't wait for the next one.

Buy this book now through the link below and support Elasmodiver.com

Meg: Hell's Aquarium

White Shark - Peter Benchley. More of a novel about a Nazi created monster than sharks. Misleading but entertaining.
SHARK AND RAY HUSBANDRY BOOKS
Freshwater Stingrays - Richard Ross M.D. - Barron's. Probably the only way to see these stunning creatures is in an aquarium. Ross covers all the basics on Freshwater Stingray husbandry.

Buy this book now through the link below and support Elasmodiver.com

Freshwater Stingrays (Complete Pet Owner's Manual)
SHARK EVOLUTION AND SHARK FOSSIL BOOKS
Lets Go Fossil Shark Tooth Hunting - B. Clay Cartmell - Natural Science Research. An introductory look at the fossil shark tooth hunting with drawings of teeth of extinct and extant species, information on collecting and displaying fossil teeth, and tips and techniques.

Although geared to fossil hunters in the Venice, Florida area the information is useful to anyone wanting to learn about collecting shark teeth.

The Rise of Fishes - John Long - Johns Hopkins University Press. A well illustrated guide chronicling the development of fishes from the earliest stages of larval invertebrates to the complex diversity of the present. One section speculates on the radiation of sharks. Long points out the problems associated with studying a group that leave nothing but teeth behind in the fossil record and describes some of the many notable extinct species. Includes some great pictures of rare fossilized whole sharks.

Buy this book now through the link below and support Elasmodiver.com

The Rise of Fishes: 500 Million Years of Evolution
OTHER SHARK RELATED BOOKS
Deep Atlantic - Richard Ellis - The Lyons Press. A fascinating account of deep sea exploration and abyssal marine life. One chapter is dedicated to Deep Sharks. Ellis speculates on their abilities and behavior.

HOME LINKS TAXONOMY UNDER THREAT BOOKS CONTACT