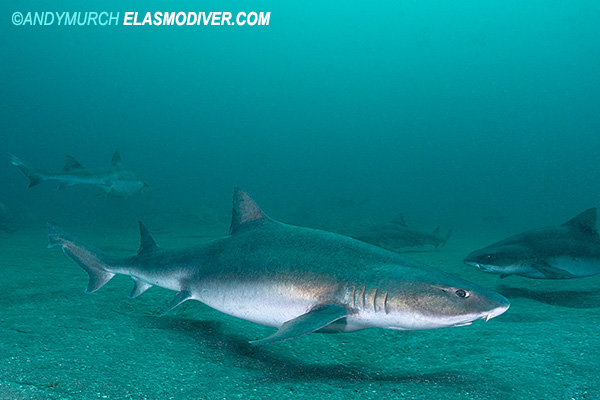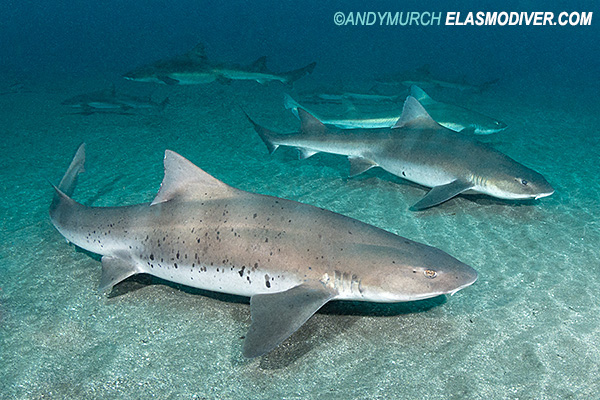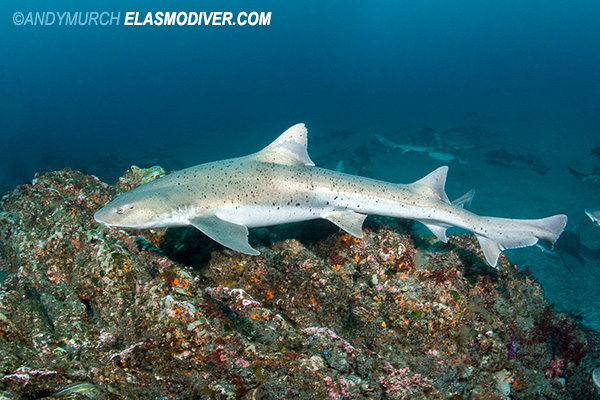 Photographs copyright Andy Murch. All rights reserved.
View all available Banded Houndshark Images in the Shark Pictures Database
Common Names: Banded houndshark.
Latin Name: Triakis scyllium
Family: Triakidae
Identification:
A relatively slender bodied shark. Two dorsal fins (the second almost as large as the first). Rear margin of first dorsal almost vertical. Upper caudal lobe deeply notched. Snout short and broadly rounded. Body predominantly grey to bronze with many scattered black spots and dusky (often indistinct) saddles. Saddles and spots fading or sometimes absent in adults. Ventrum white/pale. Black spots often continue below counter-shading demarcation line.
Size:
Maximum recorded size 150cm. Size at birth 18-20cm.
Habitat:
Inshore on sand flats, seaweed, sea-grass beds and rocky reefs. Often in estuaries and shallow bays.
Abundance and distribution:
Confined to the temperate coastline of Southern Siberia, Japan (where it is abundant), Korea and China including Taiwan.
Diet:
The banded houndshark feeds opportunistically on a wide variety of animals including crustaceans, other invertebrates and bony fishes.
Behavior:
Hunts over sandy substrates for invertebrates. Sometimes seen in large aggregations close to shore.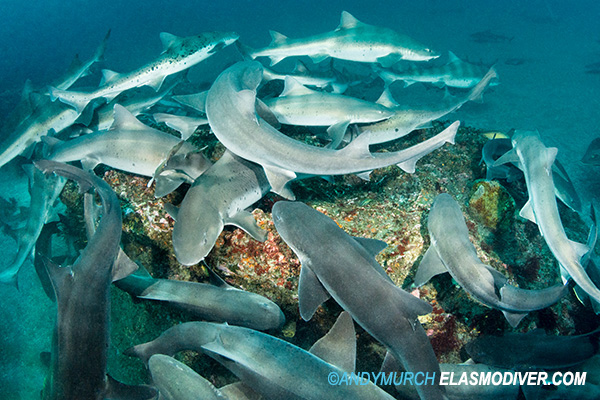 Reproduction:
Ovoviviparous with no yolk sac placenta. Recorded litter size 10-24.
Photographs:
Tateyama, Chiba, Japan.
Conservation Status: The IUCN lists the banded houndshark as 'Least Concern'. From the IUCN website: "This species is relatively widespread and common throughout its range, from southern Russia to China. Threats include bycatch in gillnet and setnets. Although this shark is not a target species, it is sometimes still eaten. It is also known to occur in rocky, un-fished, nearshore areas off Japan, providing it with some refuges. This species is also commonly found in aquariums in China and Japan. Although few data are available on the species' population, it is common and there is no evidence to suggest population declines."
Citation: Ebert, D.A., Tanaka, S. & Nakaya, K. 2009. Triakis scyllium. The IUCN Red List of Threatened Species. Version 2014.3. www.iucnredlist.org
Similar species:
Although the banded houndshark shares its range with other smoothhounds and houndsharks it's subtle pattern of dusky bands and small black dots are unmistakable. It is also a more robust shark than the smoothhounds that live in the region so even if it does not have bold markings it should be fairly easy to identify. Other species within range:
Striped topeshark Hemitriakis complicofasciata - thinner bodied. Subtle patterns but no spots. Fins edged in white. Juveniles with very bright markings.
Japanese topeshark Hemitriakis japonica - thinner bodied. Dorsally flattened head with more slitted eyes.
Blacktip topeshark Hypogaleus hyugaensis - thinner bodied, long snout, plain body with dusky fin tips.
Spotless smoothhound Mustelus griseus - thinner bodied. Dorsally flattened head. Trailing edge of dorsal less vertical.
Starspotted smoothhound Mustelus manazo - grey/brown body with many small white spots.
Reaction to divers:
Usually very skittish. Flees immediately without allowing divers to approach. However, one population in Chiba prefecture has been habituated to human interactions.
Diving logistics:
There is a banded houndshark feed in Tateyama, Japan. Divers will see hundreds of houndsharks plus red stingrays and possibly a few other species of elasmobranchs. Divers wishing to attend this feed should contact bigfishexpeditions.com for more information.
HOME LINKS TAXONOMY UNDER THREAT BOOKS CONTACT