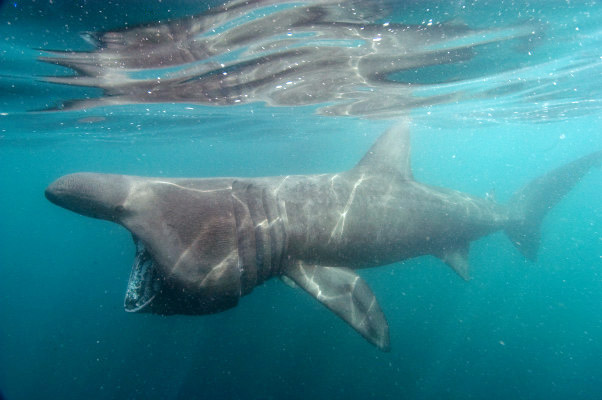 Photograph copyright Andy Murch all rights reserved.
View all available Basking Shark Pictures in the Shark Pictures Database
Common Names: Basking Shark, Elephant Shark.
Latin Name: Cetorhinus maximus
Family: Cetorhinidae
Identification: Brown or slate grey dorsum often with blotches of darker or lighter color forming vague stripes along flanks. Gill slits extremely long almost meeting on the underside of head. Mouth cavernous and when opened forms a large circle in which the dark inner slits of the gills are clearly visible. The Noses of younger individuals are proportionately longer and visibly sag when the mouth is closed. First dorsal fin high often breaking the surface. Second dorsal small and close to tail. Caudal fin large. Upper lobe of caudal fin height is about equal to first dorsal.
Size: 10 meter specimens have been verified but the maximum length may be as great as 15 meters. 170cm at birth. The Basking shark is the second largest known fish in the sea.
Habitat: During the plankton blooms in the summer months Basking Sharks are seen close inshore feeding on the up welling micro organisms. Schools are also observed offshore. It is somewhat of a mystery where the sharks travel to at other times of year. Baskers have been accidentally caught in trawls during the winter months in the same areas that they are seen in the summer. At this time they have shed their gill rakers and it can be assumed that they are not feeding. It has been suggested that they lay in a state of torpor on the seabed waiting for the next wave of plankton in the spring. Other theories include the idea that they follow the warmer currents towards the equator as the temperatures decline.
Abundance and distribution: Circumtemperate although some localised populations have been hunted to near extinction.
Behavior: Filters plankton. Individuals are more commonly seen now due to decrease numbers but schools of a few hundred sharks were once regularly encountered. Author and shark fisherman Gavin Maxwell reported back in the 1950's that he once looked down into a school that was many sharks deep.
Reproduction: Presumed ovoviviparous. Females have one functional ovary which may contain as many as 6 million eggs. Mating has not been witnessed but scars in the vagina suggest that mating may occur multiple times during the year. In suspected courtship displays the male has been observed following the female for long periods of time.
Observations:
When viewed from above water the Basking shark's dorsal and caudal fins give the impression of two sharks moving together. When one shark follows another it is not surprising that the resulting line of 4 snaking fins look like the images conjured up of sea monsters.
Photographs: The Lizard Peninsula, Cornwall, UK.
Similar species:
Basking sharks are regularly misidentified as white sharks which maintain a higher profile in the publics collective consciousness.
Reaction to divers: Baskers are very sensitive to bubbles. Consequently most interaction happens on snorkel. Even kicking toward them on the surface is enough to make them change course. Slow non threatening movements will receive the best results but this is often not possible whilst trying to keep up with a shark swimming along at 3 or 4 knots! The best way to photograph basking sharks may be on rebreather whilst holding onto a scooter to gain ideal position.
Diving logistics: The only dedicated basking shark trips are organized by Porthkerris Divers. They are situated east of the Lizard Peninsula in Southern Cornwall, UK. Mike Anselmi Owner and Captain of the Celtic Cat, takes photographers and snorkellers out to where the sharks can be seen. The season for these encounters is very short, usually no longer than a month and even during this time the sharks are not guaranteed. The sharks show up on this part of the coast around late April and are gone by early June. Occasionally a second bloom of plankton draws them back for a second feeding but this is rare.
The Basking Shark Society was known to run encounters out of the Isle of Man but I have been unable to coax a response from the society on the availability of trips.
Other diving locations submitted by readers: Reports of frequent sightings off Massachusetts and the New England coast have been steadily growing. This area will probably yield some good encounters for snorkellers in the future.
References and further reading:
Shark-O! Patrick O'Connor Circa 1950.
Harpoon at a Venture. Gavin Maxwell. Circa 1950.
HOME LINKS TAXONOMY UNDER THREAT BOOKS CONTACT