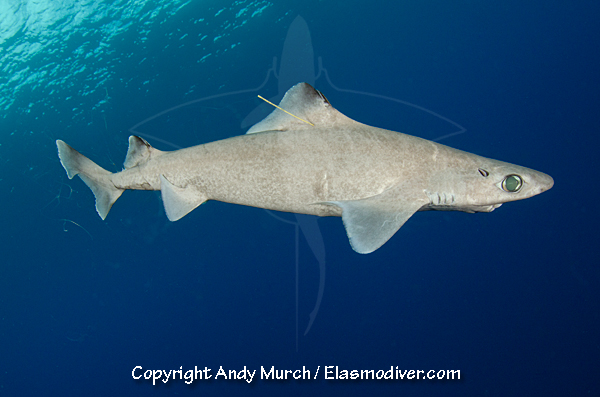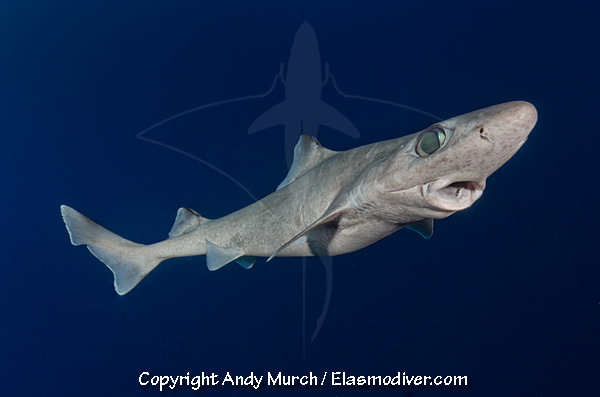 View all available Gulper Shark Pictures in the Shark Picture Database
Common Names:
Gulper Shark, Common Gulper Shark.

Latin Name: Centrophorus granulosus

Family: Centrophoridae

Identification: grey/brown body with subtle mottling. Ventral surface marginally lighter than dorsal surface. Skin quite smooth and covered in mucus. Snout more broadly rounded than other gulper sharks. First dorsal fin length about twice height with long free rear tip. Dorsal fins dusky on leading edges. First dorsal spine length about 1/3rd length of leading edge of dorsal fin. Second dorsal spine slightly longer. Thin white margins on posterior edges of dorsal and caudal fins (not always visible). Upper caudal lobe deeply notched. Lower caudal lobe moderately long but weakly defined (indistinct posterior notch). Pectoral and anal fins with long free rear tips. Eyes large and green with gold rims. Lower teeth square cut. Upper teeth wide with single narrow point.

Size: Maximum length 160cm male, 145cm female. size at birth 30-42cm.

Habitat: Continental shelves and slopes from 50-1440m but rarely shallower than 200m. In the Bahamas, gulper sharks are more frequently caught around monumentation than on featureless substrate.

Abundance and distribution: A wide ranging species. Eastern Atlantic - France to West and possibly South Africa (including the Mediterranean Sea). Western Atlantic - Gulf of Mexico to northern South America. Indian Ocean - Madagascar, Sudan and Western Australia. And Western Pacific south of Japan. Not recorded in the Eastern Pacific.

IUCN Red List Status: Vulnerable. Believed to have the lowest reproductive potential of all elasmobranch species; its reproductive biology is characterized by a late onset of maturity (12 to 16 years in females), only one pup per litter and a two-year gestation period with occasional resting periods. This makes it extremely vulnerable to overexploitation and population depletion. Despite a lack of data for certain regions within its geographic range, this species is globally assessed as Vulnerable on the basis of its limiting life history traits and the global increase in unmanaged fishing effort to exploit deeper waters.

Heavily fished and caught as bycatch in the Northeast Atlantic, the Northwest Pacific and other regions. Targeted for liver oil and meat.

Behavior: Not known.

Diet: small bony fishes, squid and crustaceans.

Reproduction: Ovoviviparous. One pup per litter. Gestation period 2 years with resting periods inbetween. Maturity probably occurs around 60-80cm.

Observations: Mortality among captured specimens is quite high suggesting that gulper sharks do not respond well to temperature changes and stress.

Photographs: Cape Eleuthera, Bahamas. Images captured during a deep shark survey conducted by Edd Brooks of the Cape Eleuthera Institute.

Similar species: Because the Common Gulper Shark is a broad ranging species, it overlaps with many other species of gulpers. In the Bahamas it is found with Taiwan gulper sharks which are slightly thinner, have a more depressed head and no discernable caudal posterior notch.

Reaction to divers: Not encountered by divers.

Diving logistics: Not applicable.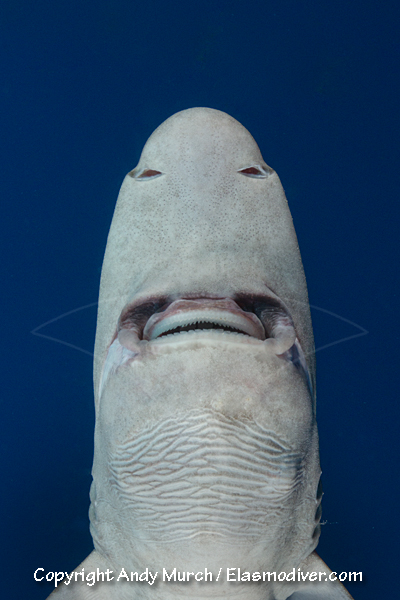 References:
Citation: Guallart, J., Serena, F., Mancusi, C., Casper, B.M., Burgess, G.H., Ebert, D.A., Clarke, M. & Stenberg, C. 2006. Centrophorus granulosus. In: IUCN 2011. IUCN Red List of Threatened Species. Version 2011.1. <www.iucnredlist.org>. Downloaded on 19 October 2011.

http://www.iucnredlist.org/apps/redlist/details/39325/0

Cape Eleuthera Institute Shark Research

http://www.ceibahamas.org/shark-ecology.aspx

IF YOU LIKE THIS PAGE PLEASE SHARE IT Share

All of the images on elasmodiver.com are copyright protected. No unauthorized use of these gulper shark pictures is permitted.