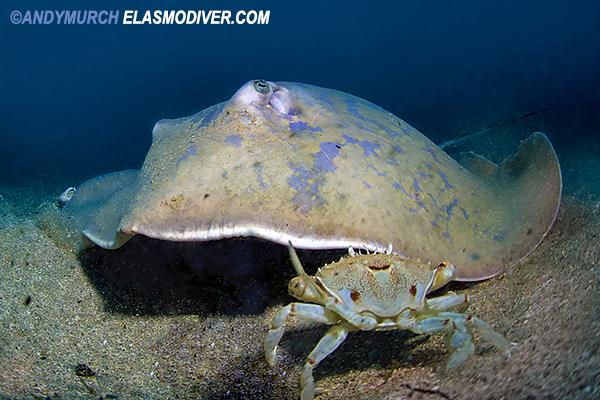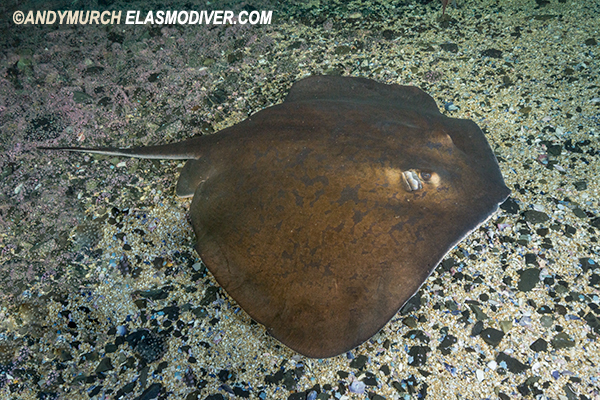 View all available Blue Stingray Images in the Shark Picture Database
Common Names: Blue stingray, bluespotted stingray.
Accepted Binomial: Dasyatis chrysonota.
Family: Dasyatidae.
Identification: The blue stingray has a rhomboid disc with a slightly produced snout, straight anterior margins, rounded free tips and convex posterior margins. The dorsal surface of the body disc is grey/tan to brown with irregular greyish-blue marbling. Ventral surface pale/white. Tail relatively short (less than 2x body length) with a long low ventral finfold and a short low dorsal finfold. Tail terminates in a short tail filament beyond the single large tail barb.
Size: Total length up to 150cm. Disc width 75cm.
Habitat: Found in shallow bays on the sand. From the surf line down to at least 109m. Moves into deeper water during winter.
Distribution: Eastern Atlantic and Indian Ocean. From at least Angola to Natal, South Africa and possibly up to Mozambique. Dasyatis chrysonota may be synonymous with Dasyatis marmorata; a species that is wide ranging in the Eastern Atlantic, Mediterranean and Indian Ocean.
Diet: The blue stingray eats mostly crustaceans: swimming crabs, mole crabs, mysids, shrimp, mantis shrimp and amphipods.
Reproduction: Ovoviviparous. Litter size 1-7. In the Eastern Cape of South Africa mating is most active in spring. nine month gestation.
Conservation Status: Listed as Least Concern by the IUCN. Occasionally caught by shore anglers, but generally they are released alive (Bianchi et al 1999, Cowley 1990, Cowley and Compagno 1993). In the recreational fishery rays are released alive after measuring and/or weighing. Although no post-releases survival experiments have been undertaken, there is no evidence (i.e., direct observation) of high levels of post-release mortality from the sport fishery. The blue stingray is not targeted (other than the sport catch and release fishery), but is taken as a bycatch of trawlers (Cowley et al. 1991) including those targeting hakes and soles, but discarded (probably dead). However, there are extensive areas of the Agulhas Bank that are untrawlable, and several inshore bays are closed to trawling along the South African coast, offering it refuge.
Photographs: South Africa. Upper - Port Saint John (Deep Cam image), lower - Cape Town.
Similar species: The blue stingray Dasyatis chrysonota is very similar to the Marbled stingray Dasyatis marmorata. These two species may in fact be synonymous. There are two other blue spotted stingrays in South Africa - Bluespotted Ribbontail Stingray Taeniura lymma and the bluespotted maskray Neotrygon kuhlii. Both have smaller more uniformly round spots.
Reaction to divers: Somewhat skittish. May allow a slow non-threatening approach.
Diving Logistics: Present all along the South African coastline. Seen by divers in Sodwana Bay. Using a remote camera I photographed numerous blue stingrays at 80-100m off of Port Saint John during the winter Sardine Run (June). For more information on the Sardine Run, please contact Bigfishexpeditions.com
References and Citations:
Smale, M.J. 2009. Dasyatis chrysonota. The IUCN Red List of Threatened Species 2009: e.T161643A5471417. http://dx.doi.org/10.2305/IUCN.UK.2009-2.RLTS.T161643A5471417.en . Downloaded on 31 October 2015.

Reproduction and embryonic development of the blue stingray Dasyatis chrysonota in southern African waters. Ebert and Cowley.

Sharks and Rays of Southern Africa. Compagno, Ebert and Smale.
HOME LINKS TAXONOMY BOOKS CONTACT