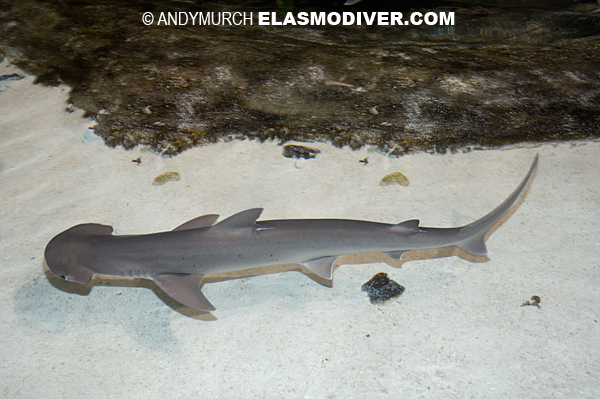 View all available Bonnethead Shark Pictures in the Shark Pictures Database
Common Names: Bonnethead shark
Latin Name: Sphyrna tiburo
Family: Sphyrnidae
Identification: Leading edge of hammer well rounded (spade-like). Grey or grey brown dorsum often with small dark spots.
Size: Maximum length 150cm. 35 - 40cm at birth.
Habitat: In shore mud/sand flats. Also, coral reefs, estuaries, and channels. Intertidal to 80 meters.
Abundance and distribution: Atlantic and Pacific coasts of the Americas from New England to southern Brazil, and California to Ecuador.
Behavior: A social shark usually in groups of three to fifteen animals. Migratory. Feeds on crustaceans, bi-valves, cephalopods, and small fishes.
Reproduction: Viviparous. The hammerheads as a group are considered the most highly evolved of the shark families. 4 - 16 pups in a litter.
Observations:
Similar species: Scoophead Shark, Smalleye Hammerhead Shark, and Mallethead Shark each share part of the Bonnethead shark's range but all can be distinguished by their slightly broader, more hammerhead like heads.
Reaction to divers: I have not dove with this species but judging by the lack of good photographs in the wild I would imagine that the Bonnethead is a difficult shark to approach.
Diving logistics: Information on dives where Bonnetheads are often seen would be appreciated.
Other diving locations submitted by readers:
References and further reading:
Reef Sharks and Rays of the World. Scott W. Michael. Sea Challengers.
Sharks and Rays - Elasmobranch Guide of the World. Ralf M. Hennemann. IKAN.