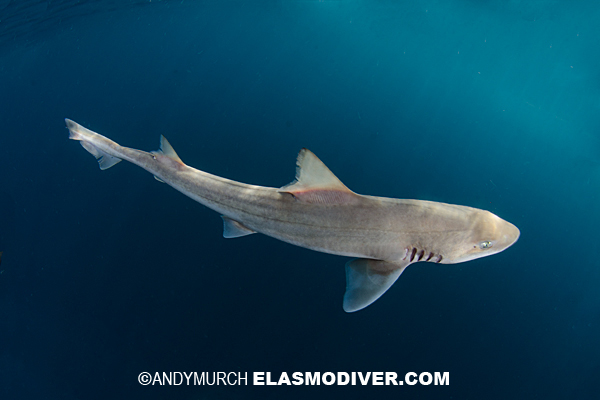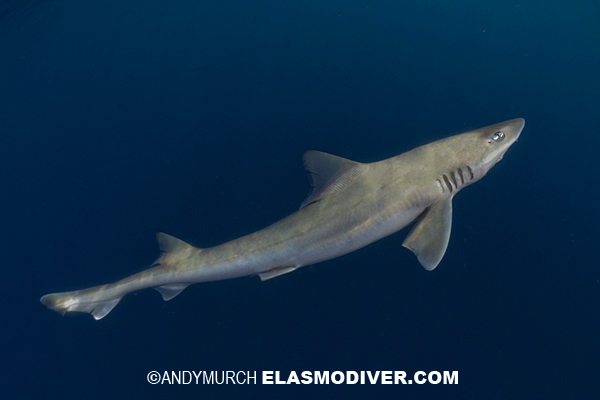 View all available brown smoothhound shark pictures in the Shark Picture Database
Common Names: Brown smoothhound, Mud shark, sand shark.
Latin Name: Mustelus henlei.
Family: Triakidae
- Houndsharks
Identification:
Slender body. Dorsum uniform brown to grey/brown with an iridescent sheen. Ventrum pale. Dorsal fins have exposed ceratotrichia along the trailing edge that form a frayed margin. Ventral caudal lobe poorly developed. Caudal peduncle long.
Short head with narrow set eyes. Nostrils widely spaced. Lower labial furrows (mouth creases) shorter than upper ones.
Size:
Maximum recorded size: 95cm.
Habitat:
Mud and sand flats often in enclosed, muddy, shallow bays but also in deeper water (up to 200m deep) on the continental shelf. Tolerant of much colder water than other smoothhounds in the north eastern Pacific.
Abundance and distribution:
Eastern Pacific Ocean. Two distinct populations. Northern population extends from Northern California to Central Mexico. Southern Population extends from Ecuador to Peru.
Diet:
Hunts over sand and mud bottoms for crustaceans, polychaete worms and small fishes.
Behavior:
An active and agile swimmer that constantly scours the substrate in search of food. One tagged individual migrated 160km in 3 months.
Reproduction:
Viviparous. Recorded litter size 3-5.
IUCN Red List Status:
Least Concern. Although the species is heavily fished in areas of the Gulf of California, there is apparently no evidence to indicate that the population has undergone significant decline. The species is not commercially fished off California, but is taken as bycatch and by recreational anglers (but not in significant numbers). It is not thought that the species is being over-fished off the USA. This is a fast growing species, with low longevity, early age at first maturity and with a relatively high fecundity, giving it a high capacity for recovery from fishing pressure. These life history characteristics combined with the fact that there have been no suspected, observed, or inferred declines in catches or populations in any region for M. henlei justify an assessment of Least Concern at present.
Citation: Pérez-Jiménez, J.C. & Carlisle, A.B. 2009. Mustelus henlei. In: IUCN 2012. IUCN Red List of Threatened Species. Version 2012.1. <www.iucnredlist.org>. October 2012.
Photographs:
Bahia Viscaino, Baja, Mexico.
Similar species:
In its northern range, sympatric species include: the grey smoothhound M.californicus,
the Sicklefin smoothhound M.lunulatus and the white-margined smoothhound M.albipinnis. In the brown smoothhound's southern range, sympatric species include: the speckled smoothhound M.mento and the humpback smoothhound M.whitneyi. None of these species except the humpback smoothhound have frayed dorsal rear margins. As the name suggests, the humpback smoothhound has a distinctly more rounded back than other smoothhounds. It also has an acutely pointed snout.
Reaction to divers:
A shy species that is difficult to approach and rarely encountered by divers.
Diving logistics:
Although the northern population is abundant in some inshore areas, this tends to be in bays where visibility prevents any type of underwater exploration.
HOME LINKS TAXONOMY UNDER THREAT BOOKS CONTACT