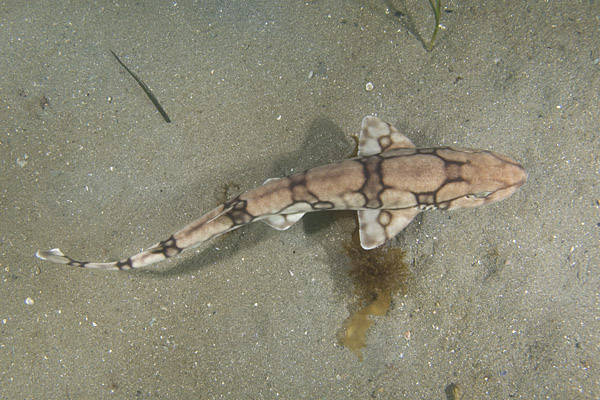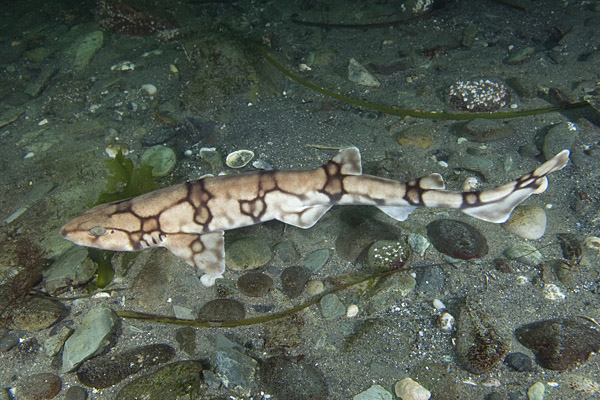 Photographs copyright Andy Murch all rights reserved.
View all available Chain Catshark Pictures in the Shark Pictures Database
Common Names: Chain catshark, chain dogfish.
Latin Name: Scyliorhinus retifer
Family: Scyliorhinidae
Identification: A small predominantly beige catshark covered in network dark brown dusky lines that form saddles. Second dorsal fin marginally smaller than first. First dorsal originates near free rear tip of pelvic fins. Well developed lower labial furrows. Teeth tricuspid.
Size: 59cm maximum. 10 to 11cm at birth.
Habitat: Rocky, sandy or muddy substrates on outer continental shelf. Remains on bottom or close to it. From 73 to 754 metres.
Abundance and distribution: Northwest Atlantic Ocean. From New England to Florida and Gulf of Mexico. Isolated groups of chain catsharks in deeper reaches of the Caribbean Sea.
Behavior: The chain dogfish remains motionless on the substrate for much of the time. Known swallow pebbles, perhaps for ballast.
Reproduction: Oviparous. The chain catshark's egg cases are laid in pairs every 8-15 days (figure based on study of captive animals). The female swims around substrate monumentation such as coral until the egg capsule tendrils are securely fastened. 44 to 52 eggs may be laid during each breading season. Egg capsules are vaguely rectangular ovoids measuring 2.7cm x 6.5cm.
Photographs: Rhode Island. Special thanks to Joe Romeiro for his assistance in filming this species.
Similar species:
The chain catshark's unique pattern of fine dark lines rather than spots make misidentification unlikely. Other species that occur in the chain catshark's southern range include the Antilles catshark Galeus antillensis (large dark blotches on back), Roughtail catshark Galeus arae (similar to G.antillensis), Longfin sawtail catshark G.cadenati (joined brown saddles along back), Boa catshark Scyliorhinus boa (dusky saddles fringed in small dark spots), White saddled catshark S.hesperius (dark saddles containing white spots), Blotched catshark S.meadi (joined dusky saddles along back), Dwarf catshark S.torrei (dark and light saddles covered in fine white spots) and the Cuban ribbontail catshark Eridacnis barbouri (a thin bodied shark with a variegated tail). The chain catshark also shares some of its range with various abyssal catsharks (apristurus species) but these are generally dark bodied and live in deeper water.
Reaction to divers: Technical deep divers that encounter these sharks while wreck diving report that they are sluggish and fairly easy to approach.
Diving logistics: Because the chain catshark inhabits depths beyond the range of recreational scuba divers it is rarely encountered or photographed. Technical divers that dive the deep wrecks of Virginia and the Carolinas sometimes encounter many of these sharks perched on wrecks below the 80 meter mark.
If you have encountered chain catsharks in the wild please email elasmodiver.
Diving locations submitted by readers:
Many thanks to Cyndi Blanchard for the following info:
My husband and I are technical divers based in Frederick, MD. We make several trips a year to dive the deep (200 ft +) wrecks off Delaware, Maryland and Virginia, most often between July and September, and have seen chain catsharks on several of these wrecks. Here is a list of our sightings to date, with wrecks, locations, depths and dates.

2008:

4 August 2008: Wreck of Merida, 37 23.592N 74 40.714W (about 80 miles WNW of Virginia Beach), depth 210fsw. This wreck was literally covered with many hundreds of chain catsharks, maybe even a few thousand. As we were descending onto the wreck, the markings on the backs of the sharks made it look as if the wreck were covered in netting. This wreck has less than 10 feet of relief, so the sharks resting on it were at a depth of about 205fsw. The sharks were very sluggish and would usually allow us to approach within about one foot, at which point they would lazily pick themselves up, swim a couple of feet away and settle back down on the wreck again. Other divers in our group reported being able to gently push them aside, and one diver said he carefully picked one up by hand with little reaction from the shark.

2009:

10 August 2009: Wreck of Bow Mariner, 37 52.8N 74 15.3W (about 50 miles east of Chincoteague), depth 255fsw. Saw several chain catsharks on the main deck at approximately 190-195fsw. They were slow-moving and allowed us to approach closely without swimming away. Their sizes ranged from roughly 8 inches to 18 inches in length.

17 August 2009: Wreck of Lucy Neff, depth 196fsw. Do not have coordinates, but wreck is south of Indian River Inlet, Delaware and about 20 miles east of Fenwick Island. Saw 2 chain catsharks at approx. 192fsw on this wreck, which is that of a wooden steamer that sank in 1915 and, with the exception of the steam engine which still sits upright, now has only a few feet of structure rising above the sea bottom. Sharks were about 15 inches long.
HOME LINKS TAXONOMY UNDER THREAT BOOKS CONTACT