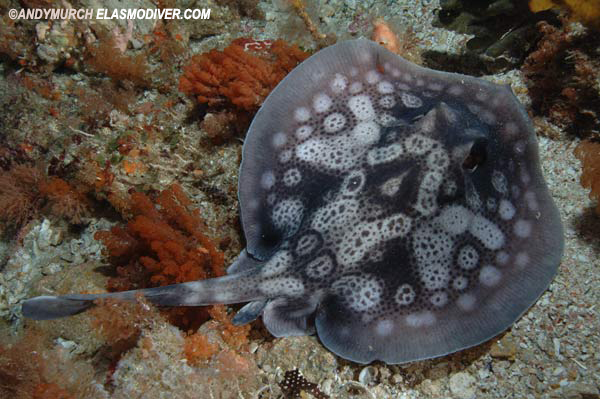 Photograph copyright Andy Murch
View more Circular Stingaree Pictures in the Shark Pictures Database
Common Names: Circular stingaree, Sinclair's stingaree, Spotted stingaree, banded stingaree.
Latin Name: Urolophus circularis. Previously grouped with Urolophus gigas.
Family: Urolophidae
Identification: Disc circular with small point on snout.
Light grey/tan dorsum with dark patches. Light ringed spot at centre of central dark patch on back surrounded by a circle of light ringed spots. More dark and light spots moving outwards but fading towards disc margin. Vague spots extend along tail. This stingaree was previously thought to be the western color variant of the Spotted stingaree (Urolophus gigas).
Size: Maximum length 60cm
.
Habitat: 5 - 120m.
Occasionally seen on rocky offshore reefs.
Abundance and distribution: Rottnest Island south to Esperance, Western Australia. Uncommon.
Behavior:
Remains motionless on reef during the day.
Reproduction: Ovoviviparous.
Photographs: Albany, Western Australia.
Conservation Status: Listed as 'Least Concern' by the IUCN. It is uncommon, but despite this and its restricted geographical range, it is rarely encountered by fisheries in its area of occurrence. Its preference for rocky and reefy habitat provides this species with a refuge from trawling activities. Virtually nothing is known of its biology, but is presumed to share life history characters with other co-occurring urolophids. This includes low fecundity and a gestation period approaching a year, as well as the behaviour of females commonly aborting embryos upon capture or handling. Although it is unlikely, if the species begun to be caught more regularly these attributes, together with its endemism and uncommon status would be cause for concern. However, at present and into the foreseeable future there are no perceivable threats to the viability of this species.
Similar species: The Spotted stingaree - Urolophus gigas. Distinguished by broken spots on more uniform background.
Reaction to divers: May flee in the presence of scuba divers but very patient when approached closely on rebreather.
Diving logistics: Divers occasionally encounter this species while exploring Michaelmus and Breaksea Islands close to Albany, Western Australia. Uwe at Albany Dive runs daily charters to the islands and is always willing to help look for sharks and rays.
References and Citations:
Kyne, P.M. & White, W.T. 2006. Urolophus circularis. The IUCN Red List of Threatened Species 2006: e.T60089A12240509. http://dx.doi.org/10.2305/IUCN.UK.2006.RLTS.T60089A12240509.en