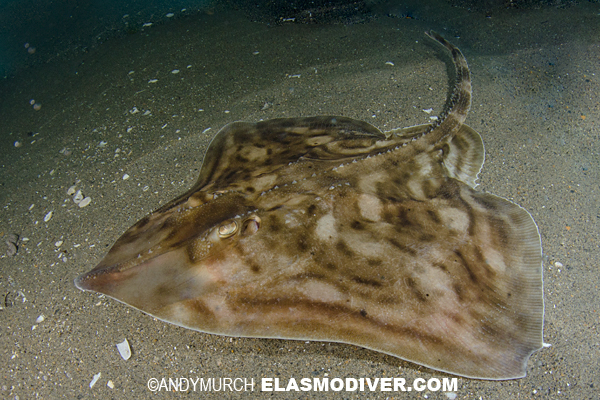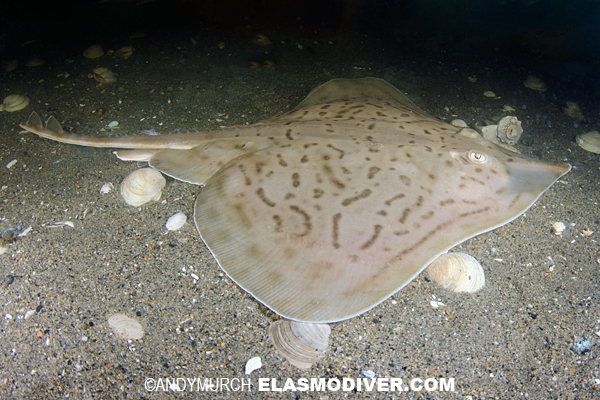 More Clearnose Skate Images in the Shark and Ray Picture Database
Common Names:
Clearnose Skate

Latin Name: Raja eglanteria

Family: Rajidae

Identification: Dorsum grey/tan or mottled tan and brown with irregular dark spots and lines. Ventrum pale. Anterior margin of disc straight with slight concavity. Rear margin of body disc rounded. Snout angular with translucent patches on each side of central ridge. Row of thorns on dorsal ridge from behind eyes to dorsal fins. Tail with two relatively large, equally sized dorsal fins near tip. Secondary shorter rows of thorns just behind eyes.

Size: Maximum length 84cm.

Habitat: Sandy or muddy substrates. Sometimes around rocky reefs. Intertidal to 330m but usually from shallows to 50m.

Abundance and distribution: Restricted to the Western Atlantic from Massachusetts to the Gulf of Mexico.

Behavior: Enters estuarine environments in search of food. The clearnose skate feeds mainly on decapod crustaceans, bivalves, polychaete worms, squids and small fishes

Reproduction: Mates in inshore bays. Oviparous. Lays flattened egg cases on the sand. Egg cases have stiff pointed horns at the corners.

Conservation Status: Least Concern. According to the IUCN, the primary threat to this species is capture as bycatch of otter trawls during groundfish trawling and scallop dredge operations. Age data for this species are old, but suggest that females mature at 4–6 years (the three generation period for this species may therefore be ~18 years). National Marine Fisheries Service (NMFS) trawl surveys indicate that biomass of this species has steadily decreased over the last five years. Analysis of trends in abundance of this species in six different scientific surveys on the eastern coast of the USA (during various periods from 1966–2005), found it to be increasing in three surveys, decreasing in one, with no apparent trend in two others. The NMFS does not consider this species overfished in its 2006 assessment and, given that the overall population trend does not appear to be declining this species is assessed as Least Concern. However, the declines observed in some areas, coupled with the species' potentially limiting life-history characteristics suggests that population trends should be carefully monitored. Further research on this species' life-history and population structure is also required.

Citation: Ha, D., Luer, C. & Sulikowski, J. 2009. Raja eglanteria. In: IUCN 2013. IUCN Red List of Threatened Species. Version 2013.1. <www.iucnredlist.org>.

Photographs: Rhode Island, USA.

Similar species: The clearnose skate shares its range with a number of other skate species present along the eastern seaboard but no other shallow water skates display the line and spot patterns of the clearnose skate or the translucent areas around the snout.

Reaction to divers: Tolerant. Remains motionless unless molested.

Diving logistics: Clearnose skates can occasionally be seen on shallow shore dives from southern New England southwards. If you are aware of any area where clearnose skates are particularly common, please email Elasmodiver.