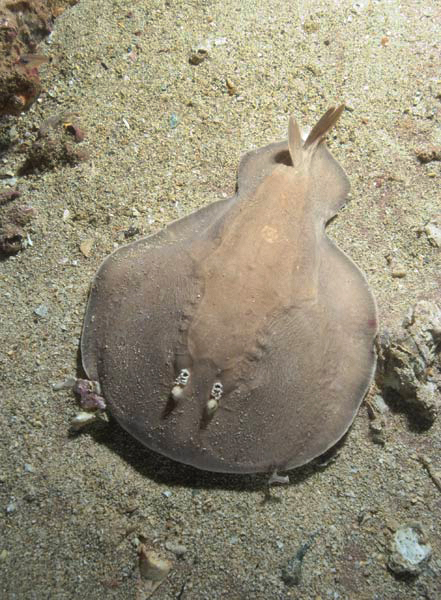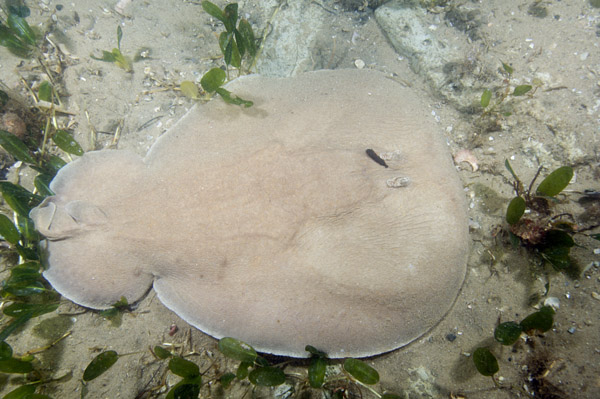 Photograph copyright Andy Murch
View all available Coffin Ray Pictures in the Shark Pictures Database
Common Names: Coffin ray, Australian numb ray, Crampfish, Shorttailed electric ray.
Latin Name: Hypnos monopterygium.
Family: Hypnidae.
Identification: Pair shaped body. Tail vestigial but with two prominent upper lobes. Dorsum pale tan to brown, sometimes blotchy. Ventrum pale. Body appears flabby. Spiracles small and with a pale fringe.
Size: Maximum length 69cm.
Habitat: Intertidal to 240m on sand, mud, and grass flats sometimes around coral or rocky reefs.
Distribution: Australian waters from Queensland to Western Australia via south coast.
Behavior: Nocturnal. Lays motionless under sand with only spiracles protruding during the day. Main diet consists of bony fishes with mollusks, crustaceans, and worms also being consumed. A week swimmer that appears to flutter jerkily forward. The Coffin ray is capable of producing an intense electric shock in the range of 200 volts that is used for stunning prey and as an anti-predation tactic.
Reproduction: Ovoviviparous.
Observations: After following this ray for some time and repeatedly photographing it at close range it was still reluctant to use its electric stunning ability. Instead it slowly made its way to covered ground.
Photographs: Exmouth Navy Jetty, Western Australia.
Similar species: Some icthiologists recognised a similar species, Hypnos subnigrum.
Reaction to divers: Easily approached. moves away only when closely disturbed. May shock if handled. Divers have reported severe shocks after accidentally resting on this ray.
Diving logistics: Two Coffin rays were spotted on a single night dive at Exmouth Navy Jetty in W.A. This is a great dive with many sharks and rays always in residence. Bookings can be made solely with Exmouth Dive Centre.
Other diving locations submitted by readers:
Further Reading:
Sharks and Rays of Australia - Kelvin Aitken
Reef Sharks and Rays of the World - Scott W. Michael.
HOME LINKS TAXONOMY BOOKS CONTACT