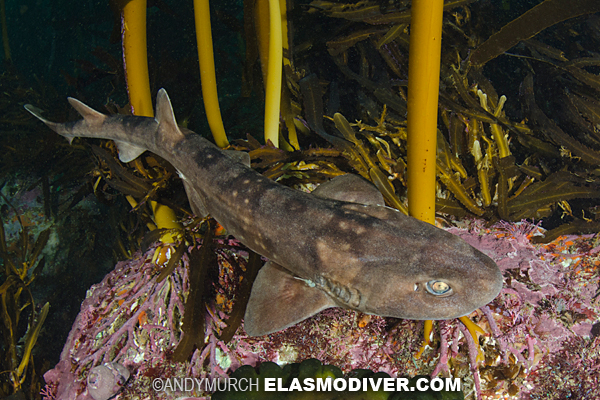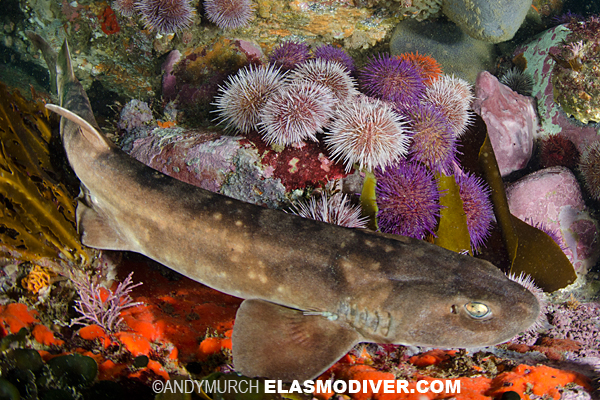 View all images of Dark Shysharks in the Shark Pictures Database
Common Names: Dark Shyshark, Pretty Happy.
Latin Name:
Haploblepharus pictus.
Family: Scyliorhinidae.
Identification:
Dark shysharks are small catsharks that are generally mid brown with darker brown saddles (without obvious dark borders) containing large sparse lighter spots. However, there is a great deal of variation and crossover between the dark shyshark and all other shyshark species present within the region. See 'Similar Species' below and this page on possible variations: Dark Shysharks?
Size:
Maximum recorded size: 60cm. At maturity: female 35-60cm. Male 40-57cm.
Habitat:
Inshore rocky/coral reefs and kelp forests. Also on sand adjacent to reefs and on soft bottoms to 35m.
Abundance and distribution:
Endemic to South Africa and Namibia. From Namibia to East London in Southeastern South Africa. Common around Cape Town.
Diet:
Small bony fishes, mollusks, crustaceans, polychaete worms and occasionally algae.
Behavior:
Swims over reef substrates and soft bottoms in search of food. Covers it's head wth its tail when captured.
Reproduction:
Oviparous. Lays paired egg capsules which it frequently attaches to urchins on the reef. Egg cases in an aquarium hatched in 3.5 months.
Photographs:
Millers Point, Simon's Town, South Africa.
Conservation Status: The IUCN lists the dark shyshark as Least Concern. Justification: "Haploblepharus pictus is endemic to Namibia and South Africa. An abundant inshore catshark, it is commonly caught by rock and surf anglers, and regularly seen by scuba divers and snorkellers. Its habitat preference appears to be kelp forests and rocky inshore reefs. Variation in colour pattern of this species and morphological similarity with other members of this genus has led to misidentifications of this species for H. edwardsii, particularly east of Cape Algulhas, South Africa. The main threat is recreational fishing where this shark is taken as discarded bycatch, generally regarded as a nuisance by the fishermen, and persecuted as such. It is not seen in other inshore fishery activities. Its apparent abundance and lack of significant fishing related threats give no reason to suspect a decline in abundance and this species is listed as Least Concern. However, its endemicity and habitat preference means that monitoring is required for both its abundance and health of its preferred habitat. Possible population substructuring needs to be assessed.
Citation: Human, B. 2009. Haploblepharus pictus. In: IUCN 2013. IUCN Red List of Threatened Species. Version 2013.2. <www.iucnredlist.org>.
Similar species:
The
puffadder shyshark generally has brighter saddles and intricate markings that differentiate it from most other catsharks.
The Natal shyshark is a
darker form with broken saddles and larger spots. It was recently described as a separate species:
Haploblepharus kistnasamyi.
The brown catshark H.fuscus is generally plain brown but may have subtle bars that are reminiscent of the dark shyshark.
The yellowspotted shyshark H.capensis is predominantly brow but displays conspicuous pale yellow spots over its whole body.
Reaction to divers:
Mostly ignores divers unless closely pursued. Once the dark shyshark establishes that it is being followed it will generally move away, seek cover or at least attempt to keep its distance while on the move. A slow approach to a stationary animal generally will not illicit a flight response.
Diving logistics:
Miller's Point in Simon's Town (just down from the Boulder's Beach Penguin Colony) is a great place to look for dark shysharks. From shore, head out to the reef and look for these sharks swimming over the reef and sand. These are some of the most common sharks in this area so a little patience should reward the diver with some good sightings.
For an excellent introduction to all of the accessible sharks of the region, sign up for an expedition to Simon's Town with Big Fish Expeditions: South African Shark Safari.
Big Fish Expeditions: