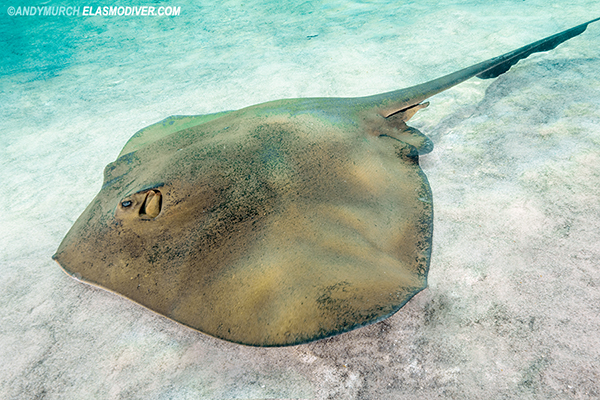 View all available Eastern Cowtail Stingray Pictures in the Shark Pictures Database
Common Names: Eastern Cowtail stingray, Broad cowtail ray, Feathertail stingray, banana tail ray.
Accepted Binomial: Pastinachus ater
Synonyms: Pastinachus atrus
Family: Dasyatidae
Identification: Thick rhomboid disc. Posterior margins of disc mildly convex. Anterior margins almost straight. Dorsum grey/brown. Eyes small and widely spaced. Tail less than 2 times body length with broad, long ventral tailfold. At midpoint, tailfold around is between 3.6 to 5.7 times as high as tail. Tailfold does not reach tip when filament intact. Tail/tailfold beyond tailfold origin is dusky. Short row of enlarged heart shaped mid-scapular denticles behind eyes.
Maximum Size: Unknown.
Habitat: Marine and estuarine environments. Sandy bottoms, sea grass beds and areas adjacent to reefs Max depth unknown.
Abundance and distribution: Indo-west Pacific. Madagascar to Southeast Asia and Western Australia.
Behavior: Unknown.
Reproduction: Ovoviviparous
Conservation Status: Listed as Data Deficient by the IUCN. Cowtail Stingrays (Pastinachus) are reported throughout the Indian Ocean to the western Pacific, but there is a complex of species. They are captured in demersal tangle net, bottom trawl, longline, Danish seine and beach seine fisheries in Southeast Asia and parts of the Indian Ocean. Inshore fishing pressure is intense throughout large areas of the species' ranges in Southeast Asia and in parts of the Indian Ocean. They are caught in particularly high numbers in the target fishery for rhynchobatids operating in the Arafura Sea. Although no species-specific data is available, overall catches of stingrays are reported to be declining, with fishermen having to travel further and further to sustain catch levels. Given continuing high levels of exploitation throughout their range in Southeast Asia and evidence for declines in catches of stingrays, They are regionally assessed as Vulnerable there. Fisheries in northern Australia are generally well managed and the introduction of Turtle Exclusion Devices (TEDs) and other exclusion devices will have greatly reduced bycatch of these species. They are considered at minimal threat throughout their wide range off northern Australia, where they are assessed as Least Concern. Globally, investigation is vital to resolve the taxonomic issues associated with this species complex and it is not possible to assess them beyond Data Deficient at present. Further work is required to identify the species involved and make full assessments of their status.
Photographs: Western Indian Ocean.
Similar species: the Cowtail Stingray Pastinachus sephen is very difficult to distinguish from P.atrus. The narrowtail stingray - Pastinachus gracilicaudus has circular mid-scapular denticles and a narrower ventral skinfold on its tail.
Reaction to divers: Fairly easy to approach but bolts upon close inspection.
Diving logistics: Present in many areas. I have seen this ray on shallow reefs in the Arabian Sea off of Abu Dabi.
Citations and References:
Description of a new stingray, Pastinachus gracilicaudus sp. nov. (Elasmobranchii: Myliobatiformes), based on material from the Indo–Malay Archipelago

Peter R. Last1 & B. Mabel Manjaji-Matsumoto2

Fahmi, White, W. & Manjaji, B.M. 2009. Pastinachus sephen. The IUCN Red List of Threatened Species 2009: e.T161332A5400078. http://dx.doi.org/10.2305/IUCN.UK.2009-2.RLTS.T161332A5400078.en . Downloaded on 27 October 2015