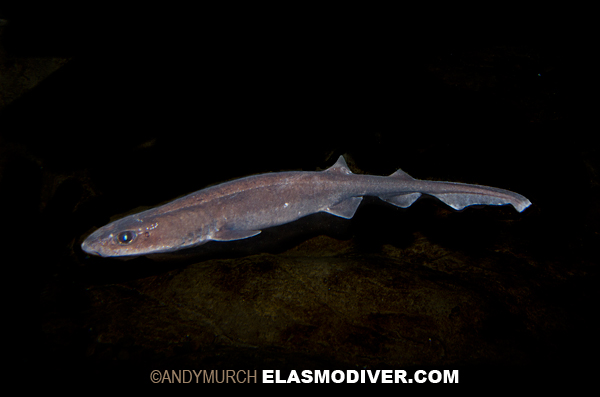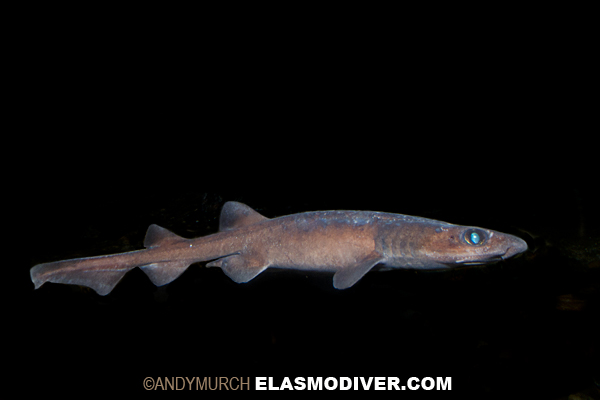 View all available Filetail Catshark Pictures in the Shark Pictures Database

Common Names: Filetail catshark.

Latin Name: Parmaturus xaniurus.

Family: Scyliorhinidae

Identification: A soft bodied catshark with long nasal barbells reaching the mouth. Body coloration plain greyish brown or dark brown above, fading to light grey/brown or tan below. Fins may be dusky.

Eyes large and bluish-green when reflecting light. Short row of curved white dots (ampulae of lorenzini) behind each eye. Ridge below eye.

Anterior nasal flaps large and triangular. Dorsal fins rounded with squared off posterior margins. First dorsal slightly larger than second dorsal. First dorsal directly above or slightly behind pelvic fins. Second dorsal directly above anal fin. Caudal fin with distinct caudal notch.

Size: Male 37-45cm. Female 47-55cm.

Habitat: On or near the bottom over sand and mud substrates sometimes adjascent to rocky reefs. Depth range from 90m to 250m

Abundance and distribution: Restricted to the north eastern Pacific Ocean. From Oregon to Baja California and throughout the Sea of Cortez.

Behavior: Often seen (from submersibles) resting on the bottom. Has been observed feeding on Moribund lantern fish in anoxic conditions. The filetail catshark may be able to achieve neutral bouyancy through its large oil filled liver.

Diet: Feeds on pelagic crustaceans and small bony fishes.

Reproduction: Oviparous. Egg cases may be 7-11cm long with 'T' shaped lateral flanges and short tendrils.

Conservation Status: The IUCN lists the leopard catshark as 'Data Deficient'. There is no information available on the age and growth, longevity, fecundity, abundance or mortality of the filetail catshark. It is not targeted by commercial fisheries or utilized for human consumption, but is known to be incidental catch in longline and bottom trawl fisheries, although no specific data are available. Lack of further information precludes assessment of the Filetail Catshark beyond Data Deficient at this time.

Citation: Flammang, B.E., Ebert, D.A. & Cailliet, G.M. 2006. Parmaturus xaniurus. In: IUCN 2013. IUCN Red List of Threatened Species. Version 2013.1. <www.iucnredlist.org>.

Photographs: Oregon, USA.

Similar species:

The filetail catshark shares parts of its range with a number of similar deepwater catsharks; with one of the most abundant being the brown catshark Apristurus brunneus. The brown catshark has a more laterally compressed head, smaller dorsal fins than its pelvic and anal fins, and a more wedge shaped tail with a very small caudal notch.

Reaction to divers: As this species rarely ventures above 90m it does not come in contact with divers..

Diving logistics: N/A.