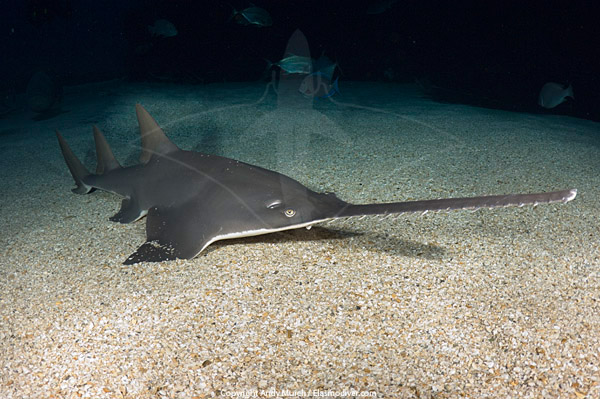 Freshwater Sawfish Images by Andy Murch. All rights reserved
View all available Freshwater Sawfish Pictures in the Shark Pictures Database
Common Names:
Freshwater Sawfish, Largetooth Sawfish, Broadbill Sawfish.

Latin Name: Pristis microdon

Family: Pristidae

Identification: Overall flattened sharklike body. Elongated flattened rostrum (saw) with 18 to 23 pairs of evenly spaced rostral teeth. Anterior pair of rostral teeth angled forward. Base of rostrum wide hence vernacular: Broadbill Sawfish. First dorsal fin originates in front of pelvic fins. Distinct lower caudal lobe.

Size: Maximum length 5m. At birth approx 50cm.

Habitat: Sand and mud bottoms in mildly saline estuaries, rivers, and lagoons. Freshwater Sawfish is a misnomer. It spends its first 3-4 years in freshwater growing to about half its adult size. Adults penetrate from weakly saline estuaries into fresh water rivers(up to 100km from the sea) . Individual sawfish may be cut off in small ponds for years at a time between floods. In Australia it is confined to large freshwater river drainages.

Abundance and distribution: Considered critically endangered by the IUCN red list 2006 survey. Freshwater Sawfish are known in Australia from the Fitzroy River system in WA to the western side of the Cape York Peninsula. Also reported from Papua New Guinea and parts of Indonesia, and Irian Jaya. May also occur in India or even worldwide.

Behavior: Swims into schools of fish and thrashes its saw from side to side, wounding and killing the fish which it then recovers. May also use its saw to dig for crustaceans and mollusks in the sediment.

Reproduction: Ovoviviparous. The largetooth sawfish may reproduce in fresh water. Gestation period approx 5 months. Litter size 1 to at least 12. Young are born with flexible rostrums in which the teeth are covered with a sheath of skin to avoid injury to the mother. After birth the rostrum straightens and hardens.

Observations:

Photographs:

Similar species: The Green Sawfish has a minimum of 24 pairs of rostral teeth that a more closely spaced towards the point of the saw. The Dwarf Sawfish (Pristis clavata) has a rounder head and evenly spaced rostral teeth, the Narrow Sawfish (Anoxypristis cuspidata) has a much narrower rostrum.

Reaction to divers: Unknown. Probably moves away. The photographed individual was difficult to approach in an aquarium situation. May use its rostrum in defense if cornered which could cause a severe injury.

Diving logistics: There are no locations that I know of where divers can reliably find Freshwater Sawfish due to their rarity and preference for turbid estuarine and river environments. Any information on sightings of this species by divers, fishermen, and hikers would be very welcome.

Other diving locations submitted by readers:

References:
Field Identification Guide to Western Australia - Sharks and Shark-like Rays. Department of Fisheries

Australian Department of the Environment and Heritage. DEH Species Profiles - Freshwater Sawfish.
Other names of the largetooth sawfish:
മകര സ്റാവ് India Malayalam
小齒鋸鰩 China Main Mandarin Chinese
小齿锯鳐 China Main Mandarin Chinese
नाळी India Marathi
शिंशि India Marathi
खानदीरी India Marathi
வெளமீன் India Tamil
കൊന്വന് സൊറ India Malayalam
കുന്പന് സോറ India Malayalam
മകരസ്രാവ് India Malayalam
வெலா மீன் India Tamil
Araguaguá Brazil Portuguese
Barabad Philippines Kuyunon
Barasan Philippines Bikol
Buntok lagari Philippines Kapampangan
Cá Dao Viet Nam Vietnamese
Cá Dao răng nhỏ Viet Nam Vietnamese
Caixaô Mozambique Sena
Catanuda Spain Spanish
Cucut gergaji Indonesia Malay
Cucut krakas Indonesia Javanese
Cucut pedang Indonesia Malay
Dienton Nicaragua Spanish
Ferskvandssavrokke Denmark Danish
Freshwater sawfish Australia English
Greattooth sawfish South Africa English
Groottand-saagvis South Africa Afrikaans
Khandere India Marathi
Kleingezahnter Sägefisch Germany German
Krarin Suriname Sranan
Kumben-sorah India Malayalam
Kundah India Oriya
Largetooth sawfish South Africa English
Leichhardts sawfish Australia English
Leichthardts Sägefisch Germany German
Makarasravu India Malayalam
Manglagpit Philippines Kuyunon
Mungsing prampang Indonesia Javanese
Mvag Gabon Fang
Nga-man-swethi Myanmar Burmese
Nokogiriei Japan Japanese
Pakangan Philippines Bikol
Palangan Philippines Pangasinan
Panprang Indonesia Javanese
Papa upanga Kenya Swahili
Peixe-serra Brazil Portuguese
Pejesierra Spain Spanish
Pez peine Ecuador Spanish
Pez rastrillo Spain Spanish
Poisson scie Gabon French
Poisson-scie grandent France French
Prampran Indonesia Javanese
Prampran Indonesia Malay
Ryba pila Poland Polish
Small-tooth sawfish UK English
Smalltooth sawfish Australia English
Smalltoothed sawfish India English
Tag-an Philippines Tagalog
Taghan Philippines Visayan
Trey thka Cambodia Khmer
Trey thkaw Cambodia Khmer
Tubarão-serra Cape Verde Portuguese
Tubarão-serra dentuço Mozambique Portuguese
Valameen India Tamil
Wide snouted saw fish India English
Zoetwaterzaagrog Netherlands Dutch