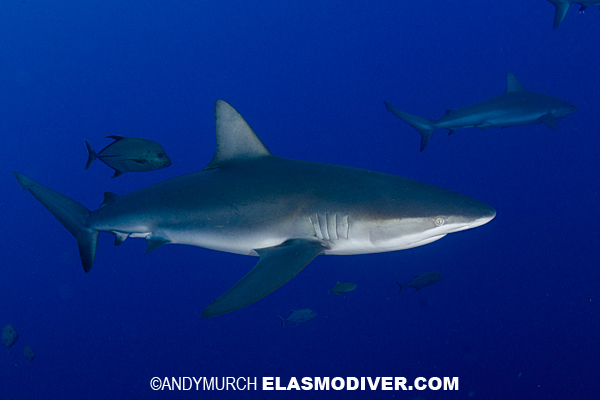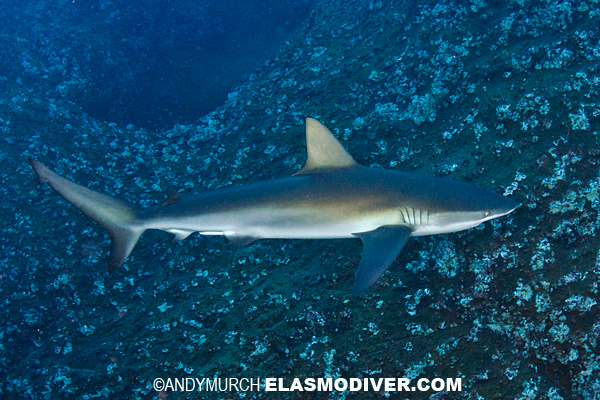 Photograph by Andy Murch
View all available Galapagos Shark Pictures in the Shark Pictures Database
Common Names: Galapagos shark
Latin Name: Carcharhinus galapagensis
Family: Carcharhinidae
Identification: Long rounded snout. First dorsal fin originates over pectoral axis. Dorsal rounded with angled tip. Pectoral fins long with dusky tips on underside. Low interdorsal ridge present. Second dorsal much smaller than first. Body fairly monochrome greyish brown above and pale below.
Size: Maximum length 3m. 57 to 80cm at birth.
Habitat: Prefers offshore islands, sea mounts, drop offs and vertical rocky or coral reefs. To 180m depth.
Abundance and distribution: Circumtropical.
Behavior: Known to exhibit a threat display of head swinging and exaggerated swimming. Often found in loose aggregations. Feeds on reef creatures such as moray eels and other reef fish, cephalopods, and crustaceans. Larger individuals may hunt smaller elasmobranchs and where available also prey on pinnipeds (Galapagos).
Reproduction: Viviparous. Litter size 6 - 16.
Observations:
Photographs: East Africa.
Similar species:
Dusky shark (Carcharhinus obscurus) First dorsal originates behind pectoral axis. Snout broadly rounded. Prefers continental coastlines.
Reaction to divers: An extremely inquisitive shark. May persistently circle divers. Respect should be shown around this animal especially larger individuals, however smaller Galapagos sharks may be especially bold occasionally charging divers.
Diving logistics: Although the Galapagos shark is known to occur around the world, it is commonly encountered where it was first recorded at the Galapagos Islands of Ecuador. The shark watchers Handbook lists Gordon Rocks off the North coast of Santa Cruz to be especially good.
Further reading:
Reef Sharks and Rays of the World. Scott W. Michael. Sea Challengers.
Sharks and Rays - Elasmobranch Guide of the World. Ralf M. Hennemann. IKAN.
The Shark Watcher's Handbook - Mark Carwardine & Ken Watterson. Princeton University Press.
HOME LINKS TAXONOMY UNDER THREAT BOOKS CONTACT