=]]]]]]]]]]]]]=-]]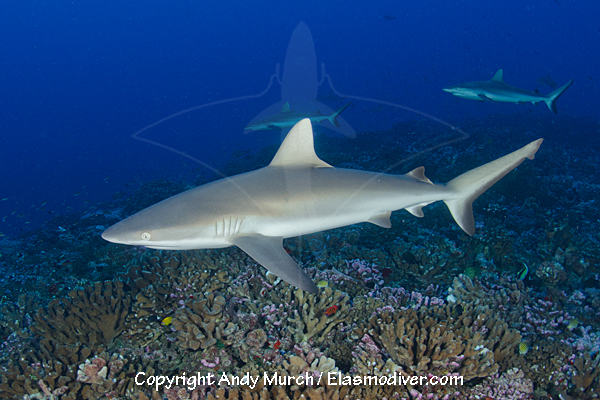 View all available grey reef shark images in the Shark Pictures Database
Common Names: Grey reef shark, reef shark.
Latin Name: Carcharhinus amblyrhynchos
Family: Carcharhinidae
Identification: White margin on trailing edge of dorsal fin (sometimes indistinct or absent). All other fins with dusky or black trailing edges. Distinct black margin along entire length of trailing edge of caudal fin. Grey upper body. Ventrum white. Pectoral fins proportionately long and falcate. Snout long and broadly rounded. No inter-dorsal ridge.
Size: Maximum length 2.3 - 2.5m. Size at birth 45-75cm.
Habitat: Drop offs adjascent to coral reefs, atoll passes, reef flats, leeside of coral islands, lagoons and anywhere within its range where strong currents are common. The grey reef shark is a particularly abundant species in the passes of coral atolls. 0 -140m. More common below 10m.
Distribution: Indo-west Pacific from Madagascar to southeast Asia, Northern Australia, French Polynesia and Hawaiian Islands.
Behavior: An extremely social species that congregates by day in current swept areas such as atoll passes (see image below). The grey reef shark is well known for its aggressive posturing when agitated: back arching, pectoral fin lowering and exaggerated side to side head movements while swimming.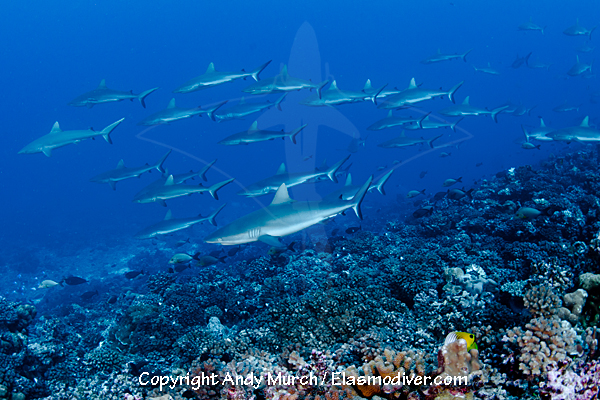 Reproduction: Viviparous. Litter number 1 - 6. Around one year gestation. Grey reef sharks reach sexual maturity after 7-7.5 years.
Conservation Status:
Near Threatened. According to the IUCN, this shark shows high site fidelity and some local populations have been severely depleted by modest fishing pressure, as has been shown off Hawaii (Wetherbee et al. 1997). Very marked declines of sharks, including Grey Reef Sharks, have been reported in the Chagos Archipelago (Indian Ocean) between the 1970s and 1996. Shark numbers here were reduced to only 14% of the numbers found in the 1970s (Anderson et al. 1998). The quality of its coral reef habitat is threatened in many parts of the world.
Photographs: Fakarava, French Polynesia.
Similar species: The silvertip Shark (Carcharhinus ambimarginatus) has similarly coloured dorsal fins but all other fins have white margins. The grey reef shark may also be confused with the dusky shark, Galapagos shark and a number of other rarely seen carcharhinids that share its indo Pacific range.
Reaction to divers: Grey reef sharks usually keep their distance even when in large aggregations unless food is introduced.
Diving logistics:
There are many locations where grey reef sharks can be encountered by divers but some of the best locations are atoll passes in French Polynesia. Perhaps the best of the best is the Tumakohua Pass on the south end of Fakarava Atoll. At this location upwards of 500 sharks can be seen during a drift through the pass. Other species that you are likely to encounter on the same dive include silvertip sharks, blacktips, reef whitetips and indo-Pacific blacktips. There are a handful of dive shops on Fakarava that dive the pass.
References and further reading:
Reef Sharks and Rays of the World. Scott W. Michael. Sea Challengers.
Sharks and Rays - Elasmobranch Guide of the World. Ralf M. Hennemann. IKAN.
IUCN Redlist. http://www.iucnredlist.org/apps/redlist/details/39365/0
HOME LINKS TAXONOMY UNDER THREAT BOOKS CONTACT