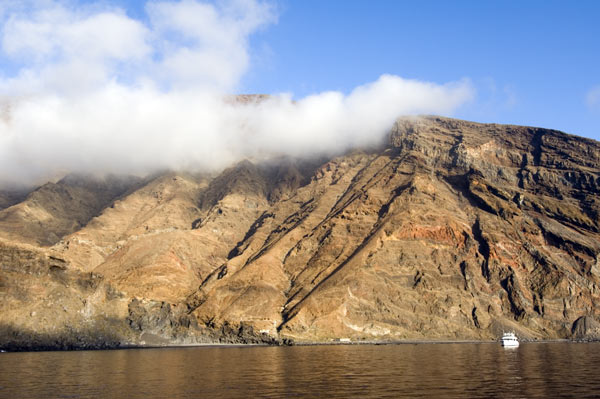 Encounter: Great White Sharks and occasional Mako Sharks.
Each year during summer and fall, Guadalupe Island becomes home to a large population of migratory Great White Sharks. The sharks converge to take advantage of the resident seal and sea lion colonies. They also feed on the large schools of tuna and possibly Humboldt Squid.
Through the use of chum, the sharks are encouraged to approach shark cages that are lowered from the sides of live-aboard dive ships. The encounter is strictly regulated by the Mexican parks service and leaving the safety of the cages and setting foot on the island itself is not permitted. Initially the sharks are very curious, making close passes around the cages and this is the best time to film or view them. Once they learn that the chum will eventually sink, they tend to swim at the edge of visibility, patiently waiting for the food to come to them.
Divers entering the cages use hooker lines to breathe from so there is no need for scuba training. Some operators invite qualified scuba divers to descend in a submersible cage that is lowered to about 10m (30') which generates a feeling of greater exposure and offers a different angle to shoot from.
The smaller male sharks arrive first followed later in the season by the larger females. Weather permitting, guided panga tours of the island allow guests to photograph the elephant seals lounging on the rocks.
Operators: There are a handful of operators that offer trips to Guadalupe. Great White Adventures uses two boats that regularly brave the 18 hour crossing from the mainland. One of their boats; The Solmar V, leaves from Ensenada on the west coast of Baja. Their other ship; The Searcher is American owned and leaves from San Diego. The trips are marketed as luxury all inclusive adventure tours.
Having heard reports of sharks from fishermen, Lawrence Groth (owner of Great White Adventures) was the first to charter a vessel to look for White Sharks at Guadalupe. Doc Anes (owner of San Diego Shark Diving) was also on that first expedition and runs back to back trips throughout the season.
One of the newest vessels to receive a permit is Mike Lever's Nautilus Explorer. Although I have not been to Guadalupe with Mike, I was aboard the Nautilus Explorer on a trip to Alaska a few years ago and was impressed by both the ship and Mike's professionalism.
Directions and Accommodation: Regardless of whether you sail from California or Baja, all of the tours meet in San Diego. Please visit the operators web sites for more information.
Links:
HOME LINKS TAXONOMY UNDER THREAT BOOKS CONTACT