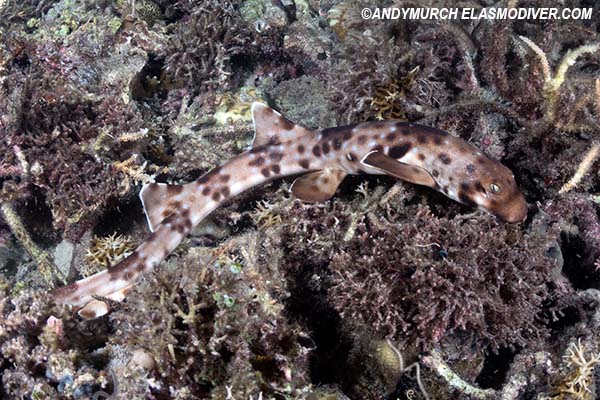 View all available Halmahera Epaulette Shark Images in the Shark Picture Database
Common Names: Halmahera epaulette shark, Halmahera walking shark.
Binomial: Hemiscyllium halmahera
Family: Hemiscylliidae
Identification: Long, cylindrical, eel-like body. Well developed pectoral and pelvic fins on fore-body. Two equally sized dorsal fins on rear-body. Tail long and straight with upper and lower caudal lobes on underside. Distinct sub-terminal notch.
Body coloration tan to reddish brown with concentrations of dark spots forming broken bands along the torso and tail. Three large dark spots behind gills; the largest being elongated or U shaped and partially outlined in white on the lower side. Head orange-brown with small dark spots on nose and forehead. Two larger dark spots on lower cheeks. Ventrum pale.
Size: Maximum confirmed length 68cm but probably attains greater length (personal observation).
Habitat: Shallow coral reefs. From 3 to 10m.
Distribution: Endemic to the Maluku Islands in central-northern Indonesia. Found near Ternate Island and Halmahera Island.
Behavior: Hides by day under corals venturing out at sunset to feed. Swims or walks along on its flexible pectoral and pelvic fins. Wriggles through gaps in coral in search of prey or to seek protection.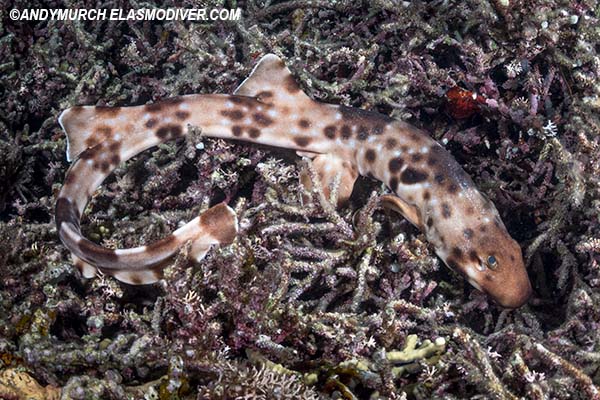 Reproduction: Oviparous.
Conservation Status: Only described in 2013, the Halmahera epaulette shark has not yet been evaluated by the IUCN.
Photographs: Halmahera, Indonesia.
Similar species:
This may be the only epaulette shark within the Maluku Islands but the Dive Masters at Weda Resort mentioned that they sometimes see a different one or perhaps just a different looking animal based on changes during maturity.
Reaction to divers: Usually seen at night. Seeks cover when caught in a diver'
s spotlight. Some animals are more tolerant of diver'
s lights than others.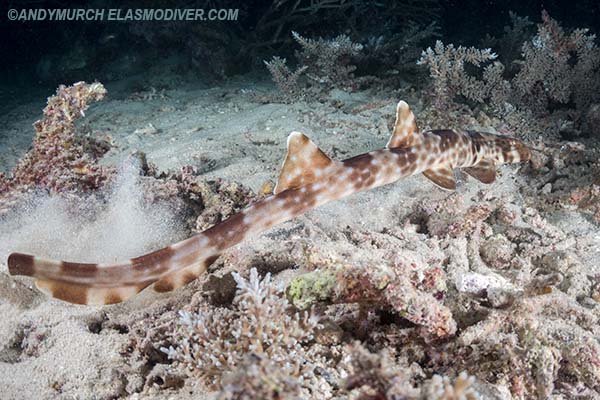 Diving logistics: The experienced dive masters at Weda Resort have a good track record for finding Halmahera Epaulette Sharks which they call Walking Sharks. We found multiple sharks on two out of three night dives during one week of diving in May 2018.
References and further reading:
Allen, G.R., M.V. Erdmann and C.L. Dudgeon

, 2013.

Hemiscyllium halmahera

, a new species of Bamboo Shark (Hemiscylliidae) from Indonesia. aqua, International Journal 19(3):123-136. (Ref.

94061

)