SHARK DIVING HOTSPOTS - HORNBY ISLAND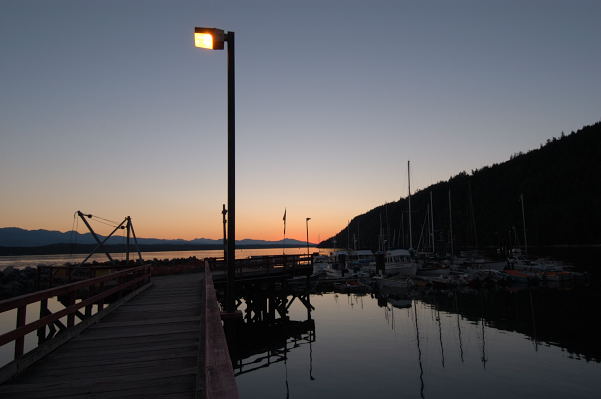 Encounter: Bluntnose sixgill sharks. Flora Inlet is a rocky reef located just off of Hornby Island that seasonally hosts a small population of Sixgills. The encounters are by no means guaranteed as no bait is used and the sharks are not plentiful. The reason that this still constitutes a "shark diving hotspot" is that sixgills elsewhere in the world live in vastly deeper water where they are seldom seen. The sharks at Hornby are seasonally present during the summer months between April and September. It is unclear what inspires them to migrate into shallow water but the sharks appear in this spot each year. I have heard only one report (from Aiden Martin at ReefQuest) of feeding behavior at this site but they may indeed be looking for food or it is possible that they congregate to mate. The only other areas that I am aware of where divers encounter occasional sixgill sharks are; Saanich Inlet and Barclay Sound (both on Vancouver Island), and The San Juan Islands and Hood Canal further south in Washington State, USA.
On the dives at Flora, divers are directed to swim slowly along the ledges on the sides of the reef that drop into deep water. The optimum depths for sightings seems to be in the 60 to 100ft range. The operators estimate that if a diver does 4 or 5 dives over a weekend at Flora Inlet they are likely to see one or more sharks. I know a diver who has been 8 times to Hornby and seen Sixgills on seven occasions and I have spoken to other divers who have been a multiple times and have yet to see a single shark so the stats are difficult to estimate correctly. If a shark is encountered, divers are encouraged to pay attention to length, sex, markings, depth, and behavior to aid in ongoing research on this elusive animal.
The Sharks themselves tend to approach divers from behind. This may be to avoid the brightness of divers lights to which their deep water vision is very sensitive. It may also be a predatory tactic although I am not aware of any aggressiveness that has been displayed towards a diver. Either way it is a little disconcerting to see a large Sixgill shark materialize in your peripheral vision. Sixgills move very slowly and having sated their curiosity they generally move away at a leisurely pace. On some occasions they have been known to circle divers repeatedly before leaving.
Operators: Hornby Island Diving is a full service dive centre and lodge that runs a fast aluminum dive boat out to Flora Inlet upon request. Many divers go to Hornby to try to see the Sixgills but HID also caters to large groups of divers from the Canadian interior that are there to complete the open water section of their diving certs, so it's worth finding out where the boat will be running before booking your trip. The dive centre is is diligently maintained by owners Rob and Amanda. Air and nitrox fills are available. Its a good idea to utilize nitrox during the dives here as the extended bottom times will significantly increase the chances of finding a shark.
Other dive shops on the mainland run charters to Hornby specifically to look for Sixgills so it is not necessary to go all the way there if your time is limited.
Accommodation: The lodge at Hornby Island Diving is spotlessly maintained and has room for many more guests than can fit on their dive boat so accomodation is rarely a problem. The small rooms mainly have single bunks with shared bath and are tastefully designed. There is a large lounge area well stocked with dive mags, books, and videos, a drying room, and a large dining area that serves delicious buffet style meals.
Other accommodation on the Island includes a variety of B&Bs, small hotels, and camping facilities. Hornby is a laid back yet popular destination during the summer months so it is a good idea to book a room well in advance.
Directions: To reach Hornby Island from the Canadian mainland requires 3 ferries. First its necessary to get to Vancouver Island either to Naniamo or Victoria. Ferries run to these cities from Departure Bay north of Vancouver or Twawassen ferry terminal south of Vancouver. Having reached Naniamo continue north past Parksville until you see signs for Denman Island. The crossing to Denman only takes about 20 minutes. Once there, follow the road around to the far side of the island to connect with the Hornby Island ferry. Its possible to buy a ticket that will get you onto both of these ferries. You need to start early if coming all the way from Vancouver in one day as the ferry to Hornby stops in the early evening. BC ferries get very busy during the summer months and its not unusual to have to wait for two or three crossings. The mainland ferries can be booked in advance.
Useful Links:

HOME LINKS TAXONOMY UNDER THREAT BOOKS CONTACT