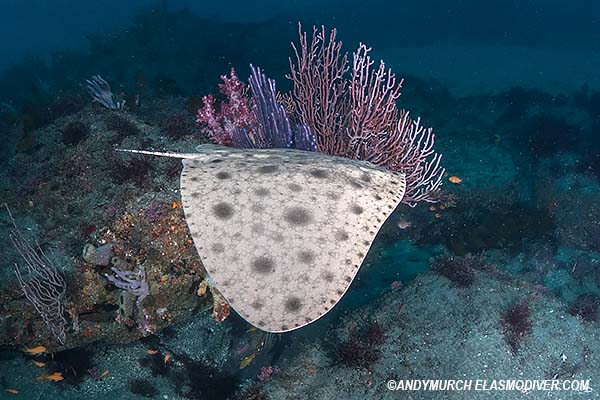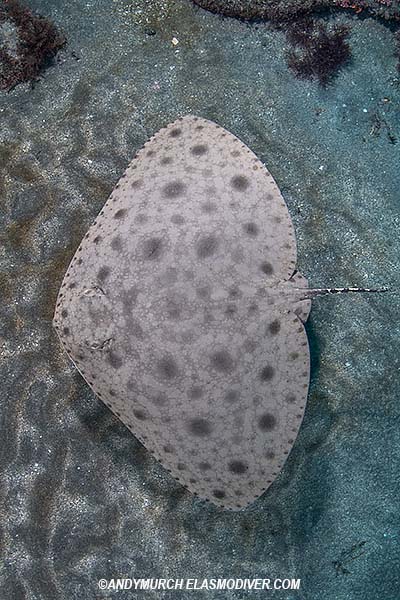 View all available Japanese Butterfly Ray Pictures
Common Names: Japanese Butterfly Ray, moth ray, butterflyray.
Accepted Scientific Name: Gymnura japonica.
Junior Synonyms: Gymnura bimaculata*, Pteroplatea japonica.
Family: Gymnuridae.
Identification: Disc width at least twice disc length. Dorsum pale tan to dark brown with small scattered dark spots. A line of small dark spots line the anterior margin of the disc. 20 or more much larger dark spots spaced symmetrically across the disc. Ventrum white or cream. Short tail has a black broken line on top that creates a variegated appearance.
Size: Maximum disc width 145cm. 20-22cm at birth.
Habitat: Sandy or muddy bays and brackish estuaries, occasionally near rocky reefs.
Abundance and distribution: Northwest Pacific and China Seas: North and South Korea, China, Japan, Cambodia and Malaysia. Unconfirmed reports from India. Historical records of Gymnura japonica from Indonesia and the Philippines are now attributed to G.zonura
Behavior: The Japanese butterfly ray lays motionless for much of the time under a thin covering of sand. Hunts by gliding close to the sand in order to detect small benthic animals.
Diet: Feeds on small benthic fishes and other bottom dwelling animals.
Reproduction: Ovoviviparous. 2-8 embryos. Once the unborn spiny butterfly rays have completely used up the reserves in the yolk sac, the mother secretes uterine milk. Long villi (filaments) grow from the uterus walls into the embryo's spiracles. Milk can then be directed more efficiently into the embryo's mouth and throat.
Conservation Status: The IUCN lists the Japanese butterfly ray as data deficient. However, the species is susceptible to a variety of gear types, including demersal trawl, gillnet, trammelnet and setnet fisheries throughout its range, and is known to be commercially fished off China. Population declines are reported to have occurred off Japan and China, but no information is currently available on the scale of these declines or the capture of this species in fisheries. Although the threat status of this species may be of significant concern, insufficient information is currently available on this species' distribution, abundance and the extent of any declines to fully assess its status and therefore it is presently listed as Data Deficient. Further investigation is required into taxonomy and population trends in this species, to fully define its range and the extent of any decline and this assessment should be revisited once these issues are better resolved.**
Photographs: Chiba, Japan.
Similar species: The Japanese butterfly ray shares parts of its range with a number of other Gymnurids including the long-tail butterfly ray - distinguished by small light spots and a proportionately longer tail than other butterfly rays. The Zonetail butterfly ray has a pattern of small white spots. It has a patchy distribution with the Eastern Indian Ocean and Western Central Pacific off the coasts of India, Indonesia, Singapore and Thailand.
Reaction to divers: Remains motionless relying on camouflage unless disturbed.
Diving logistics: Gymnura japonica is occasionally encountered by divers around the Chiba and Izu peninsulas on the south side of Honshu Island, Japan. Contact Bommie Dive Centre for more information on diving in Ito, Chiba.
Citations:
* The Taxonomic Status of Gymnura bimaculata and G. japonica: Evidence from Mitochondrial DNA Sequences

Anglv Shen, Chunyan Ma, Yong Ni, Zhaoli Xu and Lingbo Ma

Journal of Life Sciences: January 30, 2012.

** Ishihara, H., Wang, Y. & Jeong, C.H. 2009. Gymnura japonica. The IUCN Red List of Threatened Species. Version 2014.3. <www.iucnredlist.org>.