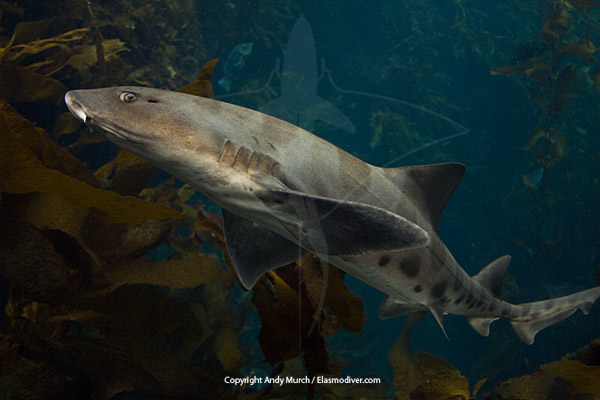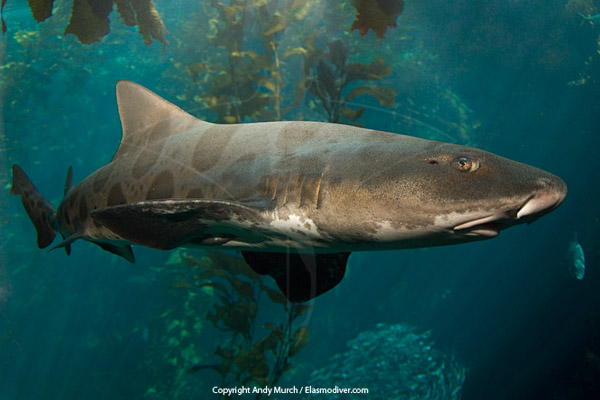 Photographs copyright Andy Murch. All rights reserved.
View all available shark and ray pictures in the Shark Pictures Database
Common Names: Leopard Shark.
Latin Name: Triakis semifasciata
Family: Triakidae
Identification:
Easily distinguished by bold pattern of large dark saddles extending from the head along the back. Centre of saddles lighter in adults. Saddles are separated by smaller dark spots on a cream to grey/brown background. Overall body shape is elogated and slender. Second dorsal proportionately large. Pectoral fins falcate. Snout broadly rounded with widely spaced nasal flaps that do not reach mouth.
Albino Leopard sharks have rare but have been recorded.
Size:
Maximum recorded size 180cm. Size at birth 20cm.
Habitat:
Prefers shallow sand flats and confined muddy bays. Likes turbid water. Occasionally in or near kelp beds on rocky substrate.
Abundance and distribution:
Confined to the temperate and tropical coastline between Oregon and Southern Baja including the Sea of Cortez. Often seen in large aggregations close to shore. Usually intertidal to 4m but has been recorded as deep as 91m.
Diet:
Hunts over sand in search of burrowing invertebrates such as worms but will feed opportunistically on a wide variety of animals including crustaceans, squid, bony fishes, and small sharks and rays (mainly other smoothhounds, bat rays and guitarfishes).
Behavior:
The Leopard Shark sometimes forms nomadic schools with other species especially the Grey Smoothhound (Mustelus californicus) and Spiny Dogfish (Squalus acanthias). Usually maintains a small home range but can roam up to 150km. A strong swimming shark that can occasionally be seen resting among rocks.
Reproduction:
Ovoviviparous with no yolk sac placenta. Recorded litter size 4-29. Gestation period approx. 12 months. Slow growing and late to mature.
Photographs:
The Marine Room, San Diego, California.
Conservation Status: The IUCN lists the leopard shark as 'Least Concern'. From the IUCN website: "Leopard sharks are taken primarily by recreational anglers. The species has also been captured for the cold-water aquarium trade and is highly prized for its distinctive markings and hardiness. Because of its rather limited geographical range and evidence of only limited exchange among regional stocks, resident stocks near large population centres may be particularly vulnerable to heavy localized fishing pressure. However, this species does not appear to be at risk judging by the combined landings in relation to previously calculated estimates of fishing mortality (mean F=0.084) and exploitation rates (mean E=0.075). Additionally, current conservation and regulatory actions enacted by the State of California appear to have reduced these rates and have contributed significantly toward protecting this species from excessive catches in recent years. Little is known of the biology and full extent of harvest of this species in Mexican waters, but it is estimated that less than one percent of the Pacific Ocean catch off Baja California under the category of "small sharks" is comprised of this species. As a result of the success of the conservation measures taken in the U.S. and the lack of a significant fishery in Mexican waters, this species has been classified as Least Concern. However, because it is endemic to this region, is subjected to fishing/bycatch pressures (albeit regulated in the U.S.), and has been shown to be susceptible to overfishing due to its life history characteristics (slow growing, long lived, late maturing, low productivity), it is important to continue managing and monitoring the species to ensure the health of the population."
Citation: Carlisle, A. & Smith, S.E. 2009. Triakis semifasciata. In: IUCN 2012. IUCN Red List of Threatened Species. Version 2012.2. www.iucnredlist.org
Similar species:
Although the Leopard Shark can be found with other smoothhound sharks it's striking pattern makes misidentification unlikely.
Reaction to divers:
Skittish. Best approached on snorkel but difficult to get close to. Apparently easier to approach at night. Due to their small size Leopard Sharks do not pose a threat to divers or snorkellers. But a Leopard Shark was responsible for an attack on an Aquarium Diver (Dean Fessler of the Shark Research Institute) while he was feeding the sharks in front of a large group of spectators. The way Dean explains it, the offending Leopard Shark accidentally bit his cheek while attempting to take the bait which was floating free in front of Deans face. A large flap of skin was torn away resulting in a huge cloud of blood that terrified the crowd and put an abrupt end to the "most sharks aren't really dangerous" speech that he was conducting.
Diving logistics:
It is usually possible to find Leopard Sharks throughout the summer and early fall directly in front of the Marine Room Restaurant in La Jolla. Why the sharks like this spot isn't clear but it may simply be that they patrol the entire coastline and this is where the snorkellers enter the water to see them.
A good way to get closer to the sharks is to carry some fish but note that La Jolla is a protected area and feeding or harassing the marine life within the park is illegal.
Other diving locations submitted by readers:
Ron Clough (Organizer of the California Shark and Ray Count) suggests that any places where warmer than normal water flows into the sea in California (e.g. from power plants) Leopard Sharks are likely to be seen.
References and further reading:
Sharks, Rays, and Chimaeras of California. David A. Ebert. U of C Press.
Sharks of the World. Leonard Compagno.
Sharks and Rays - Elasmobranch Guide of the World. Ralf M. Hennemann. IKAN.
HOME LINKS TAXONOMY UNDER THREAT BOOKS CONTACT