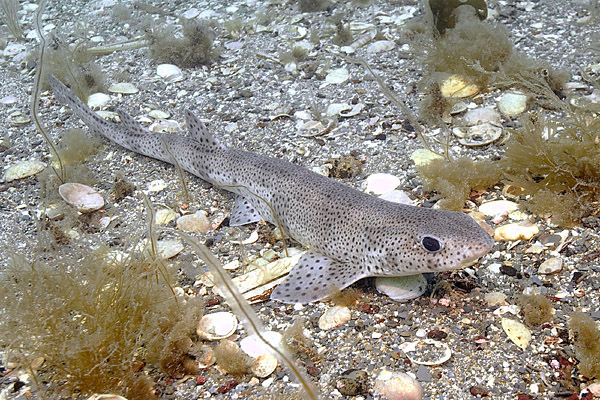 Photograph copyright Andy Murch all rights reserved.
ENLARGED IMAGE MORE LESSER SPOTTED CATSHARK IMAGES
View all available Lesser Spotted Catshark Pictures in the Shark Pictures Database
Common Names: Lesser spotted catshark, Lesser spotted dogfish, Smallspotted catshark/dogfish.
Latin Name: Scyliorhinus canicula
Family: Scyliorhinidae
Identification: Covered in many small dark (or occasionally light) spots. Dorsum usually has 8 to 10 dark patches forming dusky saddles. Second dorsal fin marginally smaller than first dorsal. No nasal barbells. Broad nasal flaps extend to mouth.
Size: 1 meter maximum. 10cm at birth.
Habitat: Rocky reefs and sandy or muddy shorelines. Intertidal to 400m.
Abundance and distribution: Eastern Atlantic from Norway to the Ivory Coast of West Africa.
Behavior: Remains motionless during the day and hunts actively at night for molluscs.
Reproduction: Oviparous. The male wraps his body completely around the female during copulation. The egg capsules are laid in pairs and the female then swims around the reef until the eggs snag on a suitable piece of substrate. 18-20 may be laid during each breading season. I have had reports of many pairs of dogfish congregating around shallow sites near the Lizard Peninsula at the beginning of June.
Observations:
Photographs: Porthkerris bay and Helford River, Cornwall, UK.
Similar species:
Greater spotted catshark (Scyliorhinus stellaris) distinguished by larger leopard-like spots.
Reaction to divers: Will allow a reasonably close approach but depending on the individual will bolt once he diver approaches within a meter or so. Some individuals refuse to move even when nudged or lifted.
Diving logistics: This is a common species along the UK coast and is frequently encountered on dives. The west coast is probably the best place to find them in great numbers. I have seen them whilst shore diving from Porthkerris, in Helford River, and on the isle of Skomer in Pembrokeshire. Contact Porthkerris Divers for further information.
HOME LINKS TAXONOMY UNDER THREAT BOOKS CONTACT