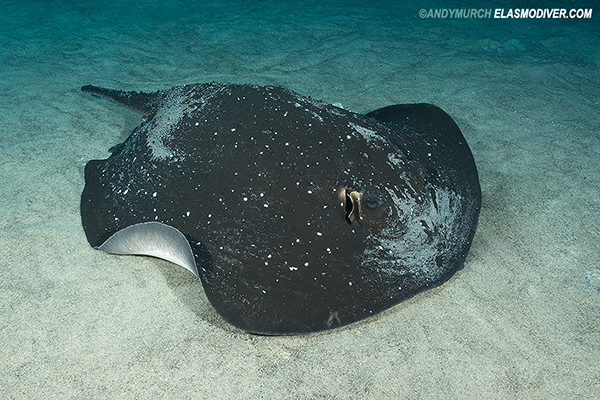 Photograph copyright Andy Murch
View all available Mangrove Whipray Pictures in the Shark Pictures Database
Common Names: Mangrove whipray, whitetail stingray, MacLeay's Coachwhip Ray.
Accepted Binomial
: Himantura granulata. Synonyms: Himantura ponapensis, Trygon granulata.
Family: Dasyatidae.
Identification:
Rounded disc. Generally black or chocolate brown above
with scattered, small, irregular, white spots
. Dark coloration is caused by a layer of mucus without which the dorsum of this species is light brown. Dorsum covered in small thorns (dermal denticles). Thorns larger towards midline. When intact, tail roughly 1.5-2 times body disc length. Broad at base, tapering towards sting, extending into a long thin caudal filament. Single large spine on tail. Spine and tail filament pale/white. Ventrum white. Dusky around ventral margin.
Size: Maximum disc width 141cm. Maximum length with tail 3.5m.
Habitat: Mangroves, sandy bays, mixed sand and rubble, lagoons and near reefs.
From inshore to 85m on the continental shelf.
Distribution: Wide ranging in the Indo-west Pacific. Known from the Red Sea, Maldives, India, through Southeast Asia to Australia, PNG and Micronesia.
D
iet:
Adults forage for small fishes including rabbitfishes, gobies, blennies, wrasses and damselfishes. Juveniles prefer demersal crustaceans including crabs and shrimps.
Reproduction: Ovoviviparous. Embryos feed off their yolk sac until depleted then switch to consuming histotroph; uterine milk secreted through villi (small projections on the walls of the uterus). Newborns 14-28cm total length.
Behavior: Sluggish during the day. The mangrove whipray feeds actively at night by using its electroreceptors to find prey buried up to 25cm deep in the sand.
Conservation Status: the IUCN lists the Mangrove Whipray as globally NEAR THREATENED, . The species' preference for inshore habitats and the fact that it is apparently uncommon compared to other Himantura species, makes it particularly vulnerable to widespread and intensive artisanal and industrial fisheries operating throughout large areas of its range, as well as habitat destruction and pollution. Significant destruction and degradation of mangrove areas and targeting of juveniles in shallow waters are thought to have significantly affected this species. It is caught irregularly by tangle net, bottom trawl (including large numbers of trawlers targeting Rhynchobatids in the Arafura Sea) and longline fisheries and retained for human consumption. Levels of exploitation are very high throughout its range in Southeast Asia and in many parts of the Indian Ocean, hence it is under a severe level of threat within most of this range. Although no species-specific data are available, overall catches of stingrays are reported to be declining in areas of Southeast Asia for which information is available, with fishermen having to travel further and further to sustain catch levels. Species that inhabit a similar range to this species (such as the Sharptooth Lemon Shark (Negaprion acutidens)) are now rarely observed in Indonesia due to high levels of exploitation, and significant declines are also inferred to have occurred in this species in Indonesia and other areas. This species is assessed as Endangered in Southeast Asia on the basis of inferred declines (>50%) due to continuing high levels of exploitation. Fisheries in northern Australia are generally well managed and the introduction of Turtle Exclusion Devices (TEDs) and other exclusion devices will have greatly reduced bycatch of this species. The species is considered at minimal threat throughout its wide range off northern Australia, where it is assessed as Least Concern. Globally the species is assessed as Near Threatened, considered close to meeting the criteria for Vulnerable A2d+A3d+A4d. Further research is required on life-history characteristics and to assess catch levels throughout the species range. It will require careful monitoring and may well qualify for a threat category in the future.
Photographs: UAE.
Similar species: Because of its thorny dorsal surface the mangrove whipray could be confused with the porcupine ray Urogymnus asperrimus. However, the latter has far more thorns on a uniformly lighter dorsum and lacks a tail spine.
Reaction to divers: Easily approached with slow non-threatening movements.
Diving logistics: Seen sporadically throughout its range.
References and Citations:
Manjaji, B.M., White, W.T., Fahmi & Ishihara, H. 2009. Himantura granulata. The IUCN Red List of Threatened Species 2009: e.T161431A5422325. http://dx.doi.org/10.2305/IUCN.UK.2009-2.RLTS.T161431A5422325.en . Downloaded on 17 October 2015.
HOME LINKS TAXONOMY BOOKS CONTACT