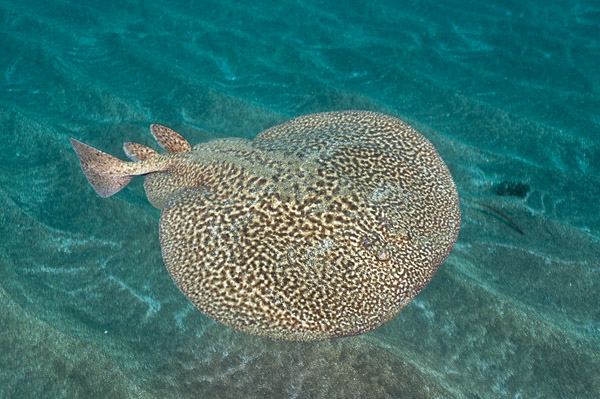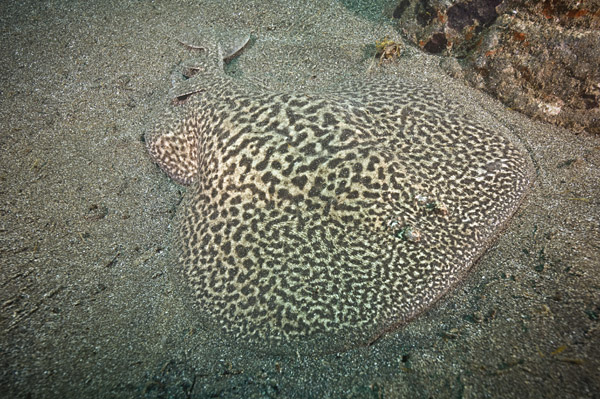 Photograph copyright Andy Murch
View all available Marbled Torpedo Ray Pictures in the shark picture database
Common Names: Marbled Torpedo Ray, Marbled Electric Ray, Spotted Torpedo.
Binomial: Torpedo marmorata.
Family: Torpedinidae.
Identification: Disc width greater than length. Tail short with well developed upper and lower caudal lobes. Two dorsal fins run along tail from mid base of pelvic fins. Eyes small and close to spiracles. Spiracles have 6 to 8 papillae. Dorsal coloration consists of a maze of bold, dark brown irregular lines and spots on a tan or cream background forming a marbled pattern. Occasionally, dorsum uniformly brown. Pattern continues on border of ventrum. Centre of ventrum white.
Size: At birth 20cm. Maximum length 60cm.
Habitat: Shallows to 200m on sand or mud and in sea grass flats. Often seen around rocky reefs.
Distribution: Eastern Atlantic from the North Sea to South Africa.
Behavior: Lays motionless for most of the day under sand with only spiracles protruding. Diet consists mainly of bony fishes. Also consumes octopuses and shrimps. Stuns its prey by discharging electricity that is stored in large kidney shaped muscle like organs in the pectoral fins.
When threatened the Marbled Torpedo Ray will swim off the bottom and curl its body into a circle thus presenting its attacker with the area that emits its high voltage shock. Click on the thumbnail below to see an example of this threat posture: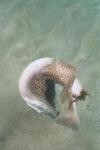 Reproduction: Ovoviviparous. the embryos are fed by ingesting a nutrient rich liquid that the mother secretes into the uteri. 5 to 32 young are born after a 10 month gestation period.
Observations: After wafting the sand away from one specimen it initially tried to swim slowly away. Eventually it gave up this tactic and shot forward close to the bottom in order to disrupt a cloud of sand. It made to leave and then circled back at lightning speed and immediately buried itself. This maneuver took less than a second but was extremely effective as the torpedo ray became completely invisible.
Another specimen adopted the threat posture explained above but it did not attempt to shock me. This may be due to the distance that I kept from it.
Photographs: El Cabron Marine Park, Arinaga, Gran Canaria, Canary Islands.
Similar species: At least 4 other torpedo rays share parts of the Marbled Torpedo Ray's range. Most are distinguishable by their markings: Common Torpedo - 5 distinct ble ocelli on back. Bauchot's Torpedo - tan dorsum with darker flecks bordered in black spots. Mackay's Torpedo - brown dorsum covered in small white polka dots. Atlantic Torpedo - plain brown to purple dorsum and first dorsal fin significantly larger than second.
Reaction to divers: Easily approached. moves away only when closely disturbed. May shock if handled. Divers have reported being shocked after accidentally coming to rest on top of this ray.
Diving logistics: Davy Jones Diving Centre (among others) runs trips to El Cabron Marine Park where this ray can usually be found by patient and observant divers. Shore diving without a guide is also possible but advice should be sought from local dive shops on water conditions and currents.
This is a wide ranging ray that can probably be seen in a variety of places but the Marbled Torpedo Ray is fairly abundant in the Canary Islands which are easily accessible to divers.
El Cabron is also an excellent place to hunt for Common Angel Sharks.
Other diving locations submitted by readers:
Further Reading:
Sharks and Rays Elasmobranch Guide of the World - Ralf M. Hennemann.