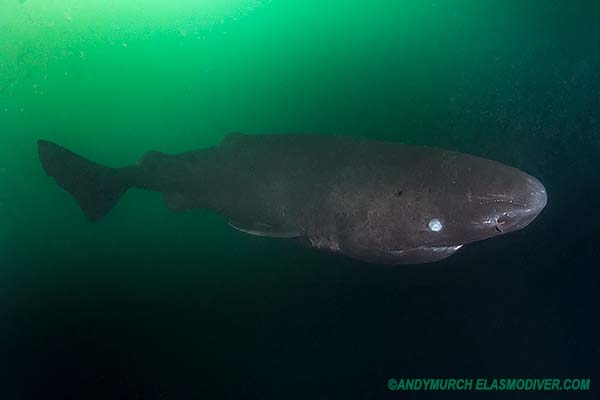 View more Pacific Sleeper Shark Images in the Shark Picture Database
Common Names: Pacific Sleeper Shark, Mud Shark.
Latin Name: Somniosus pacificus
Family: Somniosidae - Sleeper sharks.
Identification: A large, heavy bodied shark. Very low first and second dorsal fins set well back on body. No dorsal spines. Snout broadly rounded. A network of small white pores (probably electro-receptors or pressure sensors) are present around the snout and behind the eyes. Light blue eyes are often covered by a parasite. Dorsal coloration dark reddish-brown. No counter-shading. Ventrum uniformly brown. A small spiracle is present towards the back of the head; well behind and above eye level.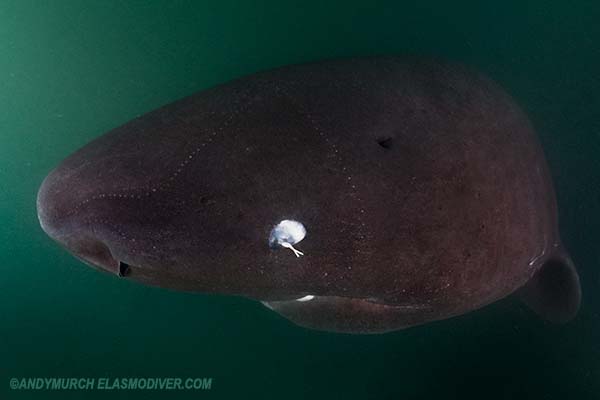 Size: Maximum recorded length is 440cm but there are unconfirmed reports of 7m individuals that have been seen by deepwater submersibles. If those reports are correct, the Pacific sleeper shark would be the fifth largest shark; slightly smaller than its Atlantic cousin the Greenland shark. Estimated size at birth is 40-65cm.
Habitat: Boreal and temperate oceans on continental shelves and slopes. A mostly demersal species. Adults are usually found close to the substrate, whereas neonates are often caught in mid-water implying that they inhabit this region until the grow larger and settle onto the bottom. The Pacific sleeper shark is confined to deep water in the warmer parts of its range. It is known to migrate vertically after dark, occasionally entering shallow bays at night in polar regions. One individual was found trapped in a tide pool. Maximum depth at least 2000m.
Distribution: North Pacific. Found from Japan in the west, through the Kuril Islands, Sea of Okhotsk, Bering Sea, Chukchi Sea, Coastal Alaska and southward as far as Baja California. Reports of Pacific sleeper sharks from the southern hemisphere are likely misidentifications of Somniosus antarcticus. Its distribution above the arctic circle is unclear. Reports may be attributed to S. microcephalus.
Diet and feeding behavior: Feeds on flatfishes, Pacific salmon, rockfish, harbor seals, octopi, squid, crabs, tritons, and carrion. It is unclear if the Pacific sleeper shark is capable of catching fast moving prey or if it scavenges for carcasses that have fallen to the bottom. ts long head and oral cavity imply that it has a powerful suction capability but the use of this attribute has not been observed in the field.
Reproduction: Ovoviviparous. Pregnant females have yet to be found. This suggests that either pregnant females reside at great depth (below the range of commercial fisheries), or Pacific sleeper sharks have an extremely low fecundity.
Conservation Status: Listed as Data Deficient by the IUCN. However, this species is taken as bycatch in several fisheries and usually discarded. It is notably affected by bottom trawl fisheries in the western Bering Sea (Orlov 2005), by longline fisheries for sablefish and Pacific halibut in the eastern North Pacific (Courtney et al. 2006a, b). Incidental catch in US waters in 2006 was 435 mt, in some years it has reached ~ 1,400 mt (Courtney et al. 2006a, b).
From 1997–2001 in the Bering Sea Aleutian Islands area, Pacific sleeper sharks were caught primarily by the Pacific cod longline fishery (30%), walleye pollock pelagic trawl fishery (26%), Greenland turbot longline fishery (17%), flatfish trawl fishery (12%), and sablefish longline fishery (10%). From 1997–2002 in the Bering Sea Aleutian Islands area, Pacific sleeper sharks were caught primarily in two statistical areas, which made up 57% and 20% of the total sleeper shark catch. There has been an increasing trend in catch of Pacific sleeper sharks from two statistical areas in the eastern Bering Sea between 1997-2002, however, this may reflect a change in fishing effort as opposed to any increase in the population size.
Fisheries in the western Bering Sea catch mainly juveniles of this species, present at shallower depths than adults. Greater depths that are not currently fished may provide some refuge for adult Pacific sleeper sharks, however the situation should be monitored.
Photographs: Port Fidalgo, Prince William Sound, Alaska.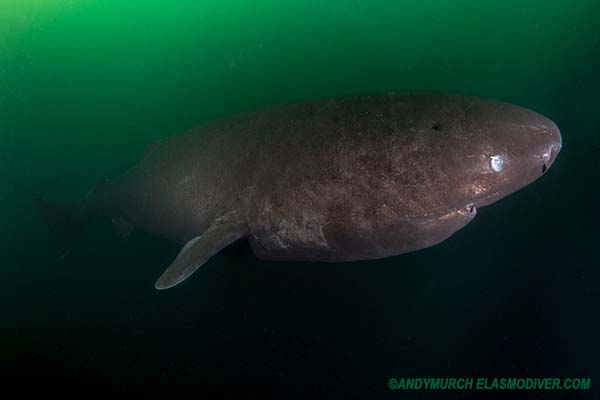 Similar species: The Pacific sleep shark's range may overlap with the Greenland Shark inside the arctic circle. However, it is unclear if the Pacific sleeper is present within that region.
Reaction to divers: Although its nightly vertical migrations make contact with divers feasible, there are no accounts of it being encountered. During a catch and release experimental dive in Port Fidalgo, a 4m specimen showed no interest in the diver (me). Once released, it immediately swum back into deep water.
Diving logistics: None. Please send any reports of encounters by divers to elasmodiver.
References:
Ebert, D.A., Goldman, K.J. & Orlov, A.M. 2009. Somniosus pacificus. The IUCN Red List of Threatened Species 2009: e.T161403A5416294. http://dx.doi.org/10.2305/IUCN.UK.2009-2.RLTS.T161403A5416294.en. Downloaded on 23 June 2018.