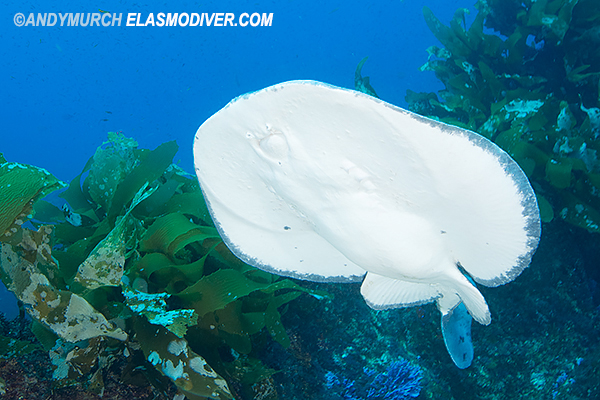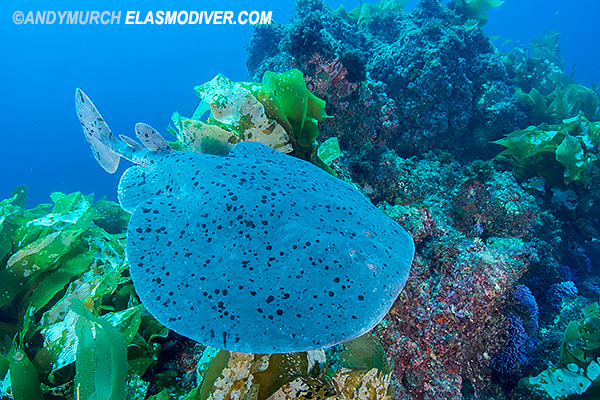 View all available Pacific Torpedo Ray Pictures in the shark picture database
Common Names: Pacific Torpedo Ray, Pacific Electric Ray, California torpedo ray.
Binomial: Tetronarce californica.
Family: Torpedinidae.
Identification: Body disc slightly wider than long. Leading edge of pectoral fin disc straight/ bluntly rounded. Paired kidney shaped electric organs are visible beneath the skin on either side of the head. Tail short with well developed upper and lower caudal lobes. Two dorsal fins on tail from mid base of pelvic fins. First dorsal fin for than twice as large as second. Eyes small. Spiracles smooth edged. Dorsal coloration slate grey, light grey or brownish with or with irregular small black spots. Spots sometimes absent. Underside white.
Size: Maximum length 140cm.
Habitat: The Pacific torpedo ray is a bottom dwelling species often found near rocky reefs from the shallows to 200m. Maximum recorded depth 425m. There is one record from 17km off Point Pinos Monterey County, California, where this ray was found swimming 10m below the surface over water 3km deep.
Distribution: Western Pacific from Dixon Entrance in British Columbia, Canada to Vizcaino Bay in Baja California, Mexico. Recently recorded off the South Kuril Islands in Eastern Russia.
Most abundant south of Point Conception, California.
Behavior: An ambush predator by day. The Pacific torpedo ray lays in wait on the seafloor until a fish comes within close enough range then the torpedo ray jumps forward and shocks the fish with its powerful electric organs. At night this species actively hunts for benthic animals on the seafloor.
Reproduction: Ovoviviparous. the embryos are fed by ingesting a nutrient rich liquid that the mother secretes into the uteri. 17-20 young per litter. Gestation period unknown.
Conservation Status: Listed as Least Concern by the IUCN. The Pacific Electric Ray (Torpedo californica) has a restricted distribution in relatively shallow, inshore waters on the west coast of North America. Targeted commercial or recreational fisheries do not threaten it and levels of bycatch appear low.
A small fishery exists for the acquisition of biological and biomedical research specimens (Love 1996). Small numbers of animals are harvested, either directed or as bycatch in bottom-trawls, for their electric organs. The fishery may currently have as few as two active fishers.
Photographs: Farnsworth Bank, Catalina Island, California.
Similar species: The Pacific torpedo ray is the only torpedo ray on the west cost. The Peruvian torpedo ray is present in the Eastern Pacific from Costa Rica southward to Peru. It is a similar shape but unmarked with dark brown to purple pigmentation.
Reaction to divers: Easily approached. Virtually ignores divers but may become aggressive and pursue divers if molested. Divers have reported being shocked.
Diving logistics: Reasonably common but unpredictable near deeper kelp forests around southern California. Local divers report this ray as abundant at Farnsworth bank off the west side of Catalina Island.
Further Reading:
The pacific electric ray Torpedo (Tetronarce) californica Ayres, 1855, the first of the order Torpediniformes in the waters of russia, with comments on the formation of its range.

Russian Journal of Marine Biology. July 2015, Volume 41, Issue 4, pp 295-299

Neer, J.A. 2005. Tetronarce californica. The IUCN Red List of Threatened Species 2005: e.T39396A10198408. http://dx.doi.org/10.2305/IUCN.UK.2005.RLTS.T39396A10198408.en