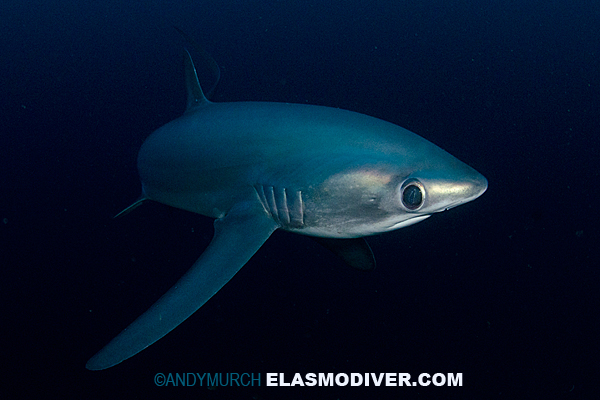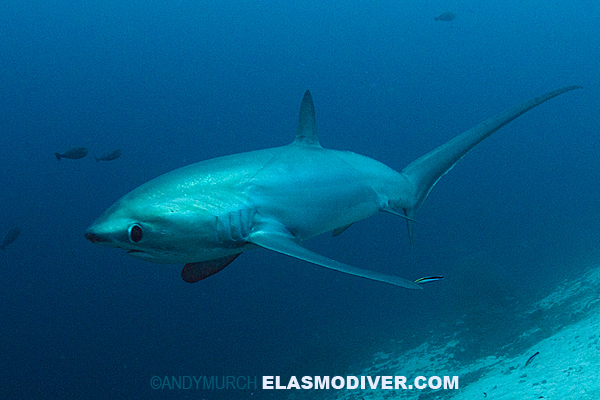 View all available pelagic thresher shark pictures in the Shark Picture Database
Common Names: Pelagic thresher, thresher shark, fox shark, whiptail shark.
Latin Name: Alopias pelagicus.
Family: Alopiidae.
Identification:
Short, stocky, cylindrical body. Upper body colouration slate blue or grey. Ventral colouration pale. Extremely long upper caudal lobe (same length as body). Eyes large with slitted black pupils and black irises. Snout and mouth small. Body broadens around gill areas. Distinct crease/concavity above gills. Pectoral fins long and mildly spatulate. Fins may be slightly dusky.
Size:
Maximum recorded size: 365cm. Mature: 250-300cm
Habitat:
The pelagic thresher spends most of its life in oceanic environments far from shore but approaches seamounts and deeper reef slopes in order to visit cleaning stations and sometimes to feed.
Distribution:
Wide ranging in tropical and temperate seas. Absent from the Atlantic but otherwise circumtropical/temperate.
Diet:
Probably feeds on small schooling fishes and mid-water cephalopods.
Behavior:
Whips with its long tail in order to stun schooling prey then returns and consumes incapacitated animals.
At cleaning stations the pelagic thresher stalls in mid-water and drops its tail to signal to cleaner fish to approach.
Reproduction:
Viviparous with one viable offspring in each of its uteruses. Unborn you feed on unfertilized eggs (oophagy).
Conservation Status:
The IUCN lists the Pelagic Thresher Shark as 'Vulnerable'. Justification: All members of genus Alopias, the thresher sharks, are listed as Vulnerable globally because of their declining populations. These downward trends are the result of a combination of slow life history characteristics, hence low capacity to recover from moderate levels of exploitation, and high levels of largely unmanaged and unreported mortality in target and bycatch fisheries.
The Pelagic Thresher Shark (Alopias pelagicus) is a large, wide-ranging Indo-Pacific Ocean pelagic shark, apparently highly migratory, with low fecundity (two pups/litter) and a low (2-4%) annual rate of population increase. This species is especially vulnerable to fisheries exploitation (target and by-catch) because its epipelagic habitat occurs within the range of many largely unregulated and under-reported gillnet and longline fisheries, in which it is readily caught. Although this species is reportedly relatively common in some coastal localities, current levels of exploitation in some areas are considered to be unsustainable. Overall, it is considered highly likely that serious depletion of the global population has occurred.
Citation: Reardon, M., Márquez, F., Trejo, T. & Clarke, S.C. 2009. Alopias pelagicus. In: IUCN 2013. IUCN Red List of Threatened Species. Version 2013.2. <www.iucnredlist.org>.
Photographs:
Monad Shoal, Malapascua Island, Philippines.
Similar species:
The common thresher shark Alopias vulpinus is very similar and shares much of the pelagic thresher's range. It has a proportionately smaller eye, a larger first dorsal and grows tmuch larger dimensions.
The bigeye thresher shark Alopias superciliosus prefers deeper water and has larger eyes than the pelagic thresher. Most notably, the bigeye thresher has a deep horizontal groove above each gill and eye, and a tail that is not as long as its body.
Reaction to divers:
A shy species that is usually difficult to approach. Divers at thresher shark cleaning stations may be able to get close by remaining still and initially avoiding eye contact. Use of rebreathers can be beneficial.
Diving logistics:
By far the best location to watch pelagic thresher sharks is Monad Shoal off of Malapascua Island in the Philippines. The thresher dives take place just after dawn on a deep ledge about 15 minutes from Malapascua.
Divers swim along the reef slope past numerous cleaning stations until they find one that the threshers are approaching. Then they drop to the sand and wait for the threshers to get used to their presence. Sometimes the sharks approach extremely closely but they are never threatening.
Another good location for pelagic thresher encounters is at Elphinstone Reef in Egypt. The thresher sharks at this location are less guaranteed and they are often harder to get close to but many divers have had good experiences here.
HOME LINKS TAXONOMY UNDER THREAT BOOKS CONTACT