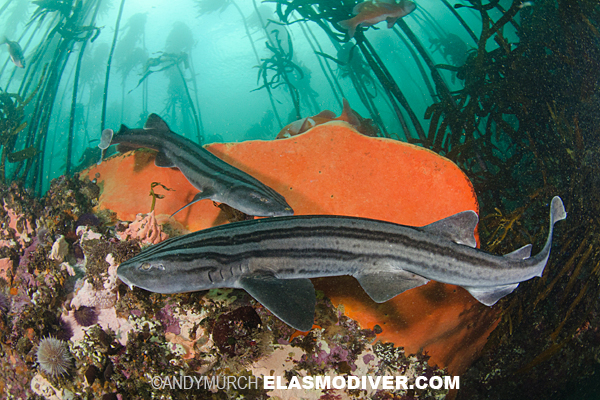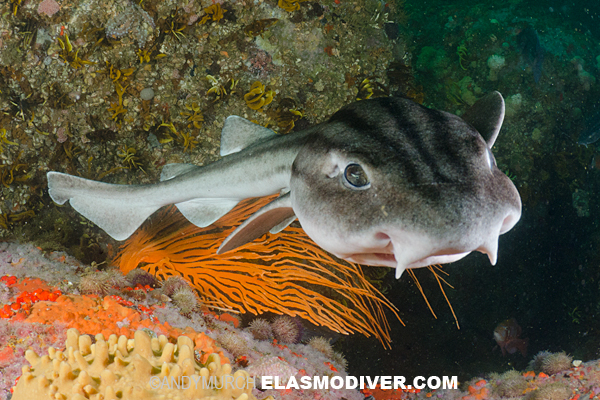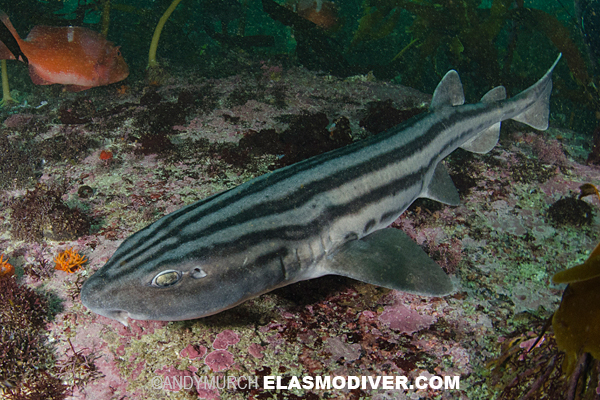 View all available Pyjama Shark Pictures in the Shark Pictures Database

Common Names: Pyjama shark, lined catshark.

Latin Name: Poroderma africanum.

Family: Scyliorhinidae

Identification: A relatively thick bodied catshark with long nasal barbells reaching the mouth. Body colour grey or grey/brown with five distinct longditudinal black stripes running from between the nose to the tail. Markings may be sparse in some individuals.

Size: to 95cm.

Habitat: Kelp forests, rocky reefs and mixed sandy or rocky substrates from surf line to 282m but mostly above 100m.

Abundance and distribution: Endemic to South Africa. Western Cape to kwazulu-Natal. Possibly also Madagascar and Mauritius.

Behavior: Hunts over reef substrates at night but may also be sighted occasionally during the day. Congregates and rests in recesses and caves or under kelp.

Diet: Prefers cephalopods where available but also eats crustaceans, bony fishes, small rays, hagfishes and polychaete worms.

Reproduction: Oviparous. Produces one egg per oviduct. Egg cases between 5-10cm in length. Egg cases of Pyjama sharks in captivity hatched after 5 months.

Conservation Status: The IUCN lists the leopard catshark as 'Near Threatened'. This inshore catshark has a restricted zoogeogeographic and bathymetric range in a heavily fished, well-populated area of South Africa. Although generally not targeted at present, the Pyjama Shark (Poroderma africanum) is subject to fisheries pressure from commercial and sports fisheries. Its status is of concern because of increasing regional fisheries for small sharks for the export market over the last few years.

Citation: Compagno, L.J.V. 2005. Poroderma africanum. In: IUCN 2013. IUCN Red List of Threatened Species. Version 2013.1. <www.iucnredlist.org>.

Photographs: Miller's Point, Simon's Town, Cape Province, South Africa.

Similar species:

The pyjama catshark's closest relative is the leopard catshark Poroderma pantherinum. The leopard catshark has distinct leopard-like spots rather than stripes that should easily differentiate the two in the field but some indiviuals may have indistinct markings leading to confusion.

Reaction to divers: Swims nonchalantly around divers but will retreat when harassed.

Diving logistics: Easily encountered from shore or while boat diving around Cape Town and likely elsewhere along the South African coastline. Divers carrying a few sardines that they can break up on the reef, will be especially successful.

Big Fish Expeditions runs yearly Shark Safari's in South Africa that include dives with this species.