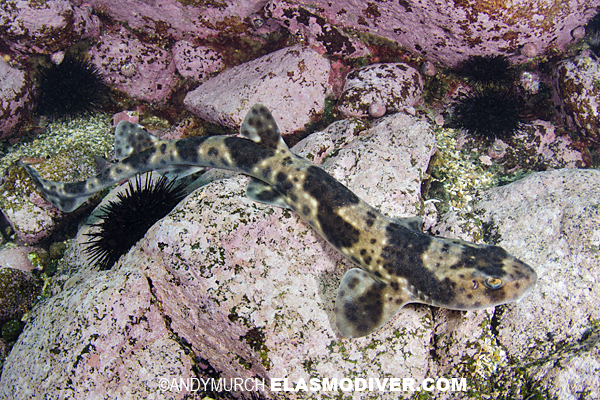 Redspotted catshark juvenile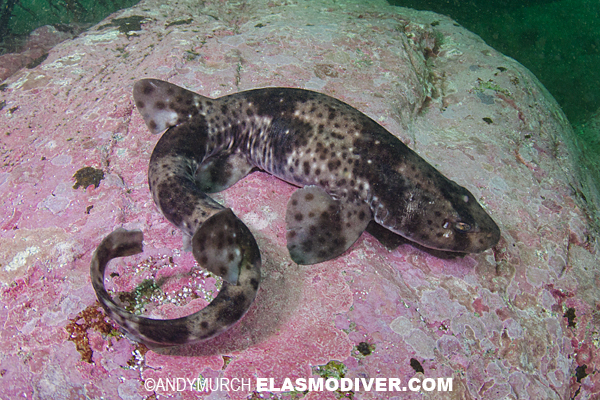 Redspotted catshark adult
View all available Redspotted Catshark Pictures in the Shark Pictures Database
Common Names: Redspotted catshark, Chilean catshark, Pinta roja.
Latin Name: Schroederichthys chilensis. Synomnym(s): Halaelurus chilensis
Family: Scyliorhinidae
Identification: A slender bodied, tan to reddish/brown catshark with darker brown saddles and small dark brown or black spots with occasional small off-white spots. Two saddles between dorsal fins. Belly pale. Mouth wide. Distance between mouth and tip of snout very short. Nasal flaps triangular.
Size: 62cm maximum.
Habitat: Kelp forests, rocky reefs and mixed sandy or rocky substrates from 1 to 100 metres.
Abundance and distribution: Southeastern Pacific from Peru to central Chile. Reasonably common in Central Chile.
Behavior: The redspotted catshark remains motionless tucked into crevices or hidden in kelp during the day. Hunts over reef for crustaceans and other invertebrates.
Reproduction: Oviparous. Females produce paired egg cases with long tendrils that they attach to kelp. (see image below) Large collections of egg capsules suggest that redspotted catsharks aggregate to deposit their eggs en masse.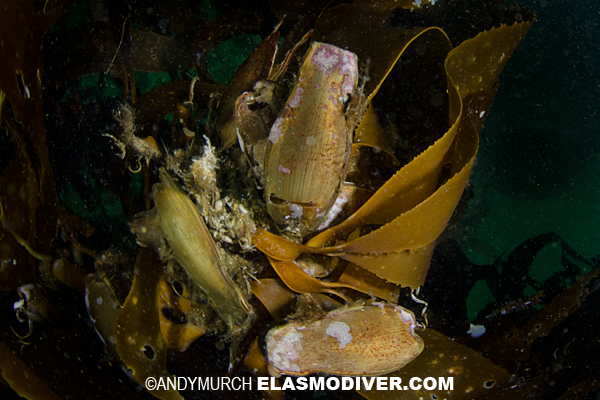 Conservation Status: The IUCN lists the red spotted catshark as 'Data Deficient'. A bycatch species of inshore demersal trawl and longline fisheries, however, species-specific catch information is not available. This species is a popular laboratory animal and over-collecting for research purposes may impact small, localised populations. Insufficient information available to assess the species beyond Data Deficient at this time.

Citation: Lamilla, J. 2004. Schroederichthys chilensis. In: IUCN 2012. IUCN Red List of Threatened Species. Version 2012.2. <www.iucnredlist.org>

Photographs: (Top) Zapallar, Chile. (Bottom) Las Tacas, Coquimbo, Chile.

Similar species:

The redspotted catshark's range overlaps at its southern extreme with the narrowmouth catshark

Schroederichthys bivius

. Similarly patterned, the narrowmouth catshark can be distinguished by its proportionately longer nose, narrower mouth and more pointed nasal flaps.

Reaction to divers: Remains completely motionless unless threatened. May even allow divers to pick it up without the shark reacting.

Diving logistics: One of the best places to dive with redspotted catsharks is at Las Tacas just south of Coquimbo in central Chile. This shark can be encountered at most shallow sites in the area as well as on night dives right in front of the dock of Bahia Sol Dive Lodge. Contact Stefano Bagoni at http://www.divechile.cl for more information.

Its likely that any inshore sites between Santiago and Coquimbo would be similarly productive.

HOME LINKS TAXONOMY UNDER THREAT BOOKS CONTACT