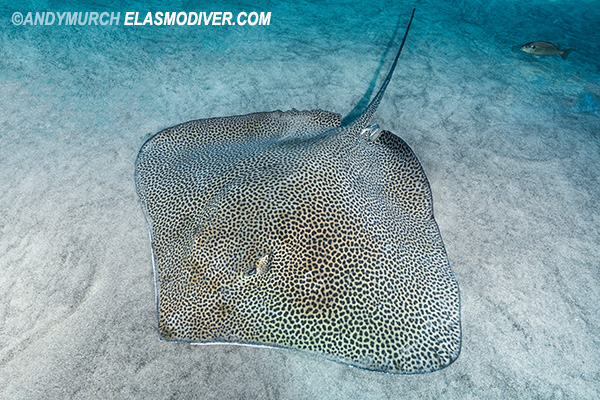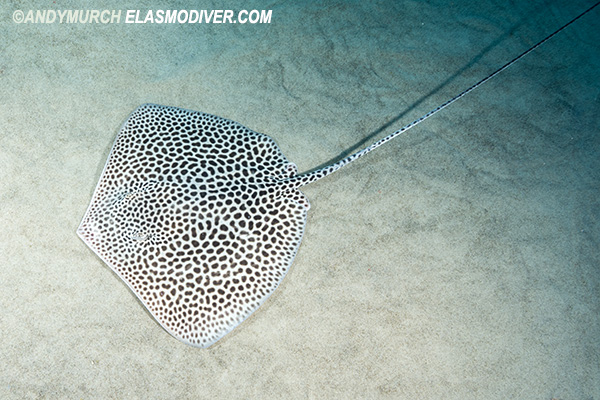 View all available Reticulate Whipray Pictures in the Shark Pictures Database
Common Names: Reticulate whipray, honeycomb stingray, marbled whipray.
Latin Name: Himantura uarnak.
Family: Dasyatidae.
Identification: The reticulate whipray is a large whiptail stingray with a bold pattern of small dark spots on a tan or white background. Clusters of spots sometimes form a leopard-like patterns. Rhomboid disc with rounded pectoral tips and an obtusely pointed snout. Anterior disc margins almost straight. Posterior disc margins rounded. Pelvic fins small. Dorsum pale. When intact, tail very long - 3-3.5 times body length.
Size: Maximum disc width 2m/6.6ft. Total recorded length 6m/20ft
Habitat: A bottom dwelling species found in sandy bays, tidal flats, brackish lagoons and sea grass flats. From sub-tidal zone to 50m.
Abundance and distribution: Wide ranging in the Indo Pacific. In the west from the Arabian Peninsula to South Africa. Found all around the Indian subcontinent and In the east from Southern Japan to PNG and Northern Australia. Most common in Australia from Shark Bay to Brisbane.
Recently recorded in the Mediterranean probably after migrating through the Suez Canal.
Behavior: Nocturnal. By day the honeycomb stingray rests (either alone or in small groups) in shallow bays partially covered by sand. Its lateral line extends to the tip of its very long tail granting it extremely acute movement perception. Cownose stingrays often rest next to reticulate whiprays because of their excellent ability to sense the approach of predators.
Diet: The reticulate whipray feeds on a wide variety of organisms including small bony fishes, crabs, shrimps, bivalves, gastropods, worms and jellyfish.
Reproduction: Ovoviviparous. Embryos are initially fed by yolk sacs. Once the yolk is absorbed the developing young suckle from villi; structures on the wall of the uterus that deliver uterine milk.
Conservation status: Listed as VULNERABLE by the IUCN. Reticulate whiprays are taken as a utilised bycatch of tangle/gillnet, trawlnet, and dropline fisheries throughout southeast Asia and parts of the Indian Ocean. This species is an anti-Lessepsian migrant, having entered the Mediterranean Sea from the Red Sea through the Suez Canal. Reticulate Whipray faces many of the same threats as other Himantura species within its range, however, its large size at maturity and maximum size, low fecundity and preference for shallow waters (which are being heavily utilised and degraded in many parts of its range), suggest that it may be more vulnerable than some of its congeners. Inshore fishing pressure is intense throughout this species' range in southeast Asia and in parts of the Indian Ocean. It is caught in particularly high numbers in the target fishery for rhynchobatids operating in the Arafura Sea. Although no species-specific data are available, overall catches of stingrays are reported to be declining, with fishermen having to travel further and further to sustain catch levels. Aggregated time series data for rays also shows a steady decline from 1973-1994 in the Gulf of Thailand. Although species-specific data are not available, given the species' suspected vulnerability, significant declines significant declines are suspected to have occurred as a result of high levels of exploitation across large areas of its range. Conversely, this species has refuge from fishing pressure in areas such as northern Australia, where fishing pressure is light and bycatch mitigation measures are in place. The species is assessed as Least Concern, regionally, in Australia. Globally, it is assessed as Vulnerable on the basis of overall suspected declines as a result of high levels of exploitation in large areas of its range.
Similar species: The reticulate whipray shares some of it's range with the leopard whipray Himantura undulata. The latter has a bold pattern of jaguar-like spots. Two other species Himantura fava (disc with widely spaced honeycomb pattern and variably banded tail) and the recently described Himantura leopoldi (also share parts of the reticulate stingray's range.
Photographs: Arabian Peninsula.
Reaction to divers: Difficult to approach due to its excellent sensory system and nervous disposition.
Diving logistics: Reticulate whiprays can be seen on reefs across the indo-pacific. Countries where this ray is commonly encountered by divers include Egypt, Oman, Mozambique, South Africa, India, Thailand, Japan, Indonesia and Australia. However, it is most common in Australia. Dive shops in Shark Bay WA should be able to put you in the water with this species.
I have encountered small aggregations of this species while snorkeling in shallow bays in Exmouth, Western Australia.
Citations:
Manjaji, B.M. & White, W.T. 2009. Himantura uarnak. The IUCN Red List of Threatened Species 2009: e.T161692A5481403. http://dx.doi.org/10.2305/IUCN.UK.2009-2.RLTS.T161692A5481403.en