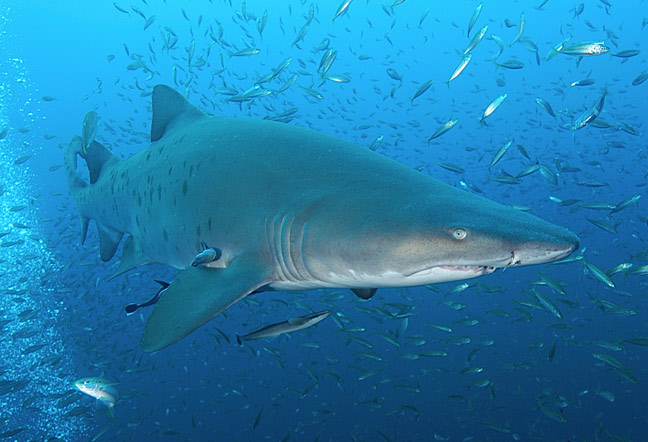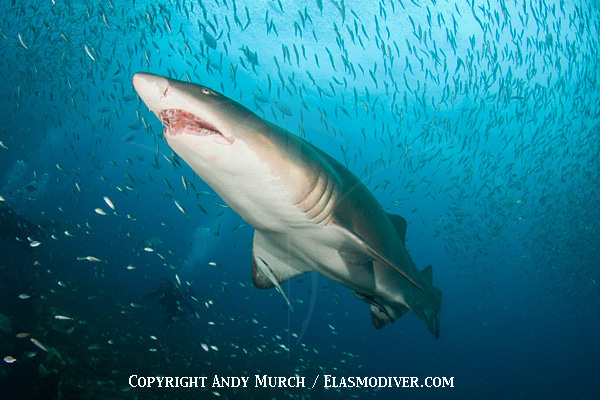 Photograph by Andy Murch. All rights reserved.
View all available Sandtiger Shark Pictures in the Shark Pictures Database
Common Names: Sandtiger shark, Common sandtiger shark, Ragged-tooth shark, Spotted ragged-tooth shark, Raggie, Grey nurse shark, Sand shark.
Latin Name(s): Carcharias taurus, Eugomphodus taurus.
Family: Odontaspididae.
Identification: Exposed ragged appearing teeth in jaw. Nares and upturned snout create a snarling appearance. Bulky mid body. First dorsal fin set far back over pelvic fins. Anal fin large - same size as pelvic fins and second dorsal. Dorsal colouration brown to greyish gold usually with scattered darker spots or blotches. Ventral colouration pale.
Size: Maximum length 2.6m (male), 3.3m (female). Length at birth 1m
Habitat: Found around rocky reefs and wrecks in temperate and tropical waters. From the surface to 200m or more.
Abundance and distribution: A wide ranging coastal species. A frequent inhabitant of shipwrecks on Americas eastern seaboard especially around North Carolina. Also encountered in reef channels around New South Wales (Australia), and at rocky reefs off South Africa. Inhabits deeper water in the Mediterranean. Also commonly seen off Japan. Populations inhabiting higher northern latitudes will move to warmer water in the winter, whilst more tropical groups are often present year round.
Behavior: Often seen hovering motionless above the bottom. A behaviour achieved by its ability to swim to the surface and swallow air. The stored air allows the shark to float in the same way as a fishes gas filled swim bladder. Although docile the Sandtiger has the ability to lunge forward with great speed when hunting or defensively. Diet varies according to location but generally consists of bony fishes and smaller sharks and rays.
Reproduction: Ovoviviparous and embryophagous i.e. developing embryos practice intrauterine cannibalism until just one baby shark remains in each uterus. Mating aggregations have been observed. Males (in captivity) have been seen to bite females around the gill region to hold on during copulation. Females stop feeding during pregnancy to the point where hydroids have been observed growing on their teeth.
Observations:
Photographs: North Carolina.
Similar species: Smalltooth sandtiger (Odontaspis ferox). Identified by bulkier conical snout, larger and further forward first dorsal.
Reaction to divers: Remains motionless unless very closely approached. Not normally aggressive towards divers but males may become more aggessive during courtship.
Diving logistics: Companies out of North Carolinas' Cape Hatteras and Moorhead City run day charters to various wrecks along the Carolina Coast. I have dove repeatedly with John and Amy Pieno who run Outer Banks Diving out of Hatteras and have seen upto 100 Sandtigers on one dive. This was the first dive of the season and the sharks tend to move away from the most visited wrecks as the season progresses but a few are usually still hanging around for a portrait.