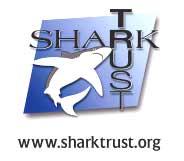 The Shark Trust was established in 1997 to study, protect, and manage the elasmobranch species found in UK waters and internationally. It is a member of the European Elasmobranch Association and works with other EEA organizations to counter the enormous fishing pressure that European shark and ray stocks are under.
The Shark Trust's mandate includes:
Introducing effective management on a regional basis to regulate shark and ray fisheries and ensure that they are sustainable.

Reducing shark and ray bycatch and mortality in other fisheries.

Increasing research efforts on the biology of sharks and rays and their fisheries, including the promotion of a collaborative tag and release program.

Improving records of catches, landings, and international trade in species of sharks and rays.

Improving management of critical habitats, including nursery grounds, under threat.

Increasing the amount of information available to the public and decision makers.
The Shark Trust encourages scientists, divers, fishermen, anglers, and the general public to join the growing number of ST members that currently lend their support.
Your membership in The Shark Trust adds to the pressure that it is able to be put on governing and regulatory agencies, and helps spread awareness on the plight of sharks and rays in general.
Subscription to The Shark Trust carries no obligation on your part unless you wish it to. However, if you would like to help educate or raise funds your added contribution will be most welcome.
Shark Trust members receive the trust's magazine/newsletter 'Shark Focus' 3 times per year. This is a glossy publication that chronicles the latest work of the trust and has articles on a variety of shark and ray subjects. Upon joining the trust you will also receive i.d. posters of British shark and ray species and other Shark Trust goodies.
The Shark Trust also hosts a highly informative website with sections on all aspects of sharks and rays. The site also contains a good image database of elasmobranch species and an active and well moderated forum for anyone wishing to talk sharks.
To enter the Shark Trust's website follow the link below:
Return to the Shark Champions Index