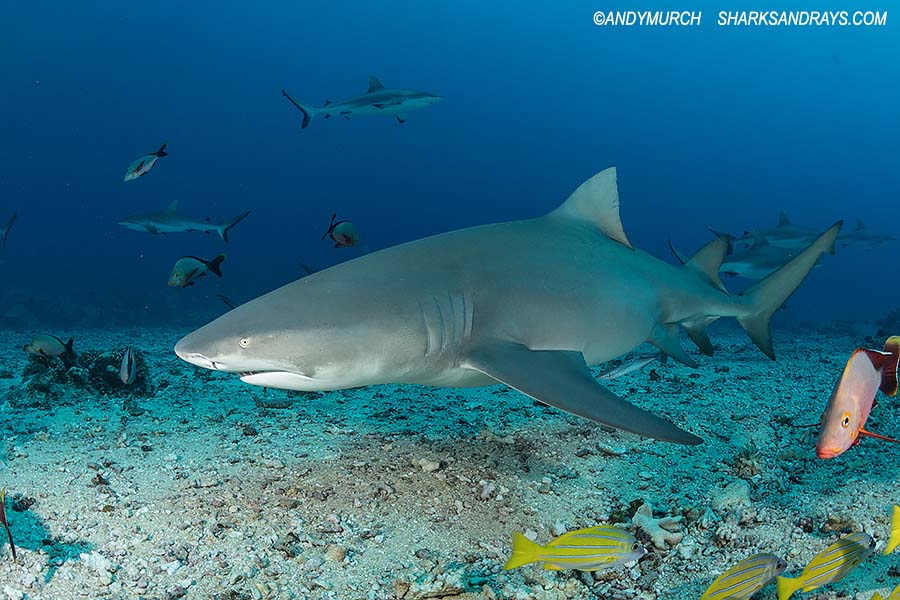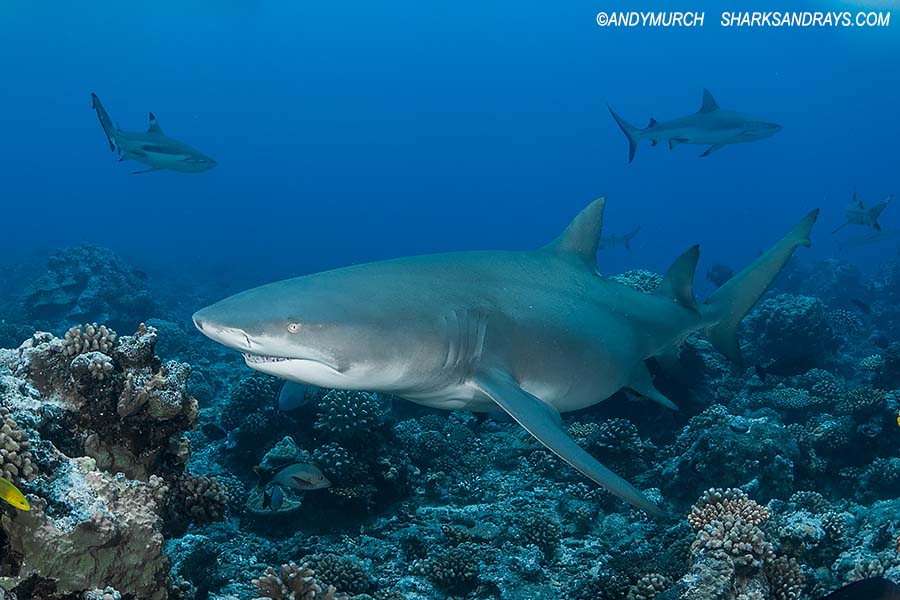 Sicklefin Lemon shark photographs copyright Andy Murch. All rights reserved
View all available Lemon Shark Pictures in the Shark Picture Database
Common Names: Sicklefin Lemon shark, Sharptooth Lemon Shark, Lemon Shark.
Latin Name: Negaprion acutidens
Family: Carcharhinidae
Identification: A large shark with a stocky yellowish brown body. Fins falcate with acutely pointed tips. Second dorsal fin almost as large as first. Eyes large. Snout broadly rounded with a distinctive small black spot on the tip.
Size: Average length 220-240cm. Maximum length 310cm.
Habitat: An important coastal species. Inshore lagoons, and reef faces near deep water drop offs. Juveniles stay on very shallow reef flats.
Distribution: A wide ranging species in the Indian Ocean and western to Central Pacific. Not present in the eastern Pacific where it is replaced by the common lemon shark.
Behavior: A slow swimmer. Able to rest for extended periods on the substrate.
Reproduction: Viviparous. Recorded litter size 1-14. Gestation period 10-11 months.
Conservation Status:
Listed as VULNERABLE by the IUCN.
Within Australia, data from the Northern Territory (Lyle et.al. 1984) indicated that catch rates of N. acutidens in gill net and long line fishing trials were very low. N. acutidens is taken in small quantities (approximately 15 tonnes/yr) in the Western Australia northern shark fisheries. These fisheries comprise a very small number of boats (13 licenses, seven active and only three fishing for six months or more) operating over a very large length of coast. A smaller quantity of N. acutidens are also taken as bycatch in trawl and gillnet fisheries in northern Western Australia waters. There are likely to be significant areas of unfished habitat outside the operational ranges of these fisheries (R. McAuley, pers.comm).

Threats from inshore fisheries are high outside Australian waters, particularly Southeast Asia, where these sharks are captured by gillnets and longlines. They are particularly susceptible to local depletion due their very small habitat range and limited movement patterns (Stevens 1984). This species is also likely to be affected by habitat destruction, particularly in South East Asia. For example, extensive coral reef habitat destruction (pollution and dynamite fishing), in addition, this species is known to occur around and within mangrove estuaries, many of which have been deforested or are heavily populated by humans throughout its range (William White, pers.comm.).

Although they are still recorded, albeit very infrequently within Indonesia (W. White, pers. comm.), evidence suggests N. acutidens was historically more abundant, and have not been seen for several years in some areas. For example, in a preliminary survey of market catches around Bali, no N. acutidens were recorded, and jaws held in the fisheries centre in Jakarta that were several years old were the only evidence that this species was once caught in the region (W. White, pers. comm.). Furthermore, evidence of local extinctions in India and Thailand (L.J.V. Compagno, pers. comm.) indicates that this species is extremely susceptible to local inshore fisheries.
Photographs: White Valley, Tahiti, French Polynesia.
Similar species:
The sharptooth lemon shark is easy to identify but is superficially similar to many other carcharhinids. In the Atlantic and Eastern Pacific, it is replaced by the Atlantic or Common Lemon Shark.
Reaction to divers: Not known for its aggressiveness around divers but should not be molested. Sicklefin Lemon sharks are difficult to approach closely unless in a chumming situation. This species appears to be more timid than its Atlantic counterpart.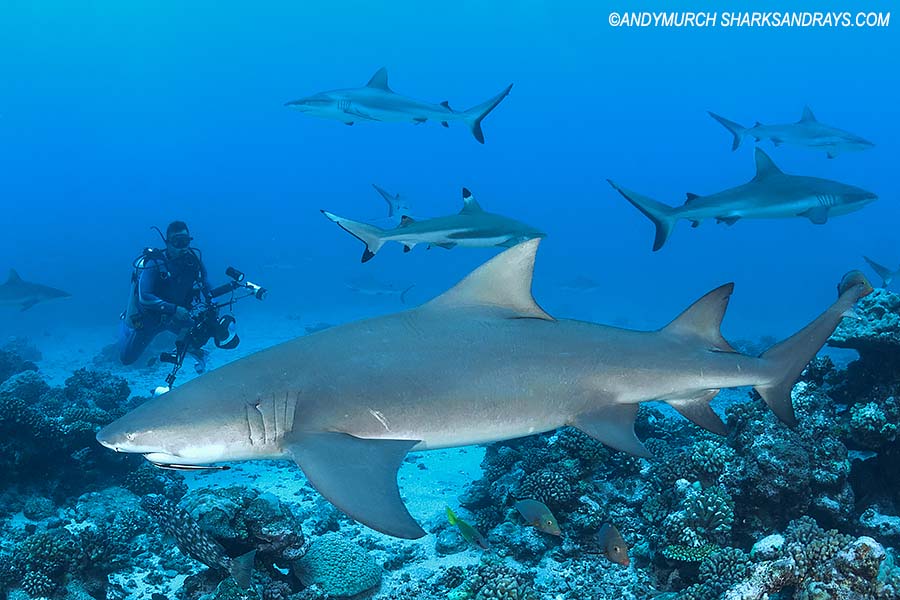 Diving logistics: Sicklefin lemon sharks can be found at a number of popular dive sites in the Pacific. They regularly show up to shark feeds in Tahiti and Moorea, French Polynesia but chumming for sharks in FP was banned at the end of 2019.
At Beqa Lagoon there is a Tiger and Bull Shark feed that sometimes attracts lemons; or they are seen deeper on the same reef.
Citations:
Pillans, R. (SSG Australia & Oceania Regional Workshop, March 2003)
2003. Negaprion acutidens . The IUCN Red List of Threatened Species 2003: e.T41836A10576957.
https://dx.doi.org/10.2305/IUCN.UK.2003.RLTS.T41836A10576957.en. Downloaded on 09 February 2020.
Commercially available images: