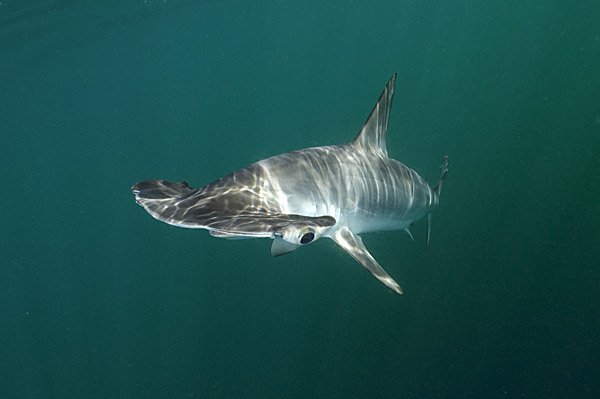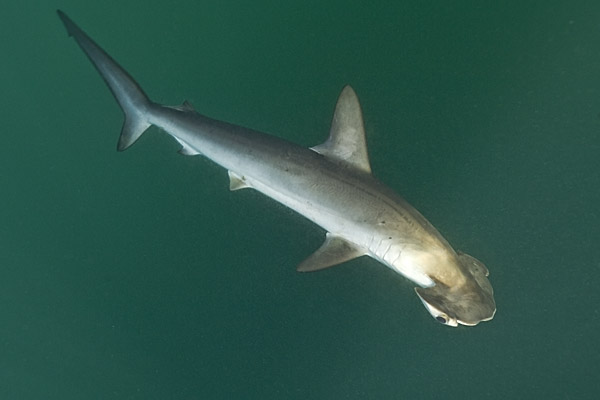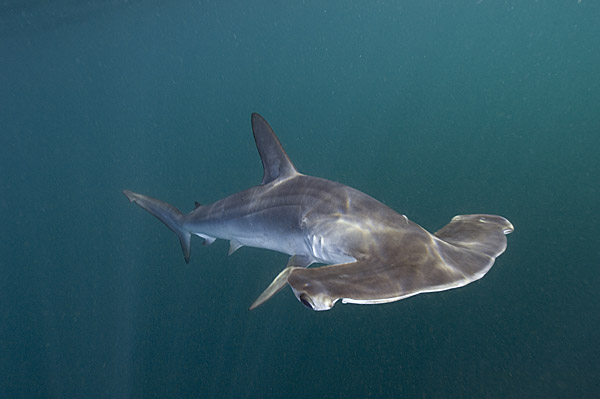 All photographs © Andy Murch all rights reserved
View all available Smooth Hammerhead Shark Images in the Shark Pictures Database
Common Names: Smooth hammerhead shark, Common hammerhead shark, Smooth common hammerhead shark.
Latin Name: Sphyrna zygaena
Family: Sphyrnidae
Identification: Leading edge of hammer scalloped with two well defined indentations. No prominent central indentation. Fins mostly plain with slight dusky tips. Caudal fin trailing edge dusky especially on lower lobe. 1st dorsal fin high, second much lower. Dorsal surface olive grey to greyish brown. Ventral surface pale.
Size: Maximum length 500 cm. 42 - 55 cm at birth.
Habitat: Inshore to offshore continental shelves. 1 to 200m but usually shallow.
Abundance and distribution: Widespread, in most subtropical / temperate oceans. Often over bottom between 1 and 140m. In eastern Atlantic from Britain to Ivory Coast including the Mediterranean. Western Atlantic from Canada to northern Caribbean and Brazil to Argentina. Indian Ocean from South Africa to Sri Lanka. In the western Pacific around Hawaii, Southern Australia, New Zealand and from Vietnam to Southern Siberia. Eastern Pacific from Northern California to Chile.
La Paz Bay has been identified as one of many birthing and nursery grounds for juvenile Smooth Hammerhead Sharks.
Feeding Behavior: Feeds mainly on smaller sharks and rays. Also on bony fishes, shrimps and molluscs.
Reproduction: Viviparous. Hammerhead sharks are considered the most highly evolved of the shark families. Smooth hammerhead sharks become sexually mature at 250-300cm in length.
Photographs: La Paz Bay, Baja, Mexico.
Similar species: The smooth hammerhead shares much of its range with the scalloped hammerhead Sphyrna lewini which has a distinct cleft in the centre of the leading edge of it's hammer. The great hammerhead Sphyrna mokarran has a much straighter leading edge to it's hammer, proportionately taller dorsal fin, and larger terminal size.
Reaction to divers: Shy. Very difficult to approach. Divers may have better success when using rebreathers.
Diving logistics: The images of the Smooth Hammerhead Shark on Elasmodiver were taken of a juvenile specimen released from a longline in La Paz Bay.
Any locations where Smooth Hammerhead Sharks can be seen or photographed in the wild would be welcome.
Diving locations submitted by readers:
References and further reading:
Reef Sharks and Rays of the World. Scott W. Michael. Sea Challengers.
Sharks and Rays - Elasmobranch Guide of the World. Ralf M. Hennemann. IKAN.
More common names of the Smooth Hammerhead Shark:
丫髻鲛 China Main Mandarin Chinese
双过仔 China Main Mandarin Chinese
双髻鲨 China Main Mandarin Chinese
牦头沙 China Main Mandarin Chinese
丫髻鮫 Taiwan Mandarin Chinese
बूत India Marathi
귀상어 Korea Rep Korean
कान मुशी India Marathi
કાન મુસી India Gujarati
कनीर India Marathi
錘頭雙髻鯊 China Main Mandarin Chinese
锤头双髻鲨 China Main Mandarin Chinese
कनीरि India Marathi
ചടയന് India Malayalam
молот-рыба Russian Fed Russian
கொம்பன் சுரா India Tamil
കൊന്വന് സ്റാവ് India Malayalam
കൊന്പന് സുരവ് India Malayalam
கொம்பன் சுறா India Tamil
ചട്ടിത്തലയന് സ്റാവ് India Malayalam
Αγριόψαρο Greece Greek
ചാടയന് India Malayalam
ವರಿಓಛ India Kannada
કનેર India Gujarati
Ζύγαινα Greece Greek
Προπέλα Greece Greek
Πατερίτσα Greece Greek
Δεκανίκι Greece Greek
Abou bornita Egypt Arabic
Abu-garn Oman Arabic
Almindelig hammerhaj Denmark Danish
Awal Philippines Bikol
Balagbagan Philippines Ilokano
Balagbagan Philippines Pangasinan
Bingkungan Philippines Tagalog
Binkugan Philippines Waray-waray
Buntok martilyo Philippines Kapampangan
Cá Nhám búa Viet Nam Vietnamese
Cabeza de martillo Cuba Spanish
Cação-martelo Brazil Portuguese
Cachona Colombia Spanish
Cachona Ecuador Spanish
Cagnole France French
Cambeba Brazil Portuguese
Cambeva Brazil Portuguese
Capa a martiello Italy Italian
Carnuda Spain Spanish
Çekiç Turkey Turkish
Cekiç baligi Turkey Turkish
Çekiç balığı Turkey Turkish
Chadayan India Malayalam
Chapéu-armado Brazil Portuguese
Chattithalayan sravu India Malayalam
Common hammerhead Cuba English
Common smooth hammerhead shark UK English
Corna Spain Spanish
Cornúa Spain Spanish
Cornuda Brazil Portuguese
Cornuda cruz Mexico Spanish
Cornudilla Spain Spanish
Cornudo Brazil Portuguese
Cornuilla Spain Spanish
Diarandoye Mauritania Wolof
Diengué Mauritania Wolof
Gemeiner Hammerfisch Germany German
Gemeiner Hammerhai Germany German
Gladde hamerhaai Netherlands Dutch
Gladde hamerkop South Africa Afrikaans
Glatter Hammerhai Germany German
Hamerhaai Netherlands Dutch
Hamerhai Norway Norwegian
Hammarhaj Sweden Swedish
Hammerhai Germany German
Hammerhaj Denmark Danish
Hammerhaj Sweden Swedish
Iskandar Lebanon Arabic
Jaram SerbiaMontenegro Serbian
Jarjur Oman Arabic
Jarjur al graram Oman Arabic
Jerong tenggiri Malaysia Malay
Kakere New Zealand Maori
Kan moosi India Gujarati
Kan mushi India Marathi
Kaner India Gujarati
Kaneri India Marathi
Kodosan Philippines Visayan
Koma sorrah India Telugu
Komban-sorrah India Tamil
Kombansurav India Malayalam
Korsan Philippines Banton
Krusan Philippines Tagalog
Kurazza Malta Maltese
Kurazza komuni Malta Maltese
Kuros na pating Philippines Bikol
Leunada Spain Spanish
Lou peï judiou France French
Magniusa Italy Italian
Magnosa Italy Italian
Magnose Italy Italian
Magnusa Italy Italian
Mangopare New Zealand Maori
Mano kihikihi Hawaii Hawaiian
Marteau France French
Martell Spain Spanish
Martello Italy Italian
Martelo Brazil Portuguese
Martillo Spain Spanish
Mata'italiga Samoa Samoan
Medialuna Spain Spanish
Meerschlägel Germany German
Mlat SerbiaMontenegro Serbian
Nga-man-than-woot Myanmar Burmese
Pantouflier Trinidad Tob French
Pantouflier lavaco France French
Pata Brazil Portuguese
Paterítsa Greece Greek
Pateritza Greece Greek
Pating Philippines Waray-waray
Patishan Israel Hebrew
Peï jouziou France French
Pei judiu Italy Italian
Peï martel France French
Peïs judieú France French
Peixe martelo Azores Is. Portuguese
Peixe-canga Brazil Portuguese
Peixe-cornudo Cape Verde Portuguese
Peixe-martelo Brazil Portuguese
Peixe-martelo Cape Verde Creole, Portuguese
Pesca martello Italy Italian
Pesce carabiniere Italy Italian
Pesce martello Italy Italian
Pesce martello Malta Italian
Pesce martiello Italy Italian
Pescio scrossua Italy Italian
Peshk çekiç Albania Albanian
Peshkkarabiner Albania Albanian
Pez martillo Colombia Spanish
Pisci carabbineri Italy Italian
Pisci crozza Italy Italian
Pisci marteddu Italy Italian
Pisci matteddu Italy Italian
Pixximartell Malta Maltese
Rechin ciocan Romania Rumanian
Rekin mlot a. glowomlot pospolity Poland Polish
Requin marteau Mauritania French
Requin marteau Mauritius Creole, French
Requin marteau lisse Mauritius French
Requin-marteau commun France French
Ribello Italy Italian
Round headed hammerhead India English
Round-headed hammer head shark India English
Sarda de cachas Colombia Spanish
Sarikan Philippines Kuyunon
Sartji Suriname Sranan
Schlägelfisch Germany German
Scroesna France French
Σφύρνα Greece Greek
Shiro-shumokuzame Japan Japanese
Stampella Italy Italian
Tai tse sha Hong Kong Cantonese
Tailandano Spain Spanish
Tampugan Philippines Bikol
Tiburón martillo Peru Spanish
Tollo cruz Spain Spanish
Tribon di cruz NethAntilles Papiamento
Tubarão martelo liso Mozambique Portuguese
Tubarão-martelo Brazil Portuguese
Tubarão-martelo Cape Verde Portuguese
Tubarão-martelo Portugal Portuguese
Tubarão-martelo Azores Is. Portuguese
Variocha India Kannada
Vasarahai Finland Finnish
Yu bengkong Malaysia Malay
Yu mata jauh Malaysia Malay
Yu palang Malaysia Malay
Yu parang Malaysia Malay
Yu sanggul Malaysia Malay
Yu tukul Malaysia Malay
Zygaena Cyprus Greek