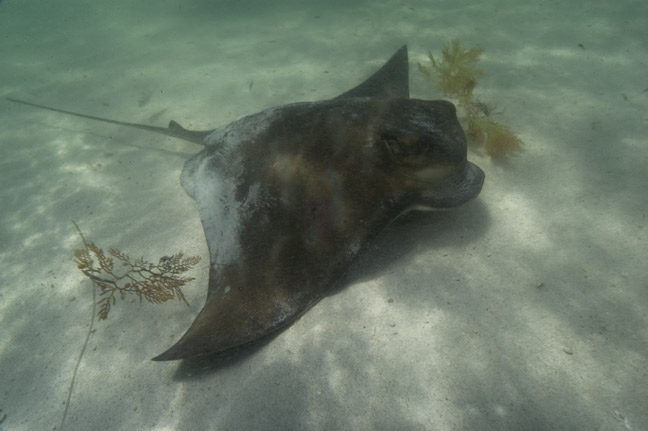 Photograph copyright Andy Murch all rights reserved
View all available Southern Eagle Ray Pictures in the Shark Pictures Database
Common Names:
Southern eagle ray, Southern bat ray, Australian Eagle Ray, New Zealand Eagle Ray.

Latin Name: Myliobatis tenuicaudatus

Synonyms: Myliobatis australis

Family: Myliobatididae

Identification: Pectoral fins narrow and pointed. Subrostral lobe (beak) short and rounded. Dorsum brown with pale blue blotches.

Size: Wing span to 150cm.

Habitat: Bays, rocky and coral reef faces, and sand flats (where it feeds).

Abundance and distribution: New Zealand and Australia (from Queensland around the southern coast to W.A.)

Behavior: Often found resting in sand in excavated depressions. Forages in the sand for shelled mollusks and crabs but will take fish incidentally as shown by the bat rays at Hamelin Bay (See diving logistics).

Reproduction: Ovoviviparous.

Observations:

Photographs: Hamelin Bay, W.Australia.

Similar species: The New Zealand eagle ray (M.tenuicaudatus) is possibly the same species.

Reaction to divers: Usually difficult to approach except at Hamelin Bay. See Below.

Diving logistics: By far the best spot to see and photograph Southern bat rays is Hamelin Bay in W.Australia. Here the presence of scraps in the water has resulted in these and other ray species becoming desensitized to contact with humans. Waders and snorkellers are able to feed the rays right from shore. Noone appears to have been hurt in this activity and the rays that come in to take advantage of the snacks are able to be petted and hand fed.

Other diving locations submitted by readers:

Further reading:

Reef Sharks and Rays of the World. Scott W. Michael. Sea Challengers.

Sharks and Rays - Elasmobranch Guide of the World. Ralf M. Hennemann. IKAN.